10 icecream sandwiches to try
We're loving the explosion of icecream sandwiches in bars and restaurants around the country. Where to get your fix?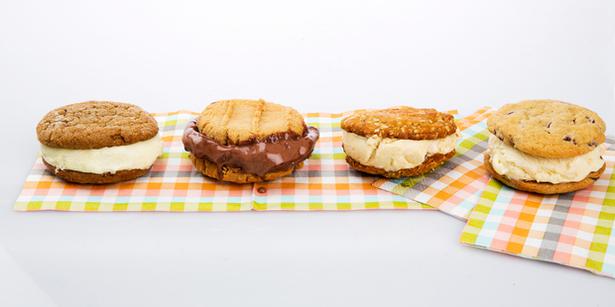 Monday July 21, 2014
1. Try Wellington's Wooden Spoon Boutique Freezery. Now available in Auckland, with Farro Fresh stocking packaged versions (pictured above).
2. Go all-out with a deep-fried green tea icecream sandwich from Peach Pit on K Rd.
3. Miss Clawdy's $6 mini version comes with chocolate milk on the side - cute!
4. Heading to Wellington? Salted caramel icecream sandwiches are on Flight Coffee Hangar's new night menu.
5. Pick and choose your cookie flavour at Moustache - one of the earliest places to adopt the trend.
6. Christchurch's The Donut Boutique opens a new branch in August, with the promise of donut and cookie ice cream sandwiches ... worth a visit.
7. Orleans' cookie sandwich comes with peanut butter semifreddo, raspberry jam and cereal milk.
8. The double-decker icecream sandwich at The Dairy, Ponsonby Central, is for true fans.
9. Chim Choo Ree in Hamilton sells a gingerbread sandwich with strawberry buttermilk and miso caramel.
10. Try a chocolate digestive sandwich from Cheltenham Dairy - read more about these in Wednesday's Viva.
Share this:
More Food & Drink / Dining Out