A Taste of the Best
Top Sydney chef Mark Best is working with Clooney for Auckland Restaurant Month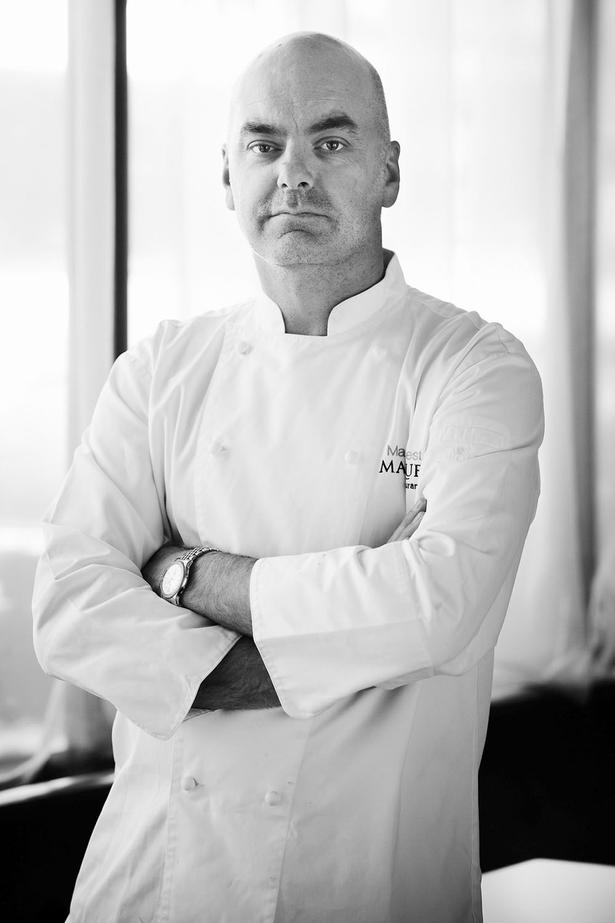 Tuesday June 30, 2015
You might think a top chef would prefer to cook something easy at home. But Mark Best takes ordinary meals to luxurious levels. "I cook normal things," insists the top Sydney chef, over the phone from his Surry Hills-based restaurant, Marque. "Roast chook. Baked beans. Pea and ham soup. Otherwise, it's two minutes to the fish markets."
Yet his idea of fish for dinner is a whole side of ocean trout with sesame, sushi rice, nori, shallots, coriander and mirin. To make baked beans for Sunday breakfast he soaks haricot beans for seven hours, then slow-cooks them with ham hock, serving them on rye toast with a fried egg and crispy smoked bacon.
Perhaps it's no surprise. Marque has been regarded as one of Sydney's finest eateries for the past 16 years. Renowned for its adventurous dishes and attention to detail, it has scooped several awards; last year Elite Traveller ranked it 35th in a list of the World's Top 100 Restaurants. It has featured three times on San Pellegrino's 50 Best Restaurants in the World list. Not bad for a foodie city as competitive as Sydney. Or a former electrician who taught himself to cook.
Now he's preparing to join another award-winning restaurant, spending a night in the kitchen at Clooney, collaborating with executive chef Des Harris for Auckland Restaurant Month. Their menu will give Auckland a taste of Marque, while showcasing New Zealand produce. Among several intriguing dishes are tomato marshmallow, venison with beetroot, chocolate and miso, and Dutch creams with sea urchin and coffee.
"Everything has a bit of a twist," he says. "I don't like gimmicks and theatrics, any ego represented on plate, any cleverness. I want things to seem natural."
That's quite a feat when you consider the seemingly incompatible ingredients.
A Marque favourite is his blue spanner crab in almond jelly and gazpacho, a seductive, all-white dish inspired by blancmange (in which the almonds were pounded and mixed with water, sugar and calves' foot jelly). There are no core dishes at Marque, Best says, only a core approach to creating them. He knows he's cracked it when he gets an excited feeling that lasts.
"I think it's why I'm still here," says the chef, who also co-owns the Pei Modern bistros in Sydney and Melbourne. "I'm still engaged with what I'm doing. I'm passionate about it. I still love to cook. It's not hard to do a job I love. The other part of my success is involving my team as much as possible in the creative process. I'm a conductor of a fine orchestra."
Right on cue there's a burst of laughter in the background; the team are nursing hangovers after last night's leaving do for one of the chefs, and are currently dealing with the emotional fall-out, he quips.
"There's a lot of self-loathing here," says the self-described "benevolent dictator".
He hires for attitude, intelligence and openness to ideas rather than experience. Nor does he judge those who don't soak their haricot beans for hours. He's nearly finished his new cookbook, Best Kitchen Basics, which is as practical as it sounds, riffing off a "shopping list you might make for your husband", each ingredient sprouting off into dishes of varying difficulty.
He says he has no idea what defines Marque food, preferring not to be described as fine-dining, or anything "cliche". But he will say the restaurant is an elegant space, where things are served professionally and done correctly.
His food is what you might call "high concept": elegant morsels of surprising flavour combinations, derived from his love for French cuisine, regional Italian and regional Chinese. But other influences pop up too — Australia's proximity to Southeast Asia; his occasional longing for a trip to Spain.
Originally, he wanted to be an engineer but wound up working as an electrician in the mines. It was claustrophobic but he wasn't "copping the bullets" like his colleagues. Then in his mid-20s he discovered he wanted to cook, after a successful day spent helping at Macleay Street Bistro. He then worked there for five years. Why the change of direction?
"It was above ground. They gave you wine and food. That was three wins for me."
In 1996 he opened Peninsula Bistro with his wife Valerie, and later spent four months in Paris, working for free under one of France's most lauded chefs, Alain Passard, at L'Arpege.
"I learned then what I know now. It's all about your relationships with producers, relentless attention to detail and thinking outside the box."
It's this approach that allows him to elevate humble ingredients into otherworldly dishes. Broccoli is his latest obsession. He's just discovered it can be turned into a Mexican mole by charring it for its "fantastic umami flavour", then adding spinach, coriander, shrimp paste, sesame seeds and shaved abalone. He's also tried coating it with black pudding.
"It looks like truffle, it's beautiful. So ideas come from anywhere. I'm pretty excited about anything that's in beautiful condition and cooked with love. It could be a really simple ingredient but it's got to be evocative. They might sound like very disparate ingredients that wouldn't join in nature, but I wanted it to seem like, on the plate, they've always been together."
Viva readers have the opportunity to purchase tickets to Auckland Restaurant Month's headline dining events, including A Taste of Mr Hong, presented by Viva. Find out more about this offer here.

• A Taste of Marque at Clooney is part of Restaurant Month in the Heart of the City's Chef Dining Series. Wednesday August 12, 6pm, Clooney, 33 Sale St. Tickets available from iTicket. $300 including five courses, amuse-bouche and matching wines.
Share this:
More Food & Drink / Dining Out