Where to Eat: Amano
A new Italian-inspired bistro and aperitivo bar is set to open in Britomart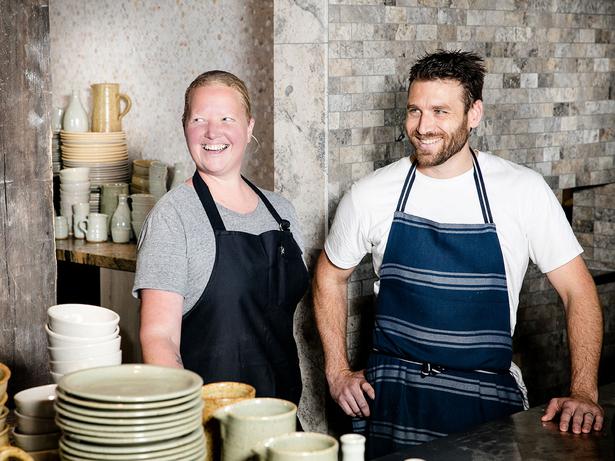 Wednesday Oct. 12, 2016
Mamma mia! It's a Hip Group takeover. Well, not quite — but if you've stopped by the Amano Bakery in Britomart recently for a coffee and a hand-milled Italian sandwich, you may have wondered what was going on next door. The company responsible for Ortolana and Milse, a few steps away — not to mention several of Auckland's most popular cafes — is finally throwing open the doors to its showcase eatery Amano this week.
The cavernous 420sq m space in the Quay Building is now home to a 120-seat Italian-inspired bistro and aperitivo bar. It also has its own mini-market, where customers can buy fresh produce, flowers, handmade cheeses and pastas — while watching the chefs rolling them out through the sheeters and extruders behind the pass. You can even place a food order in the morning and pick it up on the way home.
Architect Jack McKinney has given the building's heritage features a modern face-lift, transforming the former radio factory with terrazzo marble floors and mother-of-pearl features — and who can resist the dried flowers threaded through the ceiling?
Executive chef Jo Pearson, who is also involved in the running of the group's Kumeu farm, says Amano's no-waste, nose-to-tail food philosophy doesn't just apply to cuts of meat. Cleaned and peeled potato skins will be cooked as chips for bar-goers and radish leaves fermented for condiments. She and head chef Andrew Hanson will print the menu daily, determined by what's in season, just as the Italians do it. Think fagottino, a ricotta-stuffed mozzarella ball with spring peas, pea pod juice and lemon, and scampi agnolotti, all served on earthy ceramics.
"It's hand-crafted with no frills," says Jo. "There's nothing fancy about it, we're not doing smears on plates or garnishing things. It's just good, honest, humble food."
• Amano, 66-68 Tyler St, open from 7am until late for all-day dining.
Share this:

More Food & Drink / Dining Out