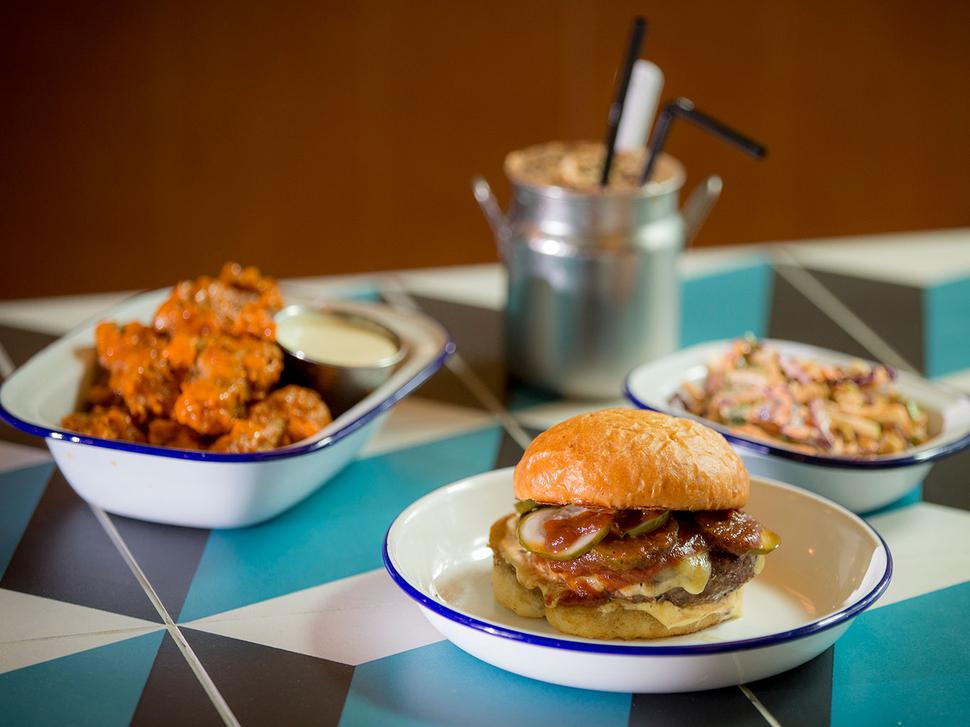 Restaurant Review: Andy's Burgers, Sky City
Jesse Mulligan takes a holiday bite at Auckland's newest 24-hour burger restaurant
Wednesday Jan. 13, 2016
Address: Level 2, Sky City Atrium, Federal St, City
Phone: (09) 363 6000
Bookings not accepted
Cuisine: American diner
Drinks: Fully Licensed
From the menu: Cheeseburger $12.50, Chicken burger $13.50, Chicken wings $18.50, Sauerkraut $4, Coleslaw $4, Milkshake $8
Rating: 6/10

It's summertime in Auckland, and the city is a dream. The pohutukawas are in bloom, traffic is flowing freely, and the only real drama has been trying to find decent espresso on the stat holidays. My local cafe was closed so I had to go across the road to a competitor. The coffee was good but putting my lips to their takeaway cup felt like I was kissing a stranger.
It's been hard to keep up with restaurant hours too. The best plan seems to be looking on Facebook, but even that can involve several minutes of deep searching, only to come up with half a dozen wall posts from people asking "are you guys open over Christmas?". Why would a restaurant manager, who wouldn't let you wait 30 seconds for a glass of wine, leave you hanging for two weeks on social media just because he decided to go to the bach without a smartphone?
Sky City's new restaurant Andy's Burgers solves a lot of the above problems by being open 24 hours a day, 364 days of the year. It's just the thing when you're hungry and everywhere else is closed due to seasonal holidays or lack of pre-dawn foot traffic. I visited in the first week of January with my beautiful 4-year-old daughter Hazel, who accepted the invitation as soon as I told her they had a separate milkshake menu.
As far as I can work out, there is no "Andy". Head chef is the much more romantic sounding Renato Passoni Ribeiro, whose name is splattered all over the press release in the manner of a celebrity chef, though when I googled it all I could find was a YouTube video of him cooking stir fry on a cruise ship.
The Sky City marketing team tells us Renato has put a lot of time into creating the menu, pimping his burgers with artisan this and locally-sourced that. It reads well on paper but the dining experience is a little different from the promise.
READ: Viva's Top Rated Restaurants of 2015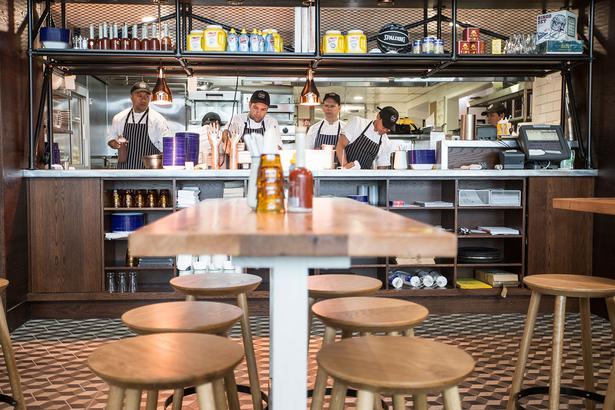 Take the "handmade" beef patties for example: they have corners. So maybe there are hands involved, but the outcome certainly doesn't look artisanal.
They're a bit sausagey too, those patties, and they're overcooked. The restaurant slogan is "simple things, done well", but perhaps it should be "simple things, well done". Burger Burger, the gold standard of New Zealand burgering, cooks its meat to medium rare unless requested. Andy's doesn't even give you the choice.
The bun is a "semi-brioche", designed to soak up the meaty juices. But it's disappointing too: like the patties, the chefs cook about 20 of them at a time on the grill then put them aside for when an order comes through — not a great way to make a burger feel fresh, or spesh.
Despite all of these textural and philosophical complaints, the cheeseburger tasted all right. An Australian couple at the table next door told me "we've never found burgers like this in Sydney" (though I sensed their exhaustive searching has mostly been conducted in service stations and garden centre cafes).
The chicken thigh and haloumi burger wasn't bad, and the chicken wings were great: battered and fried to a bubbly crunch, dressed in a very hot sauce and served with a blue cheese dip.
They serve them by the kilo and I got through the whole lot by myself, as part of a fatherly lesson about commitment for the benefit of my date. But she was mostly focused on the milkshake — nutella and banana, made with great care at the bar but spoiled for her by the nut sprinkles floating on the surface.
Actually the best thing I tried was the coleslaw, just a side dish but a great window into the chef's latent abilities. It was red cabbage, carrot and apple — that fruity sweetness countered with a spicy Thai chilli mayo and roasted peanuts. Sometimes simple isn't everything.
The staff are friendly enough to customers, but vibe a bit like they've been working there 24 hours straight themselves. One waitress chucked a used cloth napkin at the bar from several metres away, like she was trying to hurt somebody.
Another dropped a steel bowl of ketchup from her tray as she passed our table and didn't bother to stop or do anything about it.
They look a bit scruffy as well, I have to say. Unlike the fresh-pressed, sexy automatons at Depot and Federal, these characters come in jeans and a green, one-size-fits-none T-shirt, the sort of thing you'd think twice about checking the mail in.
So, the burgers are okay, the staff are a bit scary and you can get good chicken wings at three in the morning. That's not such good material for a press release, but it does have a certain honest appeal. My advice is to eat here only when Burger Burger is closed.
Share this:

More Food & Drink / Dining Out