Restaurant Review: Azabu, Ponsonby
Jesse Mulligan already wants to return to this exciting new Japanese restaurant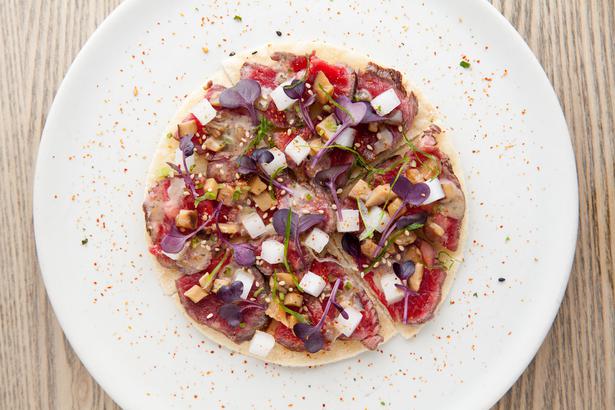 Wednesday Aug. 31, 2016
Cuisine: Modern Japanese
Address: 26 Ponsonby Rd
Phone: (09) 320 5292
Website: azabuponsonby.co.nz
Bookings accepted
Drinks: Fully licensed
From the menu: Gyoza $12, chicken meatballs $16, beef tataki tostada $15, grilled octopus $16, braised pork bun $9, chicken katsu bun $9, twice-cooked chicken $28, salmon "tiradito" $24,
Rating: 9.5/10
The new Japanese restaurant Azabu arrives on a Ponsonby streetblock with little else to recommend it. The stretch from Great North to Crummer isn't the worst retail strip in Auckland, but you can imagine a couple of Germans getting out of their Uber on the corner to walk the famous Ponsonby Rd and being somewhat underwhelmed by a T-shirt shop, four hairdressers and an Indian guy handing out takeaway menus.
And, sure, there's a bottlestore, a cafe and a decent art gallery too, but Azabu is by some distance the most exciting thing to have happened around here for decades, with a total gut and rebuild creating a sophisticated and beautiful restaurant that stretches back into Maidstone St. Dark leather, pale timber, vivid photography on the walls — it's what your lounge would look like if you took styling advice from Urbis.
Tuesday night was cranking with a good-looking crowd of flatting professionals and Tinder matches ready to take things to the next level. How is that some restaurants can open with a full house whereas others languish for months waiting for people to discover them? In this case, it may be because the owners already have successful ventures at Ostro, Ebisu and Lucky Lucky Dumplings — they may be from an advertising background, but they've proved themselves so adroit in the restaurant space you can almost guarantee a new opening from them will be brave, interesting and delicious.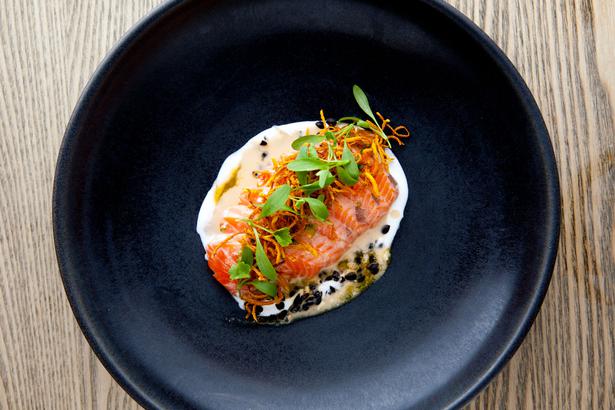 Azabu is another hit. It begins with the service, which they've managed to pitch right in the sweet spot of casual excellence. Wait staff congratulate you when you choose one of your favourites, then lobby (charmingly) for you to add something they don't want you to miss. This is of course much easier at a shared plates restaurant like this one — if somebody at Euro said, "oh, the fish, really? You should try the steak", you'd wonder whether you should be eating there at all.
But Azabu has small choices ranging from $4-$22, and it's very easy to throw another couple of dishes in the mix when ordering, particularly if Mr Swipe Right is paying. I felt I had to try a bit of everything and, with plenty to drink, the bill came to $190. Even better there are still a dozen incredible looking dishes I haven't tried — we're already trying to squeeze in a second visit.
You should definitely get a tostada — a flat, fried tortilla with tasty bits and pieces on top. This is one of the elements of Latin American cuisine that pop up from time to time on the menu and it seems to blend well with the Japanese. That tostada is beautifully crunchy, without any grease and worked particularly well with slivers of raw beef tataki dressed with sesame, truffle with shitake and little cubes of sharp pickled daikon radish.
I could easily have paused everything and ordered 10 more of those tostadas but more food was already arriving, including salmon sashimi — actually, "tiradito", a Peruvian-influenced dish, which serves the raw sliced fish with coconut milk and, in this case, passionfruit pulp. It sounds unusual but again, it worked in a tropical crudo sort of way — though it needed some salt or maybe soy to make the most of those subtle flavours.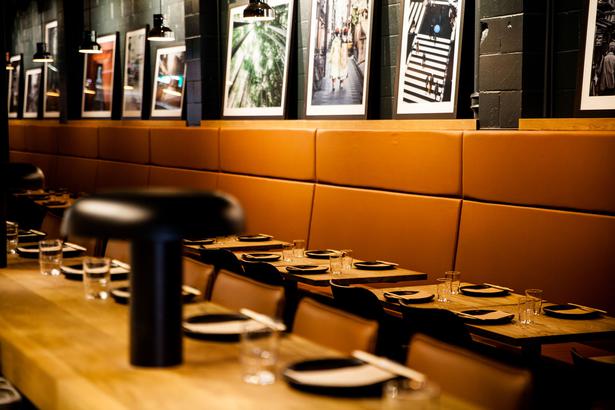 You should linger for a while on the dumpling and bun section of the menu that is a restaurant highlight, despite no obvious connection to Japanese or Peruvian food as far as I could see. The buns are those soft pillowy sort you get at dim sum, though they're made flat and folded like a taco here. Our first one was filled with crunchy, sticky, sweet, pieces of braised pork cheek and fresh cucumber dressed with tamarind, then the manager insisted we try the chicken katsu, which was ridiculous too — the chicken pieces spun with that crunchy wispy tempura and spiced with Japanese mustard.
And, damn, I haven't left myself much room to tell you about the grilled octopus, which is probably my dish of the year so far. It's unbelievably tender, a combination of thin cross-sectional slices and tentacles curling like punga fronds, and on the plate next to it are a dozen dots of mayonnaise dusted with citrusy yuzu powder. Underneath the 'pus is a little mashed purple potato — the whole thing looks like art.
Meanwhile, the drinks list is stunning, a long list of sake and wine with a handful of choices by the glass for each varietal. At the back end of the restaurant is a dedicated bar where the cocktails look excellent too. What a place. I suggest you book for two nights — once for your first visit and once for your inevitable return.
Share this:
More Food & Drink / Dining Out