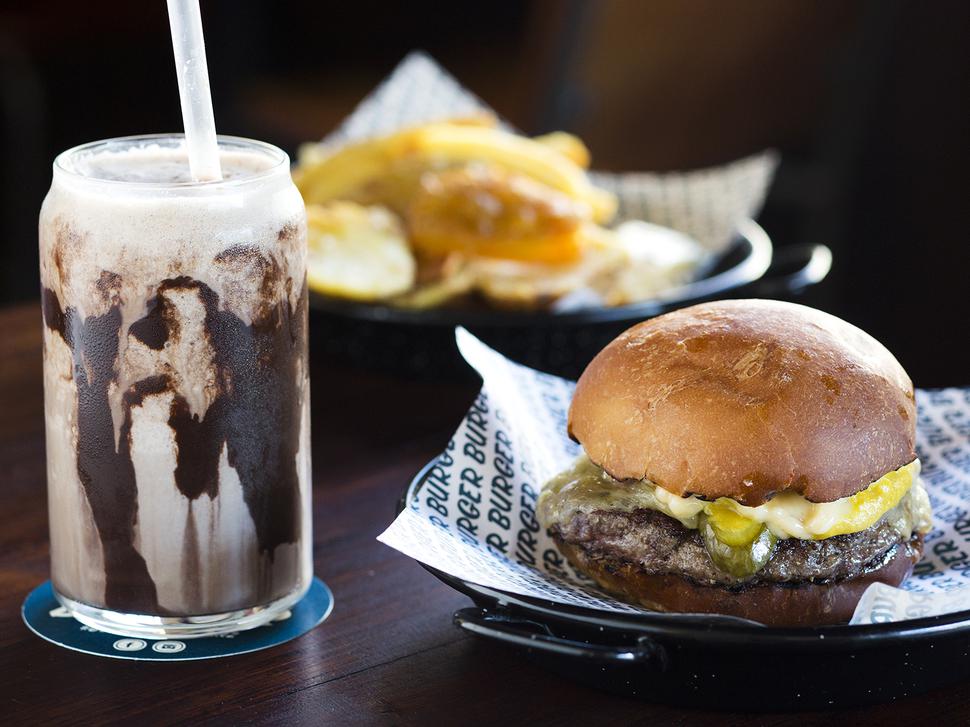 Finding the Perfect Burger
Better Burger leaves no taste in eating out editor Jesse Mulligan's mouth
Wednesday May 6, 2015
Make no mistake, Viva reader, in an ideal world I would not be celebrating my second week as eating out editor for New Zealand's most stylish weekly magazine by writing a review of McDonald's.
I was forced there this week, however, to try and make some sense of Better Burger, which has opened a second outlet in Vulcan Lane and which, I was hoping, would live up to its advertised claim of serving "the best burgers in New Zealand".
Sadly, Better Burger's burgers are not all that. Each one is built around a sad, skinny meat patty, overcooked and under seasoned and altogether unable to do any heavy lifting. Iceberg lettuce and quality tomatoes add texture but not taste, making the whole equation dependent on a thin spread of pink mayonnaise on the bottom bun. It's not up to the job.
There are three burgers on the menu and I tried them all: hamburger, cheeseburger and vege. My conclusion?
Assuming you didn't come here to eat mushrooms, you're obliged to order the one with the cheese if you want any sort of taste experience at all (side note: the buns are admittedly good, artisan-baked and sweetened with honey, but if the best part of your burger is the bread then you've got serious problems).
It all sounded so great in theory, a new burger that would, according to the press release, be "convenient and affordable, but with super fresh, high quality, locally sourced ingredients". And this is all noble and important and largely true, but maybe the fact that the release didn't mention "taste" until the very last paragraph should have been a warning.
To be fair to them, they're doing very well in most other aspects of running a burger joint: the staff are friendly and enthusiastic, the architecture is clean and stylish, and almost every ingredient has a story behind it. But it's like they spent so much time on the concept, they forgot to make the burger taste good.
To reassure myself I wasn't going crazy, I left the better part of my Better Burger where it was and drove to Burger Burger (let me know when this gets confusing), which has just opened a second store in Newmarket.
For an extra few dollars you really can get New Zealand's best burger here — charred dark and seasoned on the outside, bright pink on the inside, covered with pickles, mustard and tomato jam — sharp, sweet tastes that the thick, deeply savoury meat has no trouble standing up to. Eating a Burger Burger burger is a deeply messy affair, with half the juice on your face and fingers, the other half soaked up by the soft brioche buns.
And yes, at $12 you'd expect this burger to have a few bells and whistles, but it's hard to think how anybody would ever opt for Better Burger over this one, even given the price difference. By paying a little more you get organic meat, a wine and craft beer list, decent music, atmosphere, table service and a ringside seat to watch your burger being made — that burger being, as I said, inarguably the best burger in New Zealand.
It's an incomparable experience, I decided, while sampling my seventh burger of the night ... until I realised: Better Burger isn't trying to compete with Burger Burger, they're trying to compete with McDonald's.
And so it was that, in the interests of being thorough, I found myself breaking through the zero-hours picket lines at the golden arches on Great North Rd and heading inside for one more burger. It was my first visit for quite some years, so to be honest I wasn't even sure what to order.
"Do you have a menu?" I asked the nice young man behind the counter.
"No," he said with some regret. "We used to have one there," he said and pointed to a large empty plastic screen about the size of a McDonald's menu next to him.
" ... but it's gone."
"Oh," I said. "Well, just give me a Big Mac."
I've never had a Big Mac before (long story), and it wasn't terrible. The meat was even more dull and anonymous than at Better Burger, but the gherkins were pretty tasty and wow, that sauce! If that's what trampled workers' rights taste like, count me in.
All right, when you look at the whole package, Better Burger probably comes out on top. But I can't see why they're aiming so low. A new, cheap burger in a world where even McDonald's seems to think the future is in salads and wraps? Good luck to Better Burger, but it's not for me.
Better Burger
Address: Britomart and Vulcan Lane
betterburger.co.nz
Rating: 5/10
Burger Burger
Address: Ponsonby Central and Newmarket
burgerburger.co.nz
Rating: 9/10
McDonald's  
Address: Various locations
mcdonalds.co.nz
Rating: 3/10 
Score: 1-4: not good enough
5-6: okay but needs work
7: recommended
8: excellent
9-10: outstanding, make a booking! 
Share this:
More Food & Drink / Dining Out