Bookings welcome at the Oyster Inn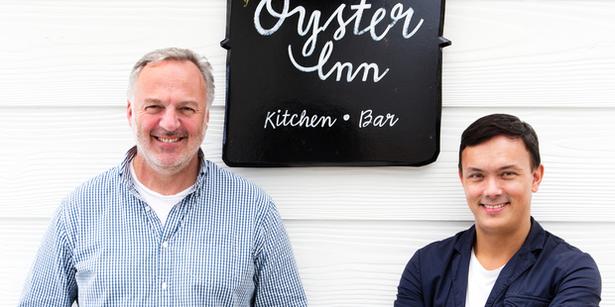 Friday Nov. 16, 2012
You are overcome with an uplifting sense of joy in the company of Andrew Glenn and Jonathan Rutherfurd-Best - owners of the uber-stylish new Oyster Inn on Waiheke Island.
It's not just their enthusiasm for every detail they've created this mecca of style - a relaxed restaurant and bar, three elegant guest rooms, a private dining and meeting room, a fish and chip takeout bar, and a wee boutique with a perfectly edited collection of to-die-for pieces you didn't know you wanted, but on seeing can't leave without.
It might have something to do with their obviously close and valued connection with family and friends, which shows in every corner of the complex.
There's the picture of Andrew as a child, with his dad at the beach in Hong Kong where he grew up.
Meanwhile, Jonathan's brother will be providing lamb for the restaurant from the family farm in Taranaki.
There's the stylish oak furniture range "Another Country" imported from London where it is designed by close friend and former publisher of Wallpapermagazine, Paul de Zwart, and the dining tables made locally from recycled wood sourced from Christchurch by a Kiwi who used to work for Jonathan in Britain.
The pair, who both gave up high-flying careers in the northern hemisphere have embraced the local community with a soft and genuine warmth.
"Goodbye builders, hello Waiheke" read the ad they ran in the local paper before opening the doors last weekend with a party that set the tone - a fun affair with an abundance of delicious food, wine and stimulating people.
But these boys know how to do things well. Andrew worked as PR director Asia-Pacific for Louis Vuitton before moving to London with the brand and then, more recently, as the global marketing director of Topshop.
It was through Louis Vuitton that the pair met when the prestige brand regularly used Jonathan's London-based events company Urban Productions, - a company with a reputation, according to The Guardian, for throwing "some of the wildest, sexiest, celebrity parties" the city has ever seen. Jonathan's company put on events for fabulous clients such as Armani, Calvin Klein, Miuccia Prada, Kylie Minogue, Madonna, Tom Cruise and the Prince of Wales.
After years in the fast lane, however, the pair decided to make a change. They took time off to travel, and ended up in New Zealand where they fell in love with Waiheke.
"Having grown up in Hong Kong and visited my cousins in New Zealand over the years, I always loved the sense of space," explains Andrew. "We knew we wanted to live here but weren't sure what to do." But when they stumbled across the abandoned bar space and old Gulf News offices, high above the main street in Oneroa, they immediately saw the potential.
"The building is like an old boathouse or clubhouse with the rafters, and views out to the Coromandel," says Jonathan.
He says the pair were inspired by small boutique hotels in the Hamptons where busy New Yorkers would escape for a weekend and cocoon.
"We immediately brought in stylist Katie Lockhart. We met her at the Venice Biennale and loved her work.
"We can be quite maximalist, and she minimalist, so we kind of complemented each other," he laughs.
The whole building breathes with a new lightness and freshness thanks to the white paint which accentuates the changing textures of the walls; tables are topped with "Sea Foam Blue" a duck-egg hue that enhances the seaside feel with a light hand, as do thought-through artworks that line the walls.
Pieces by the likes of Tracey Emin and Dan Arps sit alongside old black and white photos from the 1920s of sailing boats on the Waitemata, vintage maps, of New Zealand, seashells and old woven ketes.
At the heart of the Inn is the kitchen, enlarged and rebuilt completely to make room for a team headed by Kiwi chef Cristian Hossack, who was lured away from Peter Gordon's Providores restaurant in London.
From the smoked kahawai omelette on the breakfast menu, to the wide and tasty selection of oysters, including the oyster roll served with wasabi tobiko mayonnaise, octopus salad, scallop ravioli and fish of the day, there's no doubting the focus is on fine seafood.
But there's also pulled pork rib sliders, Wakanui sirloin with anchovy butter and Harmony pork belly to tempt the tastebuds.
"At the end of the day this is a local inn," says Andrew.
"It's relaxed and welcoming."
A true reflection of its owners, indeed.
* For more images of The Oyster Inn visit facebook.com/NZHeraldViva
The Oyster Inn, 124 Ocean View Rd, Oneroa, Waiheke. Ph (09) 372 2222. Open 8am-late, daily.
Share this:
More Food & Drink / Dining Out