Caffeine with a community hit
Fair trade isn't enough anymore, the coolest cafes harness the power of community. Here are five to try.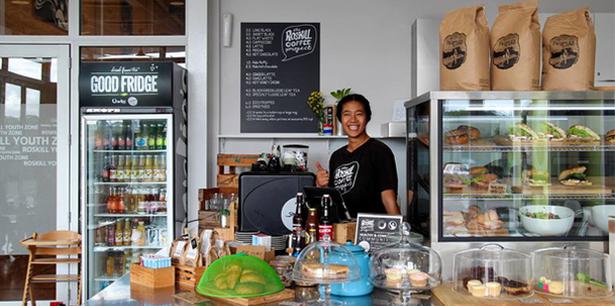 Monday Oct. 13, 2014
Roskill Coffee Project 
Closed last week for a much needed break, this not-for-profit cafe (above) provides free training and work experience to young future leaders.
* 740 Sandringham Rd, Mt Roskill (set to re-open tomorrow)

Ark Coffee
This specialty roasting spot holds coffee appreciation and making classes and showcases art in an adjoining exhibition space.
* Shop 6, 461 Lake Rd, Takapuna

Guerilla Espresso
Part of the Espresso Coffee School, this hole-in-the-wall runs a gift economy so you pay what you believe the coffee is worth - but don't worry, their staff get paid a fair wage and the coffee growers too.
* 15 Swanson St, City.

The Waterview Coffee Project
A shipping container turned community hub with a fair trade and sustainable ethos.
* 29 Daventry St, Waterview

The Community Cafe
Part of the Manukau-based Affirming Works, a Pacific youth mentoring and educational service. Along with open mic nights and other community events, they use ethically traded Tupu'anga coffee, grown in Tonga.
* 42 Atkinson Ave, Otahuhu (from October 20).
Share this:
More Food & Drink / Dining Out