New Opening: Clarence Rd Eatery, Northcote Pt
Northcote's new Italian-influenced all-day restaurant, Clarence Rd Eatery, will meet the people's demands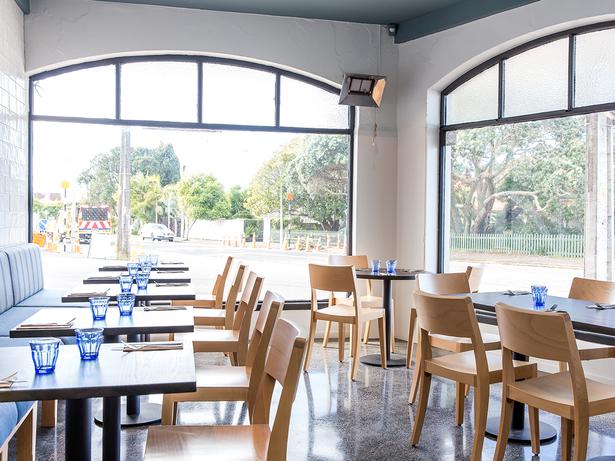 Wednesday Sept. 6, 2017
Seemingly eager to make friends (or find coffee), dozens of Northcote residents have been peering in the beautiful wide windows of the space that's about to become their newest local, Clarence Rd Eatery.
It's taking the spot of pizza restaurant Sausalito from this Friday, and though the neighbourhood is open to change, its people have one demand: there had better be pizza.
With an Italian-influenced menu and a wood-fired oven on site, head chef Trevor Hubbard (ex-St Heliers Bay Bistro, True Food & Yoga) has listened.
Opening its doors at 6.30am and serving food into the night, Clarence Rd Eatery has a menu that will change daily, and plans to feature delights including truffle scrambled eggs and whitebait omelettes for breakfast, alongside fresh smoothies, juices and gelato shakes.
If you're after something to take away with an Allpress coffee, next to the impressive brass counter will be a cabinet filled with tempting baked treats.
From 11am, it's time to showcase the chargrill oven (choose from meat, fish, or gnocchi cooked over the coals), as well as a selection of classic Naples-style pizzas.
READ: 10 Places Serving Posh Pizza
After 3pm, small sharing plates of oysters, calamari and salmon carpaccio will appear, while a strong list of local and international wines completes the offering. Blue hues and textured white tiles on the walls, and matching Peter Collis ceramics on the tables give the eatery a distinctly summery vibe.
Eye-catching round photographs by Cathy Carter provide portholes to a textural ocean, with the real thing only moments away.
Its owners are Simon and Jacquie Mackenzie (Point Wines and Stafford Rd Wine Bar), Dan Wards (ex-Hip Group), Karen Mackenzie and Peter Mayo. Dan will be the face of the eatery and general manager, while Karen will run the takeaway side of the business.
And locals? Next time you peer through those grand arched windows, you'll probably be invited in for breakfast, lunch or dinner.
• Clarence Rd Eatery opens on Friday, for dinner only, at 124 Queen St, Northcote Pt. Visit Clarencerdeatery.co.nz
Share this:
More Food & Drink / Dining Out