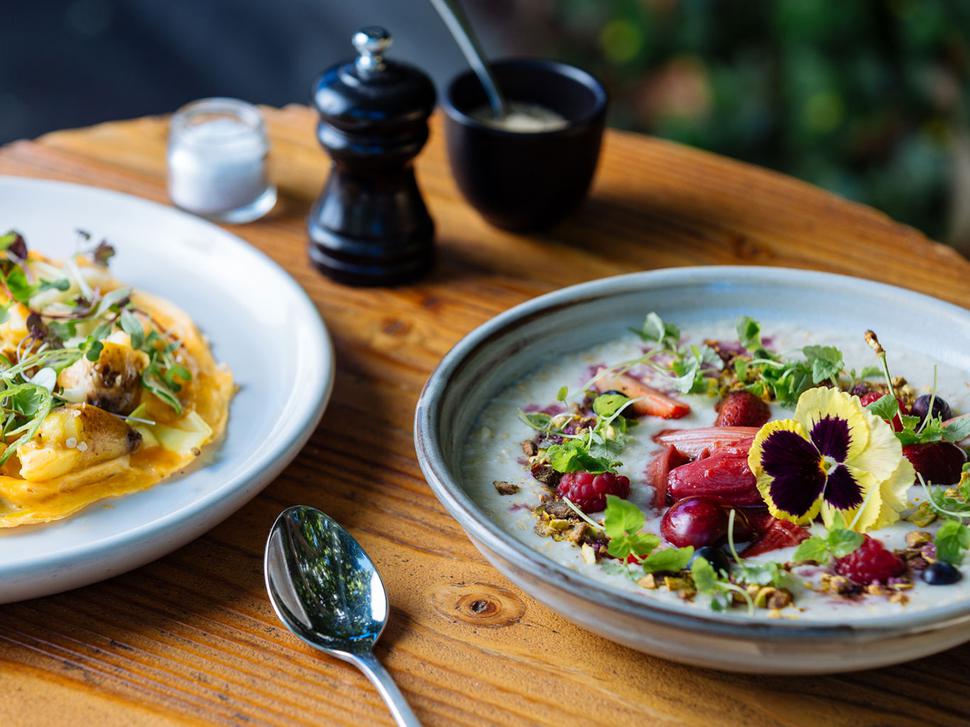 The New Food Trends You Need to Know About
Melbourne food maestro Nathan Toleman shares the city's hot new trends
Wednesday Sept. 9, 2015
Nathan Toleman is the owner of Top Paddock, voted the Good Food Guide's best cafe in Melbourne last year, and Kettle Black, an incredible destination cafe just south of the central city. Later this year he'll open Higher Ground, a huge new cafe in the CBD and one of the most anticipated Melbourne openings in years.
Queues form early at Toleman's cafes and last all day; as online eating bible Broadsheet puts it, everything he touches seems to turn to gold. Here are his top trends in Melbourne eating right now:
Instagram
More than just a diversion while you wait for your food, your mobile phone is now a crucial business tool for the switched on restaurateur. Top Paddock has an Instagram following of 35,000 people, an audience it has carefully cultivated. Toleman recognised early that beautiful food makes for beautiful photographs so he's invested money in crockery, garnishes, table props and even textured surfaces — all with his online audience in mind. His cafe's ricotta hotcakes are "the most Instagrammed dish in Australia", says Toleman. Social media, he says, is a much more useful, immediate and stylish way to market a restaurant than the growing requests he gets to put money into customer review websites.
Dude Food
Fine dining may not yet be dead, but plenty of fancy chefs are realising there's more money to be made in fast and tasty tucker, cooked and sold without fuss. MasterChef star George Calombaris stepped sideways from his flagship The Press Club to open the Jimmy Grants chain of souvlaki stalls, while over on Gertrude Street, Belle's Hot Chicken serves up American-style deep-fried bird to queues of appreciative locals. As well as being tasty, the food is comparatively cheap to make — meaning customers will visit not a couple of times a year, but a couple of times a month.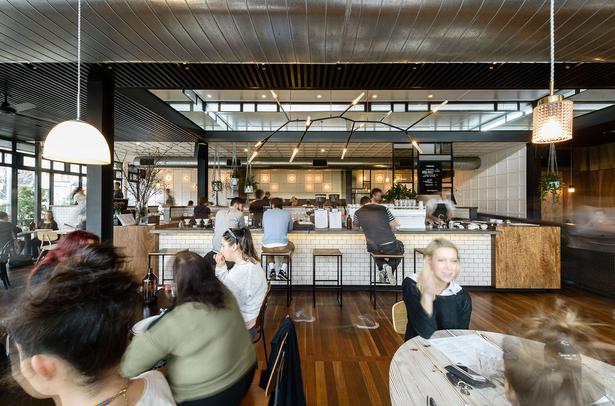 More Source
Customers are demanding quality and transparency in the food they're served, and don't mind paying extra for it. Top Paddock buys fresh Queensland softshell crabs instead of the frozen former sewage-munchers that come out of Asia, even though the good stuff pushes the price of the dish up to $21 instead of $10. They're also doing pescatarians a favour by working proactively with sea trout farmers to move them away from chicken pellet feed, and to phase out the dyes commonly employed to give the fish its distinctive red flesh.
Closing the loop
Switched-on diners are calling on cafes and restaurants to cut down the total waste they create, and to do positive things with their leftovers. Some businesses, like Top Paddock, go so far as composting excess organic matter on site then sending it back to the fruit and vegetable producers as fertiliser for their crops, a system Toleman refers to as "closing the loop".
Getting the right look
Melbourne has moved through its exposed brick phase and may even be coming to the end of the age of everything painted white. Right now, says Toleman, the best interiors are the ones where old, heritage features are blended with modern style points to create one single look, often with greenery to soften the man-made interventions. Kettle Black is an extreme example of this — a classic villa squeezed under and into a modern apartment building, which creates an eye-catching contrast on the exterior but works as one beautiful unified space within.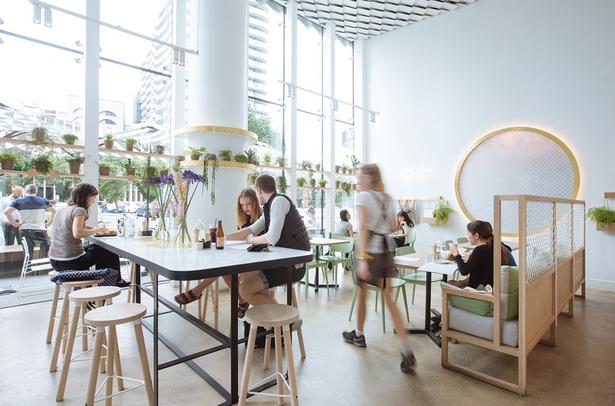 Barista-only zones
The coffee station forms a prominent, even dominant part of Toleman's cafes, but for most staff it's "hands off". Gone are the days when a customer would request a coffee and the waiter would go and make it — nowadays only a trained barista is allowed anywhere near the coffee machine, a recognition that coffee in a restaurant should be just as good as the cup you get from your favourite hole-in-the-wall artisan espresso master (by the way, Toleman says Australia imported the "double shot as standard" from New Zealand, though you'll still need to ask for it in some cafes, where the allegedly superior taste profile of the single shot is making a comeback).
Oversharing
Remember when it seemed every new restaurant was doing sharing plates or, as some called it, "family style"? Nowadays the trend has moved into cafes, but it's led by customers as well as restaurateurs (maybe its been helped along by another trend, communal tables). When I visited Top Paddock the couple next to me were going halves in a bowl of porridge, and Toleman says that's very normal. Go out to brunch with three friends and you can create a little four-course tasting menu. And why wouldn't you? It gives you a variety of flavours, a mix of sweet and savoury and, of course, more beautiful pictures for your Instagram account.
Share this:
More Food & Drink / Dining Out