Restaurant Review: Gemmayze Street, K Rd
Jesse Mulligan takes charge to enjoy an exciting menu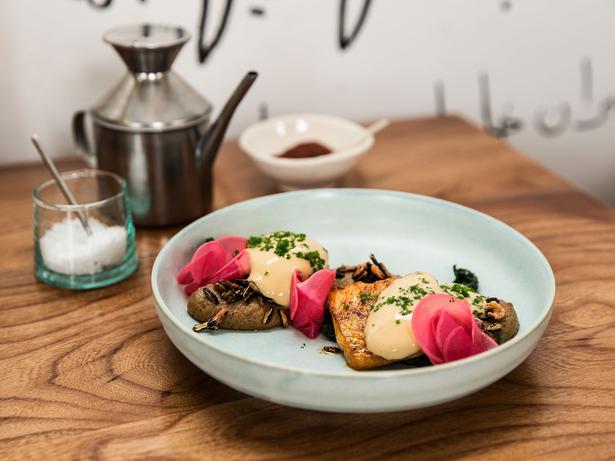 Wednesday July 27, 2016
Cuisine: Lebanese
Address: St Kevin's Arcade, 183 K Rd
Phone: (09) 600 1545
Bookings accepted
Drinks: fully licensed
From the menu: hummus, labneh, lamb's tongue, roast cauliflower, falafel (small), falafel (large), market fish, icecream sandwich, roasted pears ($50 per head), braised lamb ($25), baked haloumi ($14), pheasant ravioli ($10)
Rating: 6.5/10

I'm torn as to how to feel about Gemmayze Street, the new Lebanese restaurant in St Kevin's Arcade, which has been open just a couple of weeks as I write but is already flat out busy. (I tried to book a table but was told the only chance was to walk up after 8pm. Of course, although it's good manners to follow the instructions you get by phone, there's no substitute for showing up in person and trying your luck. We got there at 7.15pm and secured a table without trouble.)
There was much to love about the restaurant, but we ended up having a pretty terrible time, for a variety of reasons. The menu looks great — traditional Middle Eastern dishes with modern execution, it's a level of fanciness somewhere in between rustic Ima and delicate Beirut.
The list of mezze options makes your mouth water — 14 small plate choices from a roasted cauli with sultanas, to a lamb tongue terrine, to a fresh tabbouleh salad. The mains are tighter but all look good and interesting: octopus, fish, falafel and two styles of lamb. I was excited.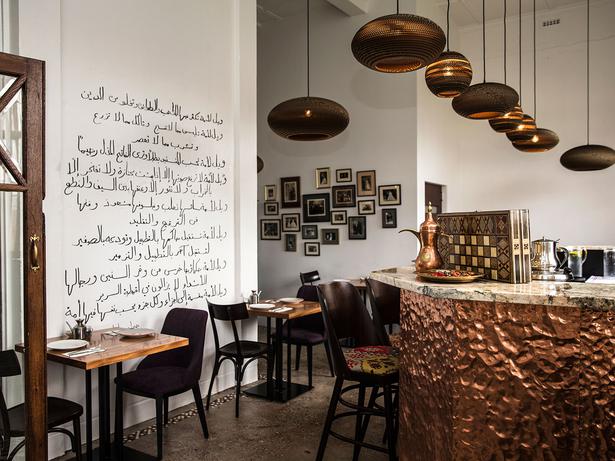 This much choice can be overwhelming but luckily there is a "feed me" option — "Jeeb", in Arabic — which is pushed fairly firmly on the menu and in person. This is the authentic way to eat, they told us, "trusting that the chef will treat you like family and bring out the best", and so we went for this option — $50 per head and no more choosing to be done.
But it was a washout. Two dips and three small plates for starters, then two mains to share before dessert. We'd been promised three mains but when we queried the change were told the chef had changed his mind and "big upped the two". There was about 150g of fish to share between three and, worst of all, the other main was falafel, an identical but larger version of one of our starters.
I did some quick maths and worked out that with dessert still to come we'd been served about $85 worth of food, having spent $150. It felt mean and tricky and horribly against the spirit of what had been promised. I was gutted to have missed out on so much of this beautiful menu, so I put a hold on the sweets and asked if I could order some more food.
"Is up to you," the waiter said.
Yet contrasting with this miserly eating experience was a restaurant concept that is largely likeable. It's a family-run operation, with mum managing the floor and one son in the kitchen, one waiting tables. The service is mostly kind and friendly, eager to please and proud of the business. The restaurant proper looks clean and smart and they have tables spilling out of their own space and covering one whole end of the arcade. As such, there is plenty of room and light, even if the mix-and-match furniture and cold mall air sometimes make it feel less than luxurious.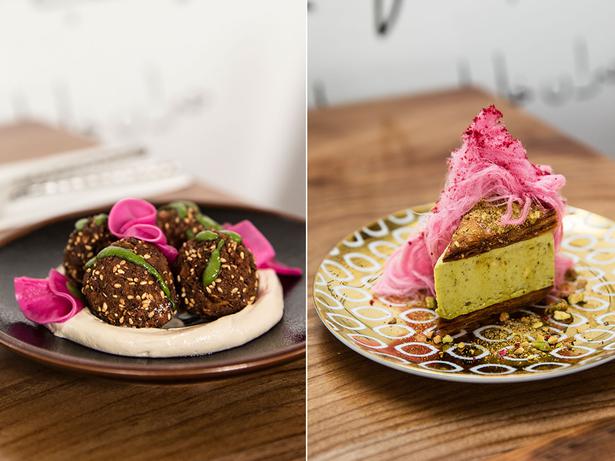 I didn't need 11 of them but the falafels really were the best ever. As a design concept the falafel is almost destined to fail — it's always dry, and often rocky, and sometimes burnt, and rarely delicious. But just as the laws of physics don't allow the bumblebee to fly but it does anyway, so Samir Allen, the chef at Gemmayze Street, ignores the crumbly legacy of these deep-fried chickpea golf balls and creates something that is textural, toasty, flavoursome and moi- … has good moisture content.
It comes with a sharp pickled turnip, a smear of tahini and a bright green parsley sauce and it all worked beautifully, despite it being a challenging time of year for herby sauces — a basil dressing that came with the haloumi was virtually indetectable beyond its colour.
Hummus and baba ghanoush were silky and subtle, the hummus drizzled in a beautiful bright orange paprika oil and served with a tearable flatbread which would have been even better warm. The tongue terrine was a very palatable expression of offal, cut with pickles and a tomato chutney. The braised lamb — shoulder I think — was a wonderfully constructed dish, the meaty juices soaked up with a tapioca couscous, more pickle and shards of sweetness in each bite thanks to a brittle sugar and caraway cracker.
The puddings were lovely too — the flaky pastry pie filled with bright green pistachio icecream and topped with pistachio candy floss could be a signature dish. But with the feast-that-wasn't plus a couple of lost drink orders it felt like a real mission to make it to dessert. I recommend the restaurant, but you should be prepared to take charge when necessary.
Share this:

More Food & Drink / Dining Out