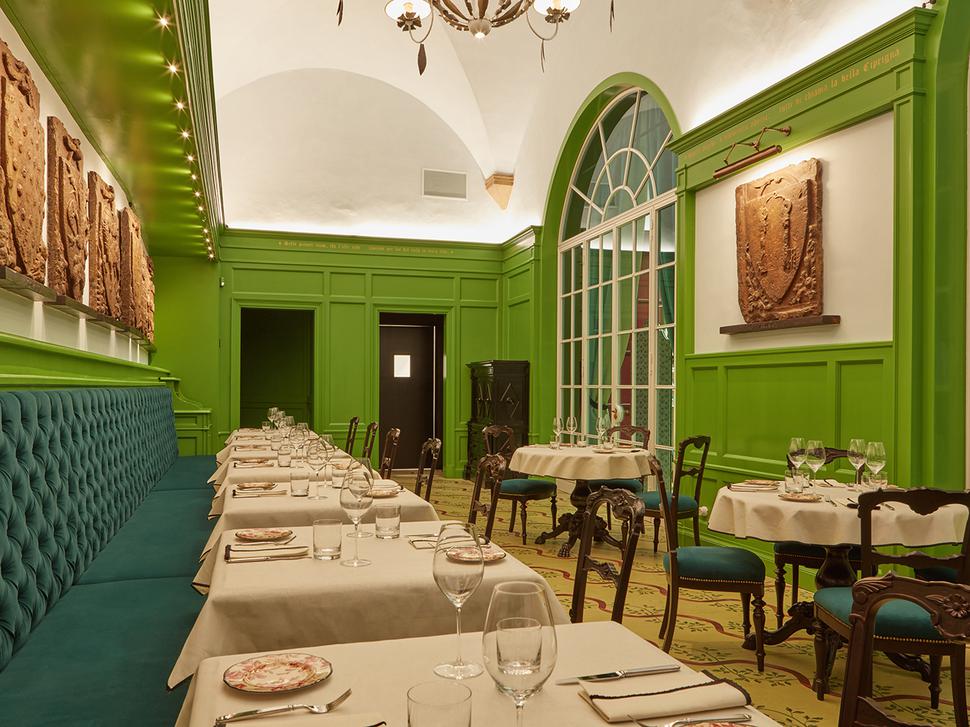 Gucci Opens its First Restaurant in Florence
Discover the fashion houses among Gucci serving up haute cuisine with their haute couture
Friday Feb. 9, 2018
Should you wear Burberry to lunch at Burberry? Or is that like turning up for a date wearing a jumper with the person's face on it — too keen? Such was my dilemma as I made a midday reservation for two at Thomas's, the British fashion label's Regent St restaurant in London, then wondered what the hell to wear.
Diners in Florence are no doubt wondering similar thoughts, with a Gucci Osteria serving Gucci tortellini in Parmesan sauce (NZ$33) and Gucci scampi ($50), having just opened in the city.
Aside from the obvious question — is Gucci scampi the new fur-trimmed mule — it left another on our tortellini-stained lips: why on earth would Gucci open a restaurant?
But reverse up the red carpet, if you will. Because although it seems delicious irony that an industry obsessed with size should be keen to feed us (carbs, no less), given food is so fashionable and fashion so cool, the two sit together as perfectly as black and white piano keys.
READ: Inside the New Gucci Garden in Florence
For years, scene restaurants have been a huge part of the foodie world. Think Robert De Niro's Nobu and Chiltern Firehouse. Branded eateries are the next, logical step.
Thomas's, which sits next to and above the flagship Burberry store on Vigo St, launched in 2015 — and is just one of many high-fashion food havens across the world.
In Milan alone you can get Prada panettone ($50) at the label's bakery, Pasticceria Marchesi, and Cavalli chicken wings (for around $13.50) at Club Cavalli, but I wouldn't wash it all down with anything but Chanel wine from one of the label's three vineyards in St Emilion, Margaux and Napa Valley. Cases of 12 are a total bargain at $2843.
A run-through the world's other fashionable food and drink options highlights a pattern. There's the Armani cafe in Dubai, Dior des Lices in St Tropez (with a sister in Seoul), where you can order a Dior cappuccino and macaroons (if you can handle the calories, pre-beach).
Gucci had a restaurant in Shanghai before opening in Florence, and Vivienne Westwood is trailblazing finger sandwiches with afternoon tea ($87) in Hong Kong.
RECIPES: Afternoon Tea Delights
What all these locations have in common is an obsession with image: they're social-media selfie heaven, where being seen is everything. And being seen to be eating from Gucci's paisley-print plates, which you can purchase from the adjoining shop on your way out, even better.
HOW TO: Take Smartphone Photos Like Kendall Jenner and Adwoa Aboah
In the UK, there is the charming little sister of Ralph Lauren's Polo Bar in New York, although rather more subtle, in Regent St.
From 8am, you can wander in for a lobster eggs benedict ($29) and, at a socially-acceptable hour, crack on with the cognac and champagne cocktails ($31). No wonder Lottie Moss, Poppy Delevingne and Lady Kitty Spencer have all bowled through those doors.
For the rest of us, this so-called approachability is why the idea of high-fashion food works so well. Imagine the managers of these brands standing around flip-charts, The Thick of It-style, brainstorming the concept. Fashion is fashionable and so is food.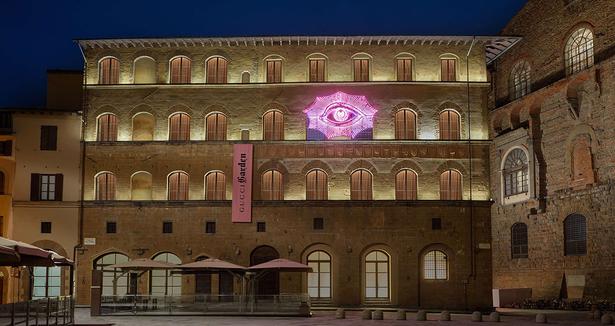 But fashion is expensive — it was reported in January that Burberry's UK sales dropped in the last three months of 2017 — and food doesn't have to be. Ergo, why not give the people a slice of fashion by giving them a slice of something they can afford: cake?
You may not be able to stretch to the Burberry Kensington mid-length trench ($2505), but you could probably afford the Burberry fish pie ($35), or Burberry cheese straws ($15. Burberry is Burberry, and for those who want a touch of luxury, it fulfils a craving for glamour while also filling the stomach.
In the same way most of us do not expect to have one job for life anymore, businesses don't expect to be able to make enough money through one stream of sales. And it's working.
READ: Fashion Designers Who Became Directors
In December, there was an hour-long queue waiting in -2C outside Thomas's, while diners at Vivienne Westwood in Hong Kong can hang around for 90 minutes for a cup of tea. Locals like these places, too, with lunch at Burberry popular with fashionistas from the nearby Vogue House.
While the eponymous Thomas Burberry couldn't be there during lunch this week, having died in 1926, I like to think the fashion label's founder would have enjoyed the lobster and chips ($97) now on offer alongside neon pink clutches ($764).
It is hard to imagine sylphlike supermodels such as Kaia Gerber tucking into Thomas's toasties ($17) or hot buttered crumpets ($10. I imagine the tiny dish of Burberry vegetables ($13.50) may be more up their street, but the waitress assures me the models who dine there prefer the honey-glazed sausages (although she's not sure how many they eat).
READ: How Italy Put Sex into Style
Undoubtedly, eating at Thomas's is at least partly for show; many do so in head-to-toe Burberry, I'm told. But there's also something undeniably fun about the spa-like feel, so removed from the chaos of Regent St outside. I may even come back for the crumpets. In my Burberry trench. You'll be able to find proof on Instagram.
MORE DESIGNER DINING AROUND THE WORLD
Breakfast: The Blue Box Cafe, New York
Breakfast at Tiffany's is finally an option at the iconic New York flagship store. No need to scoff croissants on the pavement outside while ogling the jewels in the window a la Audrey Hepburn anymore; make your way to the fourth floor for buttermilk waffles or truffle eggs.
Afternoon tea: Vivienne Westwood Cafe, Hong Kong
Artisan cakes and icecream platters in rose and Earl Grey flavours are standouts at this opulent little spot. Even the cappuccinos come with cocoa-dusted Vivienne Westwood logos.
Cocktails: Ralph's Coffee & Bar, London
Take refuge in this tiny little Ralph Lauren Regent St bar for aperitifs. It's open until 9pm most nights and jingling with jazz, while the Smoking Jacket cocktails will fire you up.
Comfort food: Thomas's, London
What else could the Burberry restaurant serve but British classics such as creamy fish pie, hot-buttered crumpets and truffle crisps. Book the Art Deco cafe for a buzzy lunch and go upstairs for the white table-clothed experience.
— The Telegraph
Share this:
More Food & Drink / Dining Out