Where to Eat: Gypsy Caravan
This new Ponsonby eatery fuses Middle Eastern and Mediterranean flavours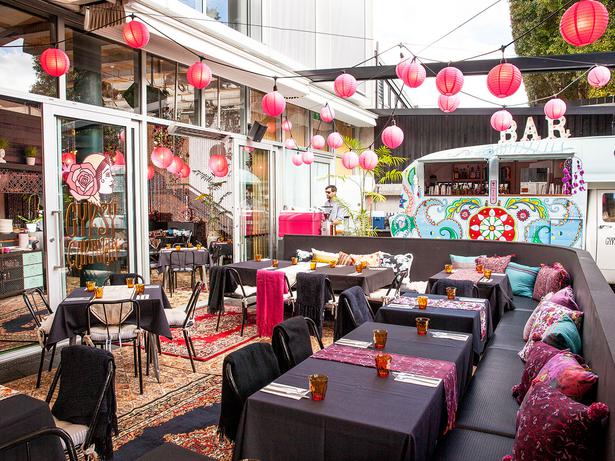 Wednesday Aug. 24, 2016
A globe-trotting chef is behind the menu at Gypsy Caravan, a new pop-up restaurant from the Miss Moonshine's team. The recently opened space has replaced The Street Food Collective — albeit temporarily, or "as long as it's fun and interesting and people are enjoying it", says co-owner Annelise Clark.
The inviting courtyard neighbours Miss Moonshine's, which Annelise and her husband Ryan opened last year. The pair also opened The Street Food Collective, a cross between a market and restaurant, which has functioned as an incubator for new foodie talent (former tenants such as Tiger Burger and Fort Greene have moved on now to have their own venues).
"Gypsy Caravan is an evolution of The Street Food Collective," Annelise explains. "We wanted to step up the service level and make everything fun and interactive." The space has been kitted out on a budget, with help from the couple's family, and some Two Dollar Shop finds. They've also added a retractable roof, a welcome addition in winter.
Head chef Reginaldo Richard, from Brazil, says travelling to countries such as Australia, Amsterdam and Spain, where he lived and worked with Moroccan chefs, inspired the menu's mash up of Middle Eastern and Mediterranean flavours.
Richard, who previously worked at Odettes (along with Gypsy Caravan sous chef Ryan Clapham, who has moved over from Miss Moonshine's), says he wanted the food to be healthy, evidenced by the number of enticing vegetable-based dishes, such as spiced cauliflower with Persian feta and mushrooms baked in vine leaves. Don't worry meat-eaters, there's lamb tagine and brisket gyros to try, too.

• Lot 3, 130 Ponsonby Rd. Ph (09) 360 4075. Open for lunch and dinner from Tuesday to Sunday.
Share this:
More Food & Drink / Dining Out