Italian-style yum char at Farina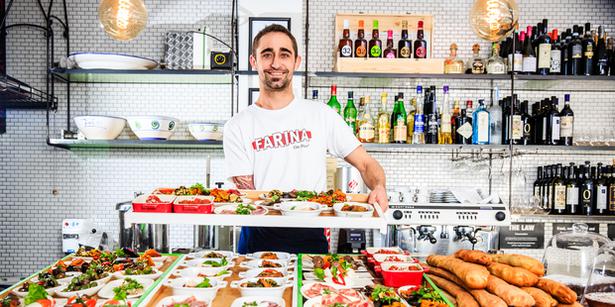 Wednesday Sept. 10, 2014
It could easily become a cross-culture food nightmare. But it isn't. Farina, the Ponsonby Rd Italian restaurant owned by Sergio Maglione and Mike Ross, has a lunch menu which they happily promote as "Italian-style yum char".
The slightly absurd description is attracting plenty of curiosity from diners wondering how far the restaurant will go to fuse traditional Chinese brunch with Italian fare. Thankfully, it's mainly the serving traditions that have been borrowed from the East; the concept of a midday feast, and an ordering system that uses small markings to indicate how many dishes your table is tallying.
This is where the culture-borrowing stops, however, and the food is reassuringly 100 per cent Italian. Forgoing the food trolley, waiters take to the floor with oversized trays laden with freshly prepared dishes, direct from the open kitchen.
Instead of steamed dumplings and siu mai, you'll choose between gently collapsing squares of eggplant parmigiano and tortellini filled with a rich veal ragu.
Grilled vegetables replace steamed bok choy and, partway through, you'll wonder if your ordering - governed by a demanding hunger - was excessive. But, as on a visit to one of the city's yum char restaurants, overeating is hard to avoid during a lunch date at Farina. 

• 244 Ponsonby Rd, farina.co.nz.
Share this: