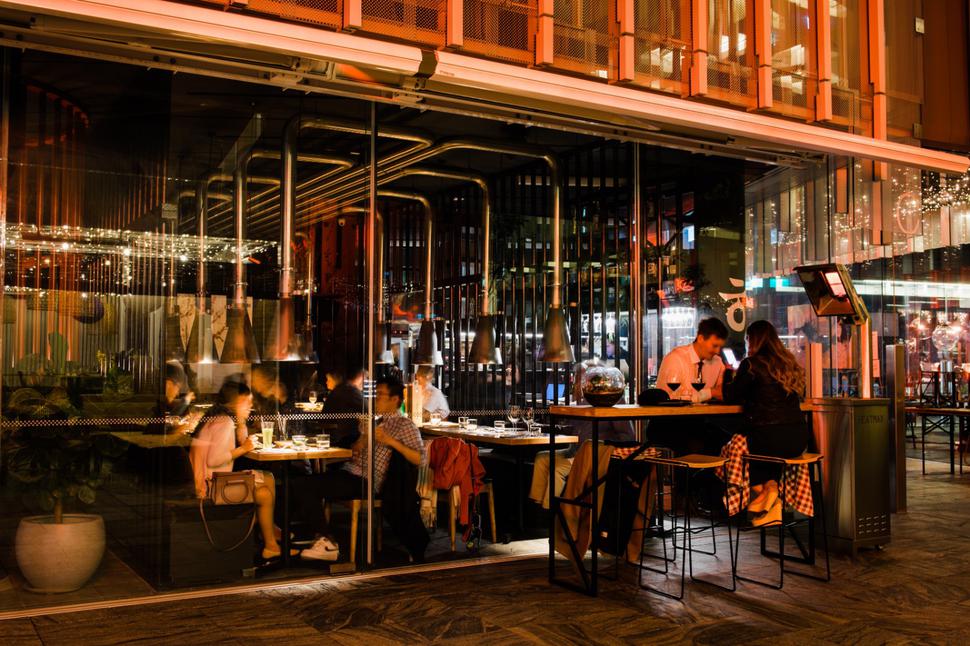 Restaurant Review: Jesse Mulligan Heads To Han & rejoices In The Pleasure Of Dining Out
Every ingredient is the perfect version of itself when dining at Han in Parnell
Saturday May 30, 2020
HAN
Cuisine: Korean
Address: Unit G04a, 100 Parnell Rd
Phone: (09) 377 0977
From the menu: Charcoal barbecue set menu, $70 per person
Drinks: Fully licensed
Bookings: Yes
So I don't suppose I'll have many new restaurants to write about in the next few months but I'm looking forward to taking a victory lap around some sure things — places that were great well before lockdown, are suitable for distanced eating and have enough quality people involved to ensure that the food is worth your precious time and money (well, we've all had a bit more of the former recently, but even the wealthiest among us must feeling a bit anxious about the latter).
For my first proper meal out I went to Han, an out-of-the-way restaurant tucked inside a flash corner development on Parnell Rise. I ate at Han when it first opened, serving very 21st-century interpretations of Korean dishes and flavours created by a graduate of Michael Meredith's brain-bending modernist kitchen on Dominion Rd. It was great then, if extremely tight for space — you could hear the waiter's joints squeak as he quietly shifted his weight in the bar area behind you.
But something must have gone right because within a few months they'd knocked down a wall and expanded into the space next door — thank goodness for that, because trying to social distance in the old space would involve one person, sitting at a table alone, being supplied with dishes by a waiter standing out on Garfield St with a long-handled shovel.
Han, 100 Parnell Road. Photo / Adam Ferris from Wonderferris

This time I visited with my friend Jeremy, and as soon as we sat down I felt the thrill of pleasure that can come only from the anticipation of a real meal in a real restaurant. If you've been sticking with takeaways so far in level 2, I can't tell you how much I want you to book in for dinner somewhere good with someone you love. It's exciting and soulful in a way with which drinking your own wine and eating pasta from a cardboard box can never compete (and that's coming from someone who has enjoyed a lot of pasta, and occasionally wine, from a cardboard box).

Even before the lockdown, Han had pivoted from that modern style to a more classic Korean eating experience. There might come a time when the chef offers both again but for now they're doubling down on recreating a Seoul-ful meal in Parnell — with a choice of a la carte, set banquet or the barbecue experience.

Being determined to eat as opposite a meal to takeaways as possible we went for the barbecue, which involves a portable grill being installed next to your table and a seasoned sirloin steak cooked to medium- rare while you watch. When it's done, you take a slice of the beef, dip it in a little garlic-soy and barbecue sauce, place it on a shiso leaf with kim chi, sprinkle it with flaky salt then roll it into a cigar and eat it. It's a textural, sensual form of eating that made me nostalgic for the meal even before I'd finished it.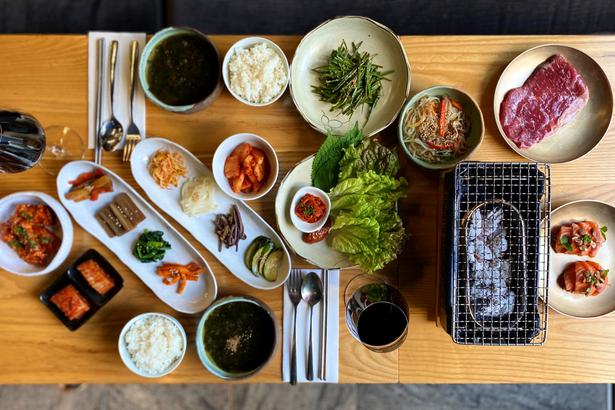 The irresistible barbecue at Han, 100 Parnell Road. Photo / Adam Ferris from Wonderferris

Every ingredient is the perfect version of itself including the beef, which the chef selects by hand in a process so exhausting that, the waiter says, "he eventually told me to go wait in the car".

But before the barbecue even arrives you've been served a mini-banquet of rice, pickles and ferments along with a couple of dishes that threatened to steal the show — a crispy, sweet chilli-glazed fried chicken that showed unusual restraint in both heat and quantity, and a delicate sheet of salmon sashimi laid on a crunchy carrot salad that was spicy enough to give me a heck of a fright on my first bite.

If you haven't eaten here before I can promise you will love it, and there is a sectioned-off table for 10 in case you've been looking for somewhere to max out your level 2 privileges. One day we'll remember these restrictions like a bad dream but Han, I hope, will be here cooking this beautiful food for good.
Share this:
More Food & Drink / Dining Out