Where to Eat: K'Rd Food Workshop
New modern food court K'Rd Food Workshop occupies a former nightclub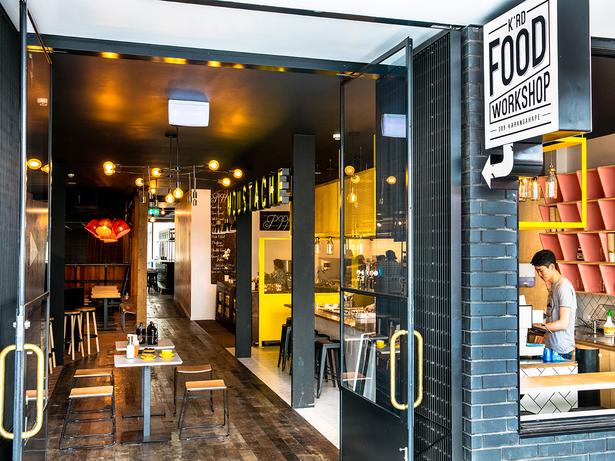 Tuesday Sept. 27, 2016
Feeling a twinge of nostalgia towards 309 Karangahape Rd? Perhaps you used to own the dancefloor when it was Bacio nightclub. Now it's the K'Rd Food Workshop, a modern food court where each of the eateries sells goods they produce themselves.
Streetside is El Sizzling Lomito, the Argentinian grill expanding on its origins at Ponsonby Central, with a bigger space that allows them to offer steak sandwiches, alongside a butchery selling cured and dry-aged meats and Argentinian sausages. Also up front is Moustache, the milk-and-cookie bar that toured the country by bus after closing their store by the Civic.
Behind them is Popped, a new popcorn brand selling fudge and what Viva now knows is the world's most addictive caramel corn. Hallertau Brewery's new bar Love Bucket is opening at the rear of the space in a few weeks, and the upstairs floor has been let to interior designers Material Creative.
Gentrification has long been feared in this part of town but given the number of upmarket apartments going up nearby and Ponsonby's commercial real estate becoming increasingly expensive, businesses are looking to K'Rd as the next area of development, says leasing agent Leah La Hood of ABC Business.
Food Workshop landlord Belinda Masfen of Masfen Group - the investment company behind two rebuilds housing fine-dining restaurant Pasture and new bar Pineapple, both in Parnell - adds it was important to retain the grittiness of the street. "History is really important to us. It's about preserving areas and not coming in and completely changing the face of it," she says. "I don't want to see K'Rd becoming Ponsonby."
K'Rd-based Glamuzina Architects are behind the fit-out, modernising the nearly 100-year-old building's brick frontage with a sexy black paint job and adding large glass doors and windows to let the light in. La Hood is now in the process of leasing 321 next door, with an "American-style product" likely to take up residence alongside a wine and food merchant.
Share this:
More Food & Drink / Dining Out