Meet Momofuku's Paul Carmichael
This year's Auckland Restaurant Month includes chef Paul Carmichael from Momofuku Sei­obo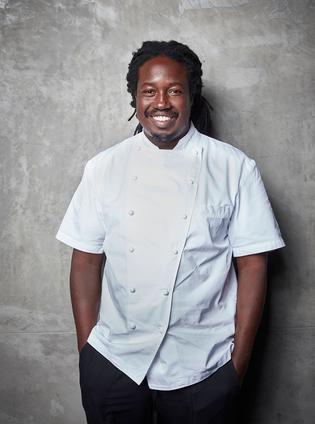 If it takes 10,000 hours to master a skill, Paul Carmichael has a jump on most people. The Barbados-born chef started cooking when he was three.
"I was always a fat kid at heart — and body," laughs Carmichael, on the phone from Sydney. "I took to cooking really keenly. Mum has always shown me pictures of this little kid on a chair in front of a pan, cooking bacon and eggs for himself. In this day and age, I can't think of a kid that a) would want to or b) had parents that allowed them to. Hot oil, fire, knives — that's setting them up for adoption."
It was "the eating part" that got him hooked on food. The creative side came later, a passion that has taken him from Barbados to New York and in the past year, to Sydney, where he leads the kitchen of fine-dining Prymont restaurant, Momofuku Sei­obo. On August 17, he joins The Grove's Ben Bayly for A Taste of Momofuku Sei­obo, celebrating the food of his childhood with a modern twist.
He's coy on the details but this should give you an idea of his playful approach: his Dad's hot sauce has worked its way into elegant dishes, as have traditional Bajan Saturday lunch meals such as blood sausage and souse, (the latter is pickled pork) and a gourmet, lobster-infused take on barbecued pigtails.
There are now several Momofuku restaurants across New York, Toronto and Sydney but it's no cookie-cutter franchise. Korean-American restaurateur David Chang started with a Momofuku noodle bar in New York in 2004 and has since opened several iterations in the city, each with its own flavour but roughly falling under the "Asian cuisine" umbrella.
Ma Peche, where Carmichael worked before making the move to Sydney, is a large, communal-style dining room where customers order upmarket French-Vietnamese-style appetisers (and in Carmichael's time, the occasional Carribean-style dish) from yum cha-style wheely carts.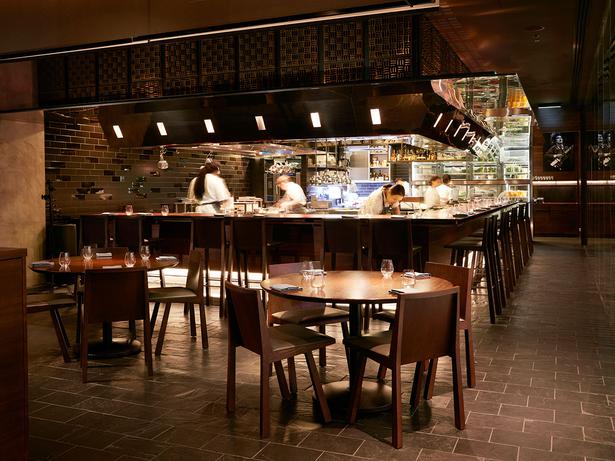 The two-hat Sydney Momofuku is just as atmospheric, with AC/DC a regular addition to the playlist, but gastronomically speaking it's more refined, offering a multi-course tasting menu that more than one critic has called "exhilarating". There's no signature dish as such — Carmichael is too humble to refer to his food in such terms — but if there's one constant it's his relentless pursuit of excellence.
"Yeah, I'm a stubborn man. If I really want a raw sardine and chocolate dish, you know, it's hard to make that work. But I'm constantly tweaking. That's how Momofuku works in general — tinkering and tweaking."
For instance, a lot of time and money (how much he won't say), went into a roti dish. Not your traditional Malaysian bread but a variety inspired by a dish from Trinidad, in which the dough is "busted" before it has finished cooking.
"I worked on this thing forever. The first time the staff tasted it they couldn't talk," he says.
It was that good? "No, they just couldn't tell the chef it was shit," he says. "But I knew."
Needless to say he continued tinkering until he was happy, a tendency that goes back to his upbringing. His parents had come from poor families — his Dad hadn't finished high school — and Carmichael had to convince them he should turn his favoured passtime into a career.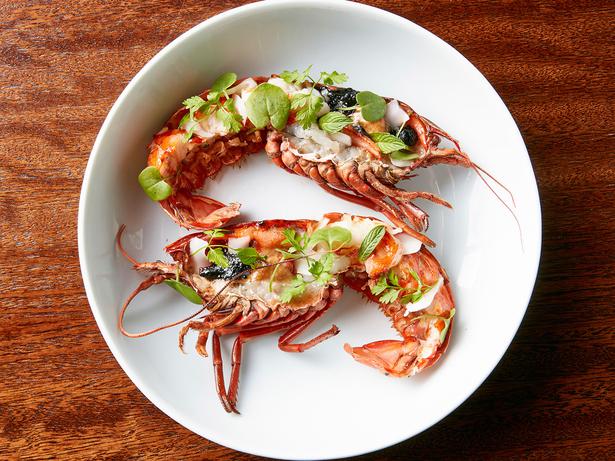 "My father worked in a super fancy hotel as a bartender for 30 years. He knew everybody. When I was 15, I was always nagging him about going to cooking school, and he said alright, to shut you up, I'll get you a job. You'll hate it."
One day in the kitchen at the luxury Sandy Lane Hotel was all it took. "I was hooked."
So much so, he happily worked unpaid after school for two years. It wasn't the only deal he made with his folks: he had to get a tertiary qualification in something other than food. One computer programming degree later, Carmichael went to New York to study at the prestigious Culinary Institute of America.
"I was super focused. I knew I couldn't mess this up, I had to be the best. I had a chip on my shoulder. I had to prove everybody wrong, mainly my parents."
He went on to work at various Big Apple kitchens, plus a stint in Puerto Rico. Despite his single-mindedness, he was never a star-chaser with dreams to work at the top restaurants in New York.
"It was a moosy goosy way I took jobs. It was more about meeting the right person and clicking with them and wanting to work together."
Among those fortuitous hook-ups was David Chang. "I knew David before David was David."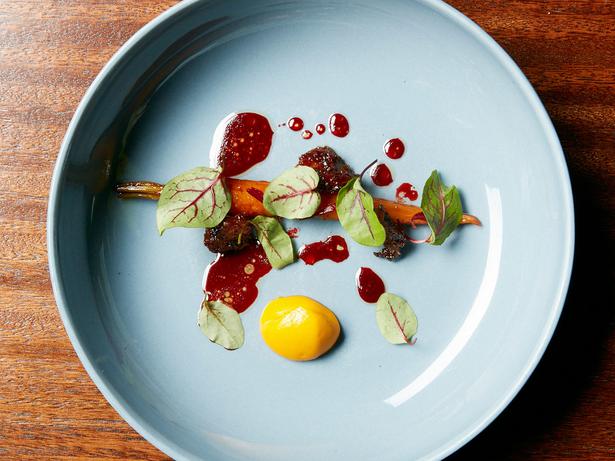 Not that he was immune to Momofuku's charms. The noodle bar had a reputation as the ultimate cook's destination because of its open-late hours and creative approach to food. Carmichael would stop by after his shifts for pork bones, chicken over rice, and smoked chicken with egg yolk. He started at sister restaurant Ma Peche as sous chef and worked his way up the ranks. As head chef, he gained a reputation of his own, for the innovative way he'd bring elements of his Caribbean upbringing to the modern plate. All of which made it difficult to leave when the opportunity arose to move to Sydney.
"When you spend so much time in one place, you have relationships, loved ones, it's hard to walk away."
He's now spent a year Downunder, where he's been embraced by the hospitality industry and diners alike. Although his new home seems a mile away from balmy Barbados, Carmichael has made the most of the tropical produce from Queensland, providing him with the mangoes, cassava, sweet potato and plaintains he remembers from home.
"I'm doing a lot of things from my childhood to represent where I'm from," he says.
Well they're not quite the same. His plantain crisps comes with guava and caviar.

• Paul Carmichael will be cooking at A Taste of Momofuku Sei­obo at The Grove with Ben Bayly on August 17, with sessions from 6pm-8pm. Tickets $270 include 6 courses and matching wines. Limited tickets available from iTICKET.  
Share this: