What's on Megan May's Menu at Wanderlust?
The Little Bird Organics' co-founder will present a specially crafted feast for the 'mindful living' festival's main dining event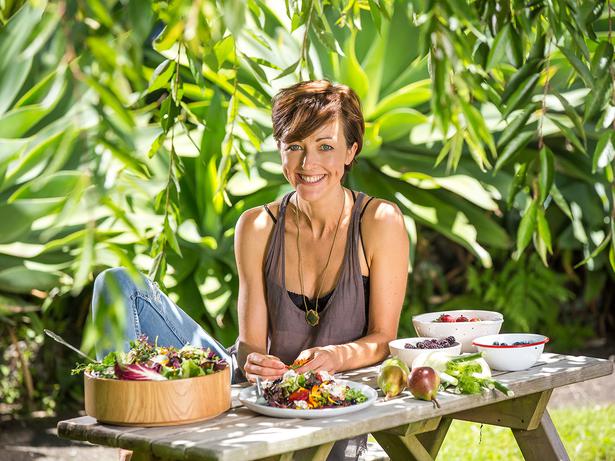 Wednesday Feb. 1, 2017
The piles of goodness you can see here on Megan May's table are the ingredients she will transform into a summer salad with baby kale, balsamic berries and macadamia feta (see recipe below) — just one of the dishes she'll be preparing for the Wanderlust festival's Earth to Table dinner at Taupo this weekend. 
The family-style feast is the four-day "mindful living" festival's main dining event, and sees the Little Bird Organics co-founder present a specially crafted three-course menu made from fresh, locally sourced, organic ingredients.
"I wanted to create something that was a real visual celebration of the colours in our summer produce, without overpowering it with too many bold flavours," she says of her inspiration for the menu.
"I've included lots of delicate herbs, tomatoes, berries, stonefruits and fresh figs, which are those things that we only have for such a short period of time each year and, when on the tree long enough to ripen, are simply perfect to eat as they are."
Guests at the dinner will also be offered sustainably produced beverages, and will be entertained by Auckland singer-songwriter Ciaran McMeekan.
• The Earth to Table dinner is on Friday February 3 from 6.30-8pm. Tickets are $108. Wanderlust runs from February 2-5, Wairakei Resort, Taupo. Visit wanderlust.com
SUMMER SALAD WITH BABY KALE, BALSAMIC BERRIES AND MACADAMIA FETA RECIPE
Time: 20 minutes. Serves 4

Incorporating more raw food into your meals should happen naturally over summer when fresh produce is plentiful and the weather is warm. Fresh berries are a summer highlight. In this salad the blackberries work particularly well, they are plump and have a nice tartness to them that's lovely with cheese and candied nuts.

For the hazelnuts you can make the roasted version I have given here but if you like to activate your nuts first (which pretty much means just soaking them) you can do that first and coat them in organic maple syrup and dehydrate them. If making nut cheese is not your thing, you can buy some at your local organic store or use another style cheese that you enjoy that has a light citrusy flavour and texture to it.
Ingredients
½ cup hazelnuts
1½ tablespoon of organic maple syrup
2 butter head lettuces
2 small red radishes
4 cups of baby kale (or good quality mesculen mix)
3 Tbsp dill
4 Tbsp chervil or flat leaf parsley
1/3 cup of snow pea shoots
½ cup strawberries
½ b cup of blackberries
½ cup of blueberries
1 Tbsp balsamic vinegar
Salt 
1 Tbsp olive oil
½ cup macadamia ricotta (recipe below) or other nut cheese
Cracked pepper
Method
1. Lightly toast the hazelnuts in an over at 170C for 10 mins. Remove from the oven and coat with maple syrup and put back in the over for another 2 minutes (you could remove the skins first before coating with maple if you like by placing the nuts in a clean tea towel, folding it over and rubbing the nuts vigorously which will cause their skins to come off).

2. Cut the bottom of the lettuces and gently pull off the leaves. Carefully wash and dry (you could use other lettuces that you have available if you can't get butter head). Slice the radishes finely with a mandoline and place in a bowl with the lettuce, kale, herbs and snow pea shoots (keep the herbs whole by picking the leaves of the stems).
3. Slice the strawberries and blackberries lengthways – around 2mm thick. Toss them in a bowl with 1 balsamic vinegar.
4. Fold the berries, balsamic and a pinch of salt into the salad mix and top with a drizzle of olive oil, macadamia ricotta, cracked pepper and candied hazelnuts.
MACADAMIA RICOTTA
Time: 10 minutes. Soak time: 4-6 hours. Ferment time: Overnight
A fresh, light ricotta-style cheese that can be used as a spread or in salads. If you aren't planning to do the second blending and you have a large food processor, this works well as a double batch. Put the nuts on to soak well ahead of time.
Ingredients
2 cups macadamias soaked for 4-6 hours
1 cup cashews, soaked for 2-4 hours
1/3 cup filtered water
1 dairy-free probiotic capsule (or ¼ tsp powder)
3 tsp fresh lemon juice
1½ tsp sea salt (or more to taste)
1. Rinse and drain soaked macadamias and cashews thoroughly. Place nuts and water in a food processor and blend until smooth.
2. You can stop here and ferment the cheese as is, but if you want a really fluffy ricotta, transfer it to a high-speed blender with a tamper and blend, using the tamper, for 30 seconds to 1 minute until really fluffy and smooth – be careful not to overheat it.
3. Transfer to a bowl, cover and leave overnight to ferment. The next day, add lemon juice and salt and mix well.
4. Store in a well-sealed container in the fridge for 5–7 days.
Share this:
More Food & Drink / Dining Out