New Opening: Giles Luncheonette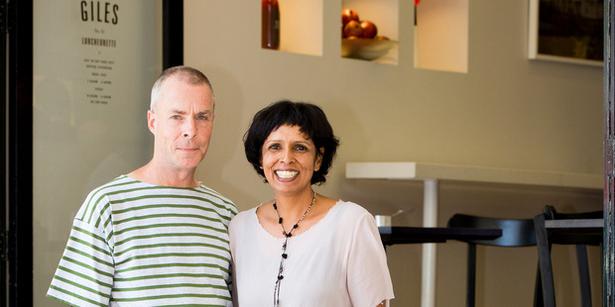 Wednesday Feb. 5, 2014
With so much competition for the daytime dollar, it's difficult to find a point of difference in the cafe scene but one husband and wife team stand apart from the rest. Their newest venture, Giles Luncheonette, may be tiny, but it's a stunner.
Peter Chichester, who previously gave us the marvellous Benediction and Gala cafes, and Rekha Dayal decided to take on the Shortland St location because "Quite frankly I couldn't turn down the location," says Peter who has been in the restaurant industry for 25 years, and had cafes for 12 years.
But they were both well aware of the need to differentiate themselves in a crowded market so when they set about renovating the space, they made sure they attended to every detail.
The result is a perfectly formed space that comes complete with lampshades by London-based designer Tom Dixon and gorgeous Seletti glassware.
The menu reinforces the reputation Peter has gained for originality in the kitchen, including the dish he introduced to the Auckland cafe scene when everyone else was still fixated on doing "eggs bene" - his spicy Mother-in-Law's Masala Eggs.
"The food I cook is honest, healthy, simple, simple, simple! No window-dressing. And I try to support as much local food talent as I can. Jordan Rondel (The Caker) is doing my cakes. They're gluten-free, and the bagels are Al Brown's."
These sit alongside lamb mince on toast ("for the lawyers up the hill," he jokes), toast served with labneh and pomegranate molasses, smoothies of kale and apple, and there's beet bircher - oats soaked in freshly juiced beetroot and pear, chia seeds and sunflower seeds - a dollop of Clevedon buffalo yoghurt and palm sugar grated on top. It comes with a cute little glass of freshly extracted beetroot and ginger juice. Simply dazzling.
And the name - Giles Luncheonette? Giles is a family name on Peter's father's side and "cafe" is a far too ordinary description for this special little eatery on Shortland St.

• 21 Shortland St, City, ph (09) 309 6056. Mon-Fri 7am-4pm, Sat 8am-3pm.
Share this:
More Food & Drink / Dining Out