New Opening: Ha! Poke, City
Chef Mike Shand and the team behind Mexicali Fresh have joined forces for a new poke eatery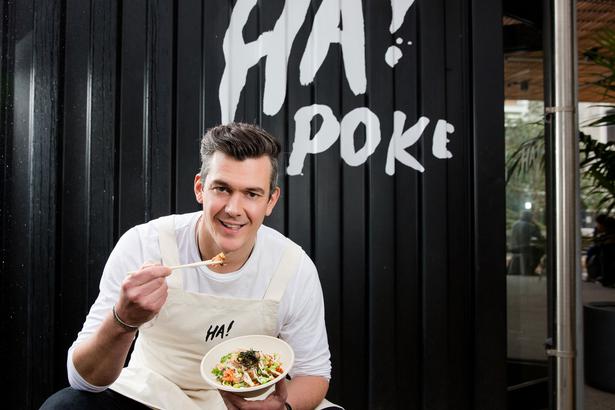 Monday July 31, 2017
Let the vibrant flavours of new eatery Ha! Poke take you on a little Hawaiian holiday that won't break the bank. Chef Mike Shand has been working on Ha! Poke, housed in a repurposed shipping container, when he's not busy running his own businesses or cooking for Beyonce, with the help of the team behind Mexicali Fresh and Burger Wisconsin. Their new venture has a focus on simplicity and sustainability, offering a range of bowls packed with tasty ingredients and exciting textures.
Poke ("poh-keh") — diced raw fish marinated in Japanese ingredients — found all over the Hawaiian islands is slowly making its way into Auckland's consciousness. Ha! Poke has eight bowls to choose from: four morning/acai smoothie bowls made with either porridge or coconut sticky rice, and four poke with either raw tuna, tarakihi, teriyaki chicken or tofu on a bed of wholegrain/brown sushi rice or salad.
READ: Beetroot and Macadamia Poke Recipe
Mike says poke's bright ingredients and simplicity are among the reasons it's been such a hit around the world — he eats it at least a couple of times each week.
"Poke has been popular for a long time internationally, but the cool thing is there are so many different twists on it. With poke it's all about the ingredients you choose, and we've decided to go down the road of using local produce, sustainable ingredients and environmentally friendly takeout containers."
Ha! Poke makes sure each part of its business fits this eco-conscious vision, a key reason for teaming up with Mexicali Fresh and Burger Wisconsin, which have just made their entire menus free-range. 
The container is parked up at the University of Auckland where swarms of hungry students are already keeping it busy. Mike says one student has already made poke a twice-daily habit. It would be a good idea to join them: it's not often great flavours combine in a breakfast or lunch you can feel good about, and the price point is equally as delicious — just $6.50 per bowl plus $3 for each protein.
• Find Ha! Poke at HSB Courtyard, University of Auckland, 10 Symonds St, from 8am-6pm, Monday to Friday. Visit Hapoke.co
Share this: