Orphans Kitchen's New Desserts
This Ponsonby favourite has a new enticing dessert menu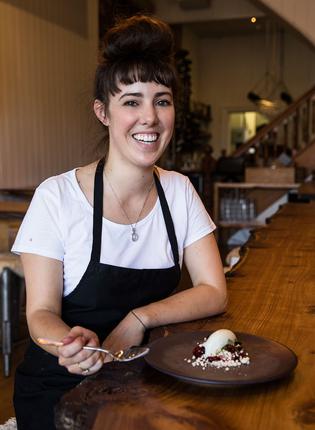 Since it opened in 2013, Orphans Kitchen has earned a reputation for its innovative food. Now the popular Ponsonby Rd eatery has a new dessert menu featuring what can only be described as edible poems.
Take your pick from cherry and chamomile (fresh cherries with cherry gel, white chocolate rocks, sour cherries with chamomile frongs and a quenelle of chamomile icecream); berries and plum sorbet (with fennel frongs and pollen, mixed fresh berries, strawberry jelly and cacao nibs, topped with shards of licorice and linseed wafers); and lemon pith curd (with goats cheese foam donuts).
Helping to create the finer details of these dishes is the restaurant's new pastry chef, Meisha Gerrand. The former barista and front-of-house at Little & Friday in the city is a domestic baker from way back, famous among her friends and family for her homemade birthday cakes.
Now that she's under the wing of Orphans chef Tom Hishon, she's stepped up her technique, whipping up licorice and linseed wafers, licorice paste, dehydrated cherries and goats cheese foam. "Originally I wanted to be a caker," she says, "but this has totally opened my eyes to a whole other form of desserts and plating."
Share this:
More Food & Drink / Dining Out