New Opening: Hot Sauce, Wellington
QT Museum Wellington's new cocktail lounge is set to heat things up in the capital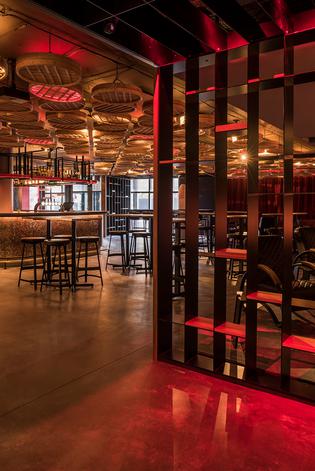 If you're heading to Wellington, Melbourne's much-loved laneway bar Hot Sauce gets a Kiwi counterpart of the same name when QT Museum Wellington's new cocktail lounge opens next Thursday.
Executive Chef Wylie Dean is bringing his worldly experience from kitchens across Hong Kong, Thailand, Indonesia, China and Japan (including a memorable stint in renowned sushi chef Jiro Ono's kitchen) to the new venture.
READ: The Search for Asia's Best Restaurant
Aptly, he says if the new bar were a cocktail, "It'd be one part Japanese, one part Thai and a splash of Korean shaken with a dash of LA, and served with a twist". He says he's excited that Hot Sauce's menu is set to serve up all the things he adores making, including dumplings, sashimi, and tasty Thai salads, plus a new creation of his own: the sushi doughnut.
"Hot Sauce is intended as a casual place to relax, meet some friends, or shake off a long flight with some great cocktails and fresh food, simply prepared with punchy flavours," Wylie says.
READ: 5 Wellington Galleries to Visit
Sydney-based designer Shelly Indyk is behind the lush interior and says she wanted to create a comfortable yet intriguing space conducive to "lazy lounging". Influenced by the menu's Asian flavours, Shelley aimed for a room that felt fresh and original, steering clear of cliche.
She says QT Museum Wellington's "elegant quirkiness" flows through to the bar, while red highlights and lights create a "sexy mood". Ooh la la — sounds like things are about to heat up in the capital.
• Hot Sauce, QT Museum Wellington, 90 Cable St, Te Aro. Opening Thursday, September 21. Visit QThotelsandresorts.com
Share this:
More Food & Drink / Dining Out