Raising the Bar for Food and Wine
Cheers for delicious food and wine matches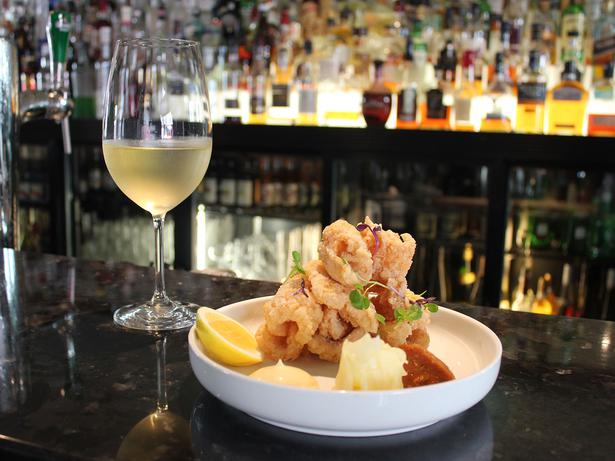 Wednesday Aug. 10, 2016
Call it quality over quantity; look on it as a solution to the pursuit of experience-rich over time-poor if you like. Whatever your take, a nibble plus tipple is sometimes a better bet than the whole restaurant package. Sadly, though, the only other option often to be found is bar food. And that can leave a sorry diner seriously wanting.
Three cheers, then, for the innovation behind Raise The Bar — Restaurant Month's take on food and wine matching without going the full distance. In this August incarnation, that means one dish and one wine. The price? Twenty-five dollars for the pair.
It perfectly fills the post-work, pre-theatre movie gap; it's a fine option to pursue when you maybe want to eat and sup without emptying your wallet and over-stuffing yourself — and a considerable advance on the beer-and-nuts-and-woebegone hummus option.
Every Thursday this month, a hand-picked bunch of inner-city restaurants are putting their best wine and food marriages forward in a strictly limited-edition fashion.
For Fraser Shenton, head chef at the Hilton's Fish restaurant, Raise the Bar gives the chance for the elevation of a species. He's come up with a dish featuring sashimi-grade long-line trevally, red sea chicory, wasabi dressing with raw rhubarb and olive oil, and a Meyer lemon fluid gel. It's paired with a glass of Babich Black Label sauvignon blanc.
This, says Fraser, is something of a "hero dish" — one that was evolved from a previous menu, but which has already proved so popular, it's made its way on to the a la carte menu as a permanent fixture.
Trevally is quite under-utilised by the New Zealand culinary sector, says Fraser. He wants to alter that. And then he goes further by glossy-ing it up with a wine that makes for a very happy partnership. "The red sea chicory provides a little bit of texture and seasoning; the sauvignon will balance everything and lift the fish quite nicely. It's a bit of a 'sip and bite, sip and bite' dish. The two just marry quite nicely." How we like the sound of that.
Over at Harbourside, head chef Thomas Barta has decided to eschew squid — a favourite of so many other restaurants, he says — and go down the prawn path instead. Hungarian-born Thomas, who got his first kitchen job in his father's fish restaurant back home as a boy, has come up with popcorn shrimps with wasabi mayonnaise, bonito flakes and Asian slaw for his Raise the Bar incarnation.
This one's served with a glass of Nautilus cuvee. "I wanted to showcase something easy — some entertaining food," he explains. "It's fun to eat while you're at the bar having a drink — but still good value."
Again, its popularity precedes it: Thomas' popcorn take has already been elevated to regular menu mention at the Ferry Building address. "It's got lots of flavours: a very good dish — but very simple," he says. What would his dad say? "He would be very proud of me. He would be amazed at how far I got from that little restaurant."
Others doing their bit to raise the bar include Clooney, where executive chef Des Harris and his team have come up with a crab dish, featuring sunflower, sweet corn and pine nuts. Its partner? Neudorf Moutere Albarino 2015.
Decisions, decisions. It's all made so easy when it's narrowed down to this level of perfection. And if ever there were a cautionary tale about the excesses of a degustatory pursuit, consider the observations of Jancis Robinson. Writing in the Observer this year, she spoke of a friend who chose to propose to his loved one during a lengthy degustation menu at the French Laundry. Midway through the multitude of courses, he took her to the garden where the intended said 'yes'. But it was all downhill from there." The only problem was that the last thing she [then] wanted to do was plough through endless more food, and returning to the table was a bore," wrote Robinson.
The bill was colossal; the bride-to-be was subsequently violently ill. Sometimes, it really is better to quit while you are ahead.
• Thursday August 11, 18 and 25, 5-6.30pm. Botswana Butchery, Clooney, Fish, Gusto at the Grand, Harbourside, Masu and Soul Bar. Dish and matching wine, tickets $25. Bookings recommended. For more events and details, visit heartofthecity.co.nz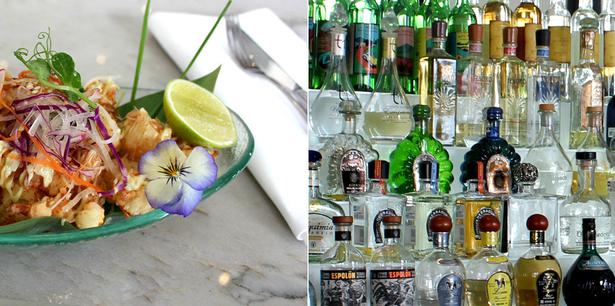 Pictures / Supplied
WHAT'S ON THIS WEEK
Eat your way around the world starting right here in the Pacific with OperaNesian. Gather some friends and head to O'Connell St on Thursday for an evening of Pacific cuisine, Polynesian-inspired cocktails, fashion and free on-street entertainment. Entry and entertainment free; purchase food and drinks at participating venues.
Fly over to Europe for Tour de France at Le Chef on Vulcan Lane. Le Chef's sommelier will share the special characteristics and stories of each of the five wines and different regions and why they work well together with the matched dishes. (August 22. Tickets $68 from iTicket.)
How about spending an afternoon in Italy at the Vivace Annual Long Lunch? Formerly of Lorenza di Medici's cooking school at Badia a Coltibuono in Chianti, Italy, chef Paolo will be serving a four course Tuscan grill menu including a glass of prosecco on arrival. August 13, tickets $85.
If you still have miles to spend, Bollywood Night at iVillage will be a night of colour, energy, food and Bhangra dance. August 27. Tickets $70 from iTicket.

RAISE THE BAR MENUS
Botswana Butchery
Crispy squid with citrus mayonnaise, chilli jam, pickled pineapple. Matched with the Cliffhanger Riesling.
Clooney
Crab, sunflower, sweetcorn, pine nut. Matched with Neudorf 'Moutere' Albarino 2015.
Fish
Long-line trevally, sea chicory, wasabi, Meyer lemon. Matched with Babich Black Label Sauvignon Blanc.
Gusto at the Grand
Bruschetta tasting board: pea & mint ricotta/ anchovies, lardo, salsa verde / nduja, house-made ricotta / mushroom and pecorino. Matched with Santa Cristina Pinot Grigio 2015.
Harbourside
Popcorn shrimps with wasabi mayonnaise. Matched with a glass of Nautilus Cuvee.
Masu
Crispy fried squid, green chilli and lime. Matched with Babich Headwaters Block Organic Albarino 2015.
Soul Bar & Bistro
Fried oyster sandwich, coleslaw, spicy mayonnaise and a side of fries. Matched with a glass of Nautilus Chardonnay.
Share this:
More Food & Drink / Dining Out