Restaurant Review: Barcelona, Kingsland
Spain on a plate whets Jesse Mulligan's appetite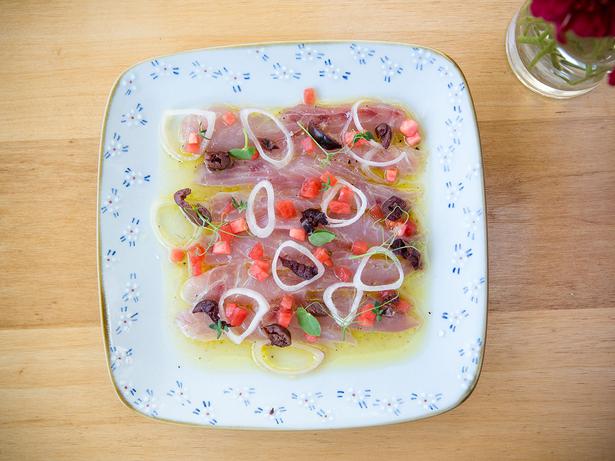 Wednesday March 22, 2017
Cuisine: Spanish
Address: 484 New North Rd, Kingsland
Phone: (09) 815 8057
Drinks: Fully licensed
From the menu: Potato bravas $8.5, leek and mushroom croquetas $12.5, iberico ham with tomato bread $18, blue nose carpaccio $15.50, steak (small) $16.50, roasted veges with romesco sauce $9.50, crema catalane $11.
Bookings accepted.
Rating: 8/10

I once had a job where I had to escort travel writers to Spain and hope they'd write nice things about it in their magazines. It was great in theory but I had the worst luck. Every time I showed up with a journalist, Spain would start to rain very heavily — once-in-a-generation downpours that would completely close the place down.
One trip I did with a photographer was so bad that in three days the only thing he took a photo of was a stray dog having a wee.
So during Auckland's worst rain storm since 1965, it felt appropriate that I ended up at Barcelona, a newish tapas bar in Kingsland. They have tables on the street that look as if they would be very nice on the right evening, but my sister and I were soaked and wanted to be deep inside the building.
We ended up at a great spot by the jamon carver, next to a large group. Forget what they tell you about avoiding groups — if the acoustics aren't too harsh and they're a nice bunch of people, I find the jolly atmosphere sort of spills out on to the tables around them. They asked us to take a photo of them at one point and were so likeable I almost took another one on my own phone (to save in my favourites folder next to the weeing dog).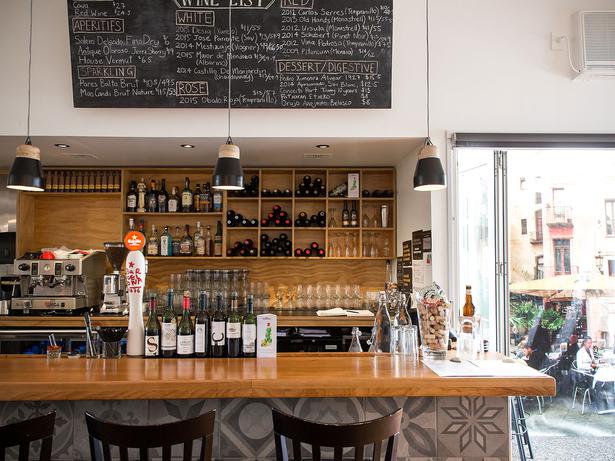 It was 8.30pm when we arrived, well after peak New Zealand dining time, but I was still surprised to see a few empty tables. There are 100 great restaurants in Auckland, I suppose, so why would you take a chance at what looks, from the outside, like a generic tapas joint of uncertain quality. But in fact it is a uniquely charming tapas joint of excellent quality — I hope I can convince you to give it a try.
The first thing they get right is the Spanishness of everything — like the little bowl of crisps you get to snack on while you're reading the menu.
There is a shelf of cookbooks from the home country close enough to flick through, and then the music is from Spain, the staff are from Spain, the wine is from Spain — there's nothing like pouring Corbans by the glass to remind you in you're in the land of Bilbo, not Bilbao, but here the whole list is authentically Iberian, and the waiters are smart enough to help you find something you like.
They also sell cold dry sherry for $6 a glass, which will be happy news for anybody who loves the stuff as much as I do. A few years ago the politician, Jim Anderton, put through a special excise on sherry aimed at targeting those who drink it sweet, from brown paper bags at the train station, and since then it has been taxed like whisky despite being the same strength as wine.
READ: 10 of the Best Places to Sip Sherry
So drink it here while you can, and before the owners realise they owe most of this year's profits to the New Zealand Customs Service.
The food is classic and flawlessly prepared. You'll never win a Michelin star cooking patatas bravas, but on a wet hungry night there's nothing much better than deep-fried potato cubes topped with aioli and a tomato sauce spiced with hot chilli and paprika. Croquettas were little gooseberry-sized spheres, with a shell of crunchy batter and a soft, surprisingly weightless interior filled with slow-cooked leek and mushroom.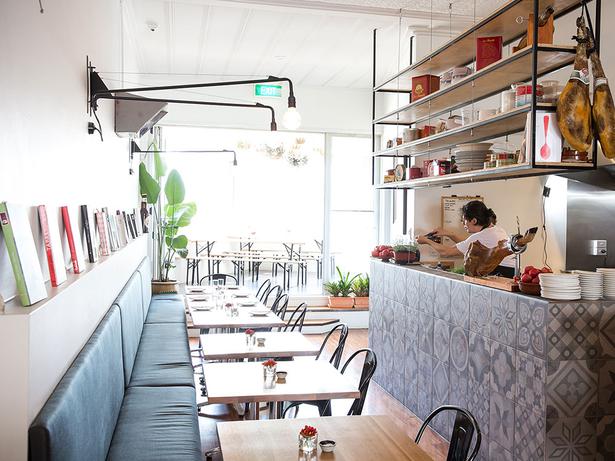 I was surprised how seriously they took fish, which is often fried or dried in even the coastal parts of Spain. But in Barcelona, Kingsland, it's served carpaccio, sliced raw and dressed with citrus, red capsicum and black olives.
RECIPE: Asparagus and Salmon Carpaccio
It's crackingly fresh fish too, with a choice of bluenose or dory the night I visited and kahawai, an under-rated sashimi option, on offer the night before.
I wasn't so keen on the steak, which was cooked adequately but didn't taste of much besides medium rare beef. It had been pre-sliced which was part of the problem for me I think — I like to control the brown-to-pink meat ratio in every mouthful and, especially without anything piquant on the plate to enhance the flavour, I found all that chewing not worth the energy.
I'd also have liked to see a tortilla on the menu, this simple little potato omelette being one of my best memories of our long weekends in the Jerez hotel lobby. If you know where I can get a good one in Auckland let me know — the high olive oil content is a bit too stressful to make it at home, but a slice of somebody else's now and then would be a treat.
Until then I'll get my Spanish nostalgia hit in the shade of a hanging ham at Barcelona. Add this one to your list.
Be inspired by the good things in life. Sign up now to receive emails from Viva, and twice a week you will be sent the latest news, profiles, videos, fashion shoots, competitions and more.
Share this:

More Food & Drink / Dining Out