Restaurant Review: Blue Breeze Inn, Ponsonby
Jesse Mulligan enjoys the global vibe at Blue Breeze Inn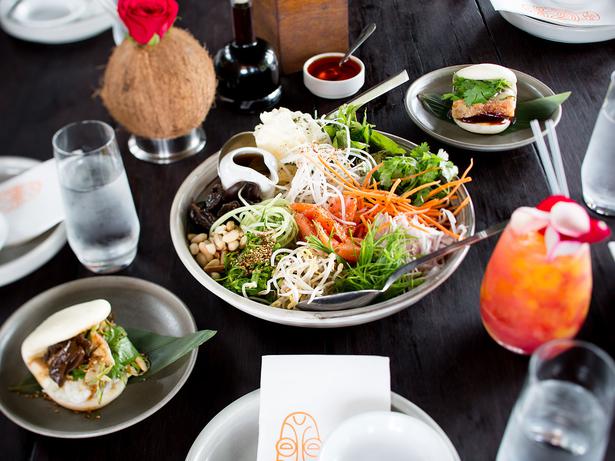 Wednesday April 19, 2017
Cuisine: Modern Pacific Chinese
Address: 146 Ponsonby Rd, Ponsonby
Phone: (09) 360 0303
Bookings accepted
Drinks: Fully licensed
From the menu: Pork bao bun $10, vegetarian bao bun $9, mushroom wonton $10, bang bang chicken $18, raw salmon salad $28, beef shin $28, rice $3
Rating: 9.5/10

The reviewer requested Viva amend his review in June 2019 following feedback he received at that time.
You can tell within two seconds of walking through the door that Blue Breeze Inn is one of the very best restaurants in the country. I've eaten there a few times now and the atmosphere has always been superb — fun, busy, sexy and friendly. It's a great place to eat, but exciting even to walk past. Perched on a street corner with happy conversations spilling out of large open windows, Blue Breeze is the healthy, beating heart of the new Ponsonby.
All of the staff wear Hawaiian shirts and by chance I wore mine, too. It was a bit like wearing scrubs to visit someone in hospital, and as I walked through the restaurant a couple of customers looked at me like "where are our wontons?"
READ: Shiitake and Chive Dumplings Recipe
But I was there to eat wontons, not deliver them. After sliding into a booth and almost knocking the small table over with my unwieldy thighs, I opened up the menu and began working on an eating plan.
The list of dishes is extensive and everything looks good. Chinese is my least favourite style of food, it has various regional subtleties but honestly, the numbing properties of the Szechuan pepper don't really make up for the amputational challenges of type-2 diabetes.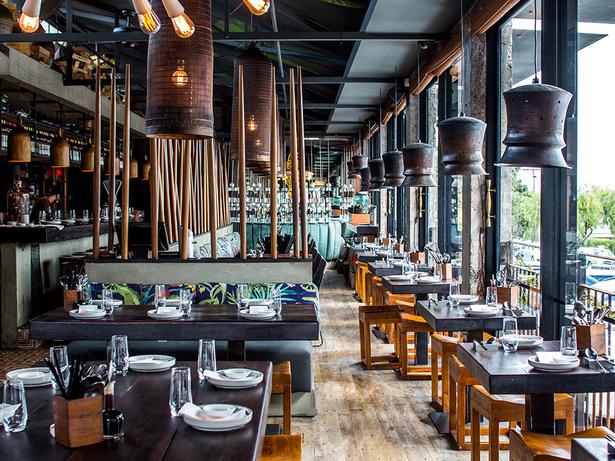 The service here is incredibly good. Every seat in the room was taken, for walk-ins there were delays of up to 40 minutes to sit down, and yet once you arrived at your table you didn't have to wait for anything.
Floor staff poured water, picked up menus, wrote down orders and delivered food as if dancing in a ballet. The worst you could say was that it might have been the ballet's third return season and each of them knew their moves a little too well — but when you're hungry and thirsty and not in the mood to suffer fools, a team of wait staff doing perfection by rote is not something you're likely to complain about.
"This is the dish you came for," said the waitress, possibly for the 1000th time this month, when she brought us the pork bun.
READ: Where to Get Great Chinese Food in Auckland
It wasn't technically true, however I appreciated her enthusiasm, and it was a pretty good talisman of the Blue Breeze style — traditional with a twist, the bun was shaped like puffy dough taco and wrapped around a mouth-melting slice of pig belly, roasted and maybe even boiled before that, but glazed in something sweet to sugarcoat that rendered fat. Slices of pickled cucumbers were sour and cooling. We didn't come for this dish but we may come back for it.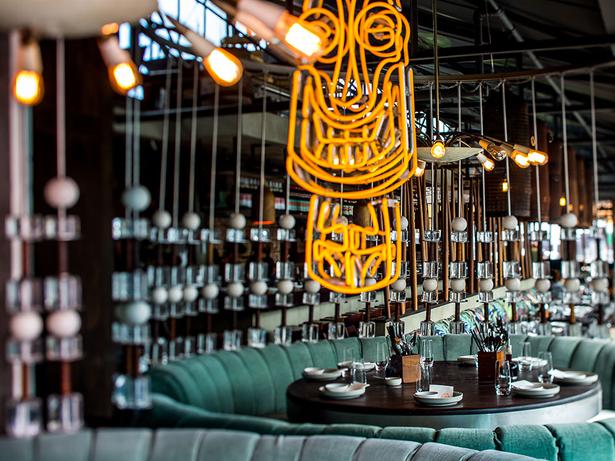 I order you to order the bang bang chicken, which is served cold. There's something about that fridge chill that refines and improves chilli, and it was pretty much impossible to stop eating the stuff. Plus because it wasn't meant to be hot, it tasted just as good 30 minutes after its arrival — it became the guilty go-to dish for mouthfuls of spice-hot meat while we waited for a new dish to arrive.
The salmon salad was the only bum note. Gluten-free and temperature-free and flavour-free, it asked too much of raw carrot and an almost invisible sesame dressing. Salmon makes good sashimi, but even that needs a little soy sauce. This was mouthfuls of unrewarding crunching and chewing, and if it's on the menu to placate the picky Ponsonby crowd I hope the restaurant will decide soon that it doesn't need them.
The disappointment lasted only a few minutes because here were the wontons, pleasingly glutinous but surprisingly meat-free. They were filled with mushrooms, savoury and moreish, and sat in a soupy broth (also vegetarian) which really tasted special — a sort of hot spicy hotpot enlivened with Korean chilli paste and sesame oil.
There are dozens of dishes on the menu and though I tried only a handful I'm confident they're all as good as this. Not to mention the wines, which are exceptionally good — German riesling, interesting bubbles, Waiheke red — plus craft beer and cocktails, so if you can't find something here to love you should really consider a night at home.
Mark Wallbank owns this place, Moochowchow and Woodpecker Hill, and they are all like this — massively fun, hard to fault, and just so incredibly good for Auckland. Each of these restaurants has at some stage been the city's hot new thing, but what a tribute to Mark that a random midweek visit years down the track was still just as exciting as opening night.
Be inspired by the good things in life. Sign up now to receive emails from Viva, and twice a week you will be sent the latest news, profiles, videos, fashion shoots, competitions and more.
Share this:

More Food & Drink / Dining Out