Restaurant Review: Etxeberria, Avondale
Discover Etxeberria, a new treat from the man behind Mexico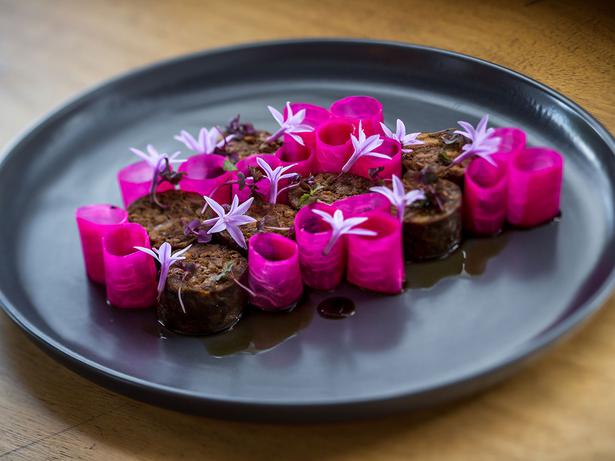 Wednesday April 5, 2017
Cuisine: Modern Mexican-Spanish
Address: 1790 Great North Rd, Avondale
Phone: 022 170 1556
Bookings accepted
Drinks: Fully licensed
From the menu: Tortilla $15, ceviche $17, "sobrasada" $16, duck and turkey sausage $28, cold smoked kahawai $26, pork belly $27, charred silverbeet $12, quinoa salad $12, vanilla cheesecake $15, goat's milk icecream $25.
Rating: 8/10
The best endorsement I can give you for this new permanent pop-up in Avondale is that I just ran into a smart, interesting acquaintance of mine and I told him he should eat here, because it's the sort of restaurant smart, interesting people will want to know about.
My guests on the night wondered if "permanent pop-up" was a contradiction in terms, like "liquid gas" or "charismatic accountant" but I think the "pop-up" part refers not to their temporariness but to the fact they operate out of somebody else's business.
These new night-time operators disguise evidence of the (unconnected) cafe operation by draping beige covers over all the permanent fixtures, which creates a vibe somewhere between classic minimalism and that scene in American Psycho where he puts a splatter sheet on his sofa before murdering his colleague with an axe.
Much of what I know about Exteberria I've pieced together, assisted not very much by the fact they've gone with a name that even now I can't remember without checking. There's no story or contextual information on the menu so it wasn't until days after my visit that I accidentally learned the chef is Javier Carmona, whose menu at Mexico revolutionised the idea of fast, tasty restaurant food and whose follow-up project, Beirut, continues to please everyone who visits.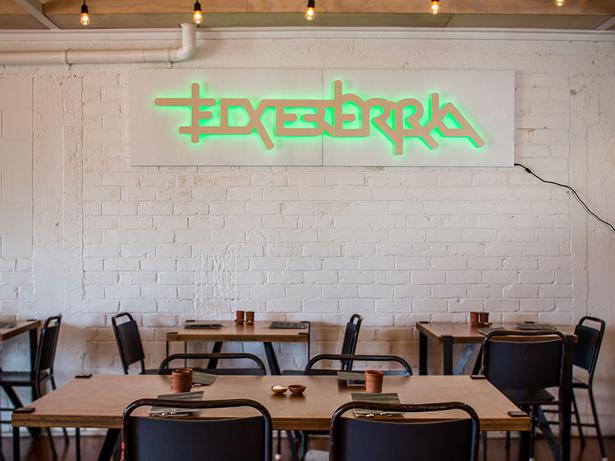 I would have loved to have known it was him when I ate my way through the menu at (checks notes) Etxeberria, because the idea of somebody throwing off the shackles of mass-market corporate eating and creating exactly what he wants is pretty exciting. He should take the opportunity to wander out and meet the people he's cooking for, or at least put his name on the press release.
The menu is a thrilling read, peppered with obscure ingredients and unlikely combinations. There are three entrees, mains and sides, so we ordered all of them and shared, though the dishes don't really lend themselves to this approach. The menu changes every week but certain curiosities — like black ants — are regular features. So, no point in specific recommendations but there's such mastery in the kitchen it's not possible you'll end up with a dud.
I told you a few weeks ago I was looking for a decent Spanish tortilla, and I'd like to thank the zero people who've written in letting me know where to find one. As it happens, this place had a tortilla on when I visited but it was deconstructed — delicious but not a satisfactory conclusion to my quest.
The potato was pureed, the onion hit came via a charred leek and the egg was a 63.5 degree poacher, the lower temperature setting it without completely transforming the albumen into something solid.
The flavours and textures worked, though mine was still the least of the entrees — a plate of tiny black burger buns alternately smeared with chorizo paste and tomato/pickled green walnut was the winner, closely followed by trevally ceviche, draped in a translucent sheet of pineapple and scattered wisps of fried chicken fat.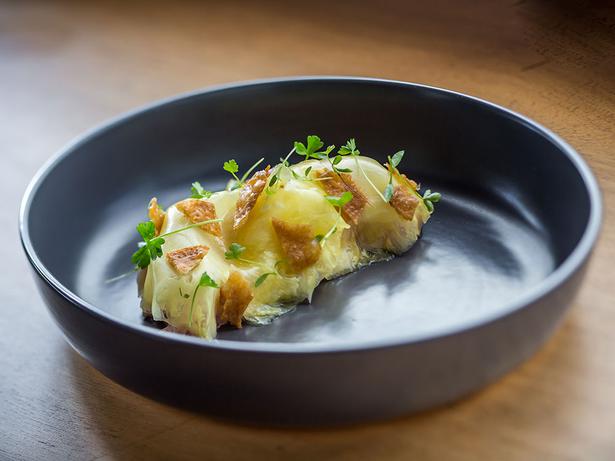 Mains were more of the same — seasonal, rare and molecular treats combined into recognisable yet challenging flavour combinations: little pickled onion cups filled with liquid goat cheese, rich duck sausages drizzled in nutty mole, smoky eggplant puree studded with grilled pork belly pieces.
Then, disaster, a piece of fish that was underseasoned and, worse, undercooked.The best thing you can do is give it back to the kitchen to solve. They offered a replacement or a free dessert, which sounded about right, though perhaps they should have noticed before we brought it up.
The wine list is superb, with stunning options by the glass and plenty of international representation. That list was being well worked over by the two tables next to us, who looked a good representation of what will be Etxeberria's bread and butter — a set of curious eaters who'd come across town after reading about it on a food blog, and a group of local mummies who I heard say, as dessert was served, "shall we do one more bottle?"
The wait staff were having a little trouble keeping up — they had to be called over a couple of times to take drinks orders, which means they're potentially missing out on the easy boozy money that will support the more experimental aspects of this business. But they did a good job of memorising and describing a complicated menu they're called upon to re-learn every seven days. I wish happy success on this restaurant, whatever it's called.
Share this:
More Food & Drink / Dining Out