Restaurant Review: Gerome, Parnell
Jesse Mulligan takes a look at the new eatery in the space once occupied by a Parnell institution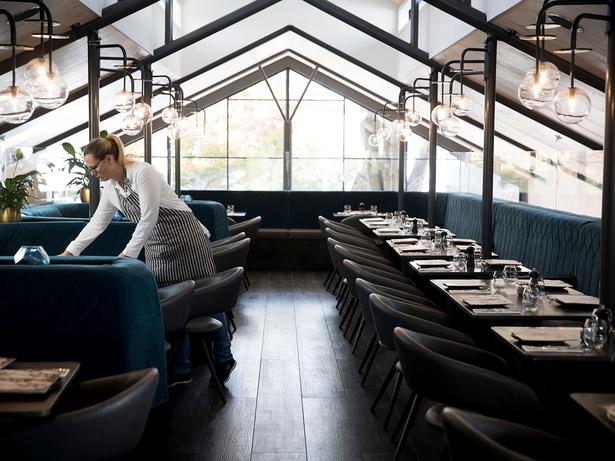 Wednesday May 3, 2017
Cuisine: Modern Greek
Address: 269 Parnell Rd, Parnell
Phone: (09) 373 3883
Bookings accepted
Drinks: Fully licensed
From the menu: Seared cheese and honey $14, lamb sweetbreads $18, flame-grilled piper fish $19, peaches and feta $16, chicken thigh a la grecque $28, burnt eggplant $18, lamb shoulder with compressed watermelon $33
Rating: 8/10

For this special Mother's Day issue I visited Gerome, the new tenant in what was formerly Iguacu in Parnell. Iguacu had a special maternal nostalgia for me as it was my first grown-up restaurant meal, which I ate with my mum on one of our famous trips to Auckland.
A trip to Auckland was a big deal for a Hamiltonian. You would start at a factory shop on Dominion Rd, thumbing through racks of clothes no Aucklander would be seen dead in, but which qualified as high fashion in the Fountain City. Then for lunch you would go to a foodcourt: "Chinese and sushi under one roof!" you would exclaim to each other, then order the fish and chips.
I can't remember what occasioned us to stay in town one evening but, perhaps, we were visiting my older brother who had recently emigrated to the city. He was rapidly moving up the corporate ranks but still had enough of the older brother in him that you could call him up at 3pm asking "Hey, could you give me a ride from Tamaki to Henderson?" and he would cheerfully oblige like he was running you around the corner back home.
Anyway, who knows what food critic Jesse would have made of Iguacu but for 15-year-old me it was super exciting. I ordered sashimi for an entree and pasta for a main (under one roof!) and drank lots of Coca-Cola, removing the straw from my lips only momentarily so I could whisper to Mum "is that Dave Jamieson from Blind Date?!"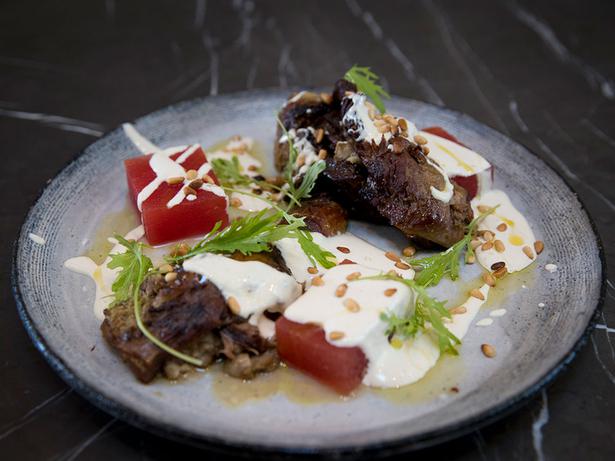 Now Iguacu is out, Gerome is in, and it's still a lovely place to take your mum. Actually there were a couple of mums there without their children. I know because one of them came up to me, surely the modern equivalent of Dave Jamieson from Blind Date, and asked for a selfie.
Then she said "I can't believe we're only one week into school holidays" and did the finger-down-throat gesture to indicate how she felt about spending another seven days in the full-time company of her child.
The place is flash — shiny tap handles and polished tiles and crushed velvet surfaces. You know it's a new Parnell fit-out when the toilet is more luxurious than most restaurants, but it doesn't feel stuffy. Sitting on a comfy stool along the wall you feel like you're in a bistro, not a palace.
The food is Greek, although it may take you a while to realise it. There's no souvlaki or moussaka, but dishes are punctuated with broadly Athenian ingredients like tahini and sharp white cheeses.
READ: What You Need to Know About Cheese
It's chef-intensive stuff, with lots of marinating, braising and pureeing, and the one thing missing from an otherwise beautiful menu is freshness. The closest thing the waitress could offer us to a salad was the bulghur wheat which she admitted, after some questioning, was "mostly bulghur wheat".
Instead we went for poached blackboy peaches with bitter radicchio leaves, sheep feta and hazelnuts. Seasonal eating being what it is, those blackboys were standard peaches for us and will be pears by the time you eat them but I'm glad they're keeping the dish on — it's a lovely showcase for ripe fruit, with a sharp sherry vinaigrette tipping things on to the side of savoury.
Lamb brains are on the menu. How do you feel about this? Revolted possibly, it's not a very Mother's Day sort of dish. But those of us who live for nose-to-tail eating will always order this sort of thing if it's available, to reward the chef for their courage.
And so it was that when I tried to put in my order the waitress reported that they were out of brains. Fortunately, she said, they were doing sweetbreads instead and for the second time in five minutes a woman I was talking to pointed to her neck, this time to indicate from where on the young sheep the organs had been taken.
READ Restaurant Review: Azon, Parnell
Deep-fried and served with fresh harvest grapes and a sour-milk yoghurt, the offal was all texture and pure pleasure. It came around the same time as kefalograviera, a sort of haloumi-parmesan hybrid slathered in Northland honey (why does that simple geographical designation make it sound so appealing?) and roasted figs. Wow.
The eggplant is unmissable, cooked until all resistance has disappeared and served with tahini and cauli puree, pinenuts and white raisins. The chicken is better than restaurant chicken should ever be — juicy and roasty and dotted with savoury wild mushrooms.
There are moments when the staff disappear for long periods and you find yourself waiting for the next thing, but they're all pretty charismatic so it's hard to stay mad for too long. I reckon they'll have things sorted by the time you arrive, and the place is open seven days, so there's no reason you can't take your mum on Sunday.
Share this:

More Food & Drink / Dining Out