Restaurant Review: Mondays, Kingsland
Jesse Mulligan is thankful for small mercies, but that's not enough at Mondays in Kingsland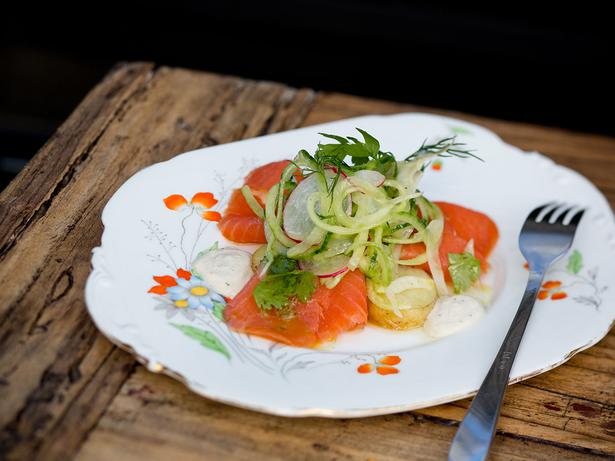 Wednesday April 12, 2017
Cuisine: Whole food
Address: 503b New North Rd, Kingsland
Contact: (09) 849 7693, Mondayswholefoods.com
Bookings accepted
Drinks: Fully licensed
From the menu: Crepes $16, chicken skewer $15, nectarine salad $15, salmon carpaccio $17, jackfruit taco $8, brownie $7, vegan cheesecake $7.50
Rating: 5.5/10
Mondays is a restaurant with great promise, but right now it's a cafe doing evening service badly. The food tastes good, but the staff act as if they're not at all bothered if you eat here or not.
The website promises the restaurant will be open "until late", but despite several of us still eating, the waiter was closing curtains and putting stools on tables by 8.30pm. He was very focused on getting those stools just right; meanwhile various customers got sick of waiting for table service, eventually getting up to grab things for themselves.
Occasionally another staff member would pass through to deliver something from the kitchen, but she was pretty determined to keep her eyes straight ahead in case another table should try and enlist her help. This meant that if you wanted a drink you had to shout "CAN I GET A DRINK?" which is a behaviour specifically listed on the Ministry of Health website under Signs You Have an Alcohol Problem.
The menu is half-vegan and almost entirely gluten-free, and I couldn't help thinking how well this concept would be executed in California. You would walk in the door and every employee in the room would look up with gratitude that you'd decided to visit. Somebody would show you to a table, pour you some water and hand you a menu before disappearing to apply some of your favourite perfume to their nape.
At Mondays my wife arrived for dinner and they said "okay". And then she asked where in particular she should sit and the guy said "what?", like that was a stupid and confusing question for a customer to ask a restaurant manager.
She eventually chose somewhere herself, electing to sit some distance from a table covered in dirty plates, which remained uncleared for some time. It's possible the guy eventually removed the dishes only to make room for one of his stools.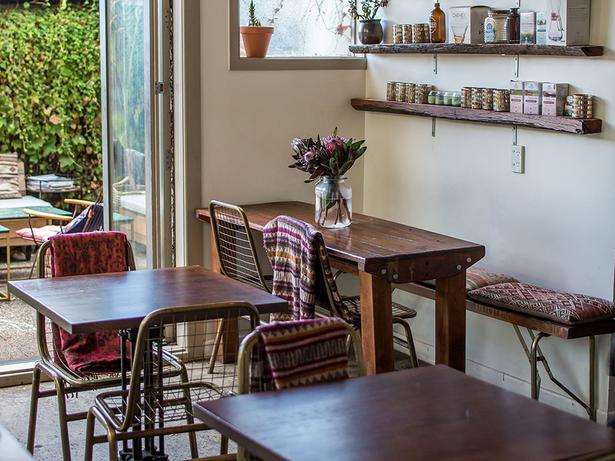 The menu reads beautifully, a poetic journey through the produce of autumn, with ripe fruit scattered among savoury dishes with a confidence and naturality that pineapple-on-pizza will never achieve. We ordered some jackfruit tacos, a nectarine salad and salmon with orange and dill, plus crepes with curried vegetables and chermoula chicken skewers.
They've also done well with the wine list, offering a selection of organic and biodynamic wines that work well with the wholefood menu. The pours seemed a little mean to me, though this might have been an illusion caused by the stemless tumblers. We certainly got through them fairly quickly, and were again shouting "CAN I GET A DRINK?" before the first courses had even arrived.
The inside area is famously small but they've done a great job of transforming the courtyard into a weather-proof, even romantic environment in which to eat your dinner. There was no music when we visited, which may be a licensing thing although, given the daily noise residents must get from live bands and pub crowds, it's hard to imagine they'd object too strenuously to a bunch of coeliacs chilling to Regina Spektor.
The food is tasty but, I have to say, ugly. The late summer harvest is full of oranges, purples and reds, but the dishes we were served fell somewhere in the spectrum between beige and light green, the food often slopped on to the plate like it was rush hour at the Hare Krishna buffet.
One of the crepes was burnt so badly I couldn't believe they'd sent it out with a straight face. The chicken skewers could have used a little of that charring - skinless and pale, the meat reminded me of the early microwave era, when we were so impressed with the technology we'd just put a chicken breast in for four minutes and eat it like that.
Crepes aside, the coconut vege curry was full-flavoured, complex with a nice big chilli hit. Those nectarines worked very well in the salad, standing firm but not too sweet against the feta and walnut scattered through the lightly dressed spinach leaves.
The tacos were best of all, with guacamole adding creamy heft to a sloppy but delicious combination of chipotle and chimichurri. Spice heat works so well with this sort of food, giving it a sort of palate-challenging naughtiness you sometimes miss when meat is absent.
For dessert you can choose between menu options or a range of sweets at the counter. We spotted a couple of things we liked the look of, but nobody took our order so we paid our bill and took them away instead.
So nobody was rude or spat in our food, and much of the above would be forgivable in a cafe. But this is Auckland in 2017. Given that it's up against dozens of excellent restaurants, including a handful within walking distance, Mondays needs to lift its game if it wants to be taken seriously.
Share this:
More Food & Drink / Dining Out