Restaurant Review: Amano, Tyler St
Jesse Mulligan finds yet another new restaurant to add to your list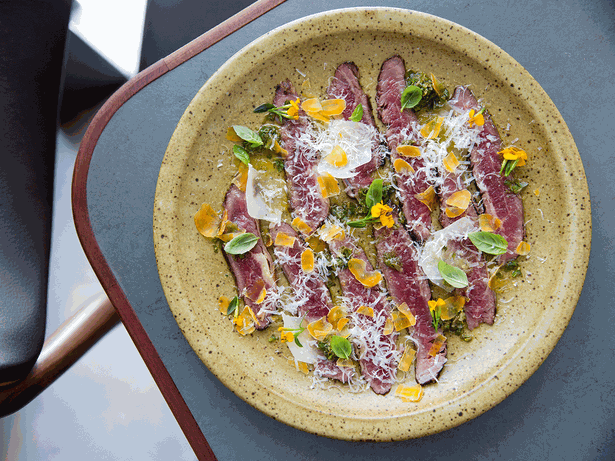 Wednesday Nov. 9, 2016
Cuisine: Modern Italian
Address: 66-68 Tyler St, CBD
Phone: (09) 394 1416
Drinks: Fully licensed
Bookings accepted
From the menu: Provolone and potatoes $18, asparagus casonsei $29, Bluff oysters $26, wagyu flank carpaccio $20, charred lettuce $10
Rating: 9/10
It's not often I find myself wandering through Britomart in the middle of the day with time on my hands but I was recently called up for jury service, which ended in the best possible outcome: challenged and released too late to go to work but early enough that I could still get to a restaurant in time for lunch.
People ask me why I was challenged, but the lawyer doesn't have to give a reason. Perhaps he'd got word of an incident earlier at security when I was pulled aside to discuss some suspicious shapes in my backpack: a hand-cranked coffee grinder, a Swiss gold filter and a bag full of medium-roasted Honduran beans. Well, if I'd got picked for a jury I wasn't going to drink instant coffee all week; and would it be the end of the world if I did some light grinding during the reading of the verdict to create a little drum roll-style suspense?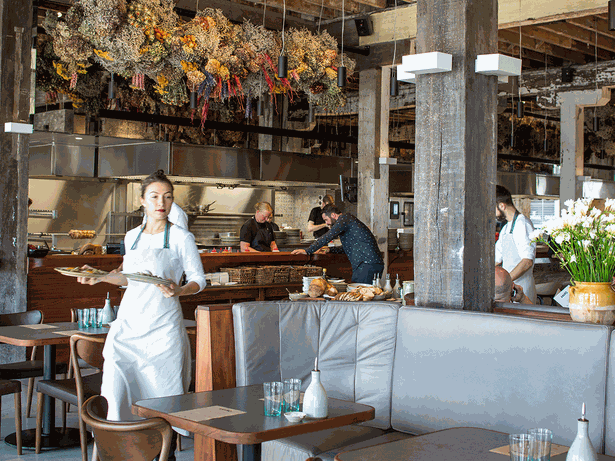 Anyway, it was too late to rope in somebody else to eat with me, so I went to brand new restaurant Amano in Tyler St and found a seat at the bar. I'd been worried I wouldn't be able to eat enough to get a good representation of the food, but the menu was so long even 12 angry men couldn't have made a dent in it. This is usually the first warning sign of a bad chef, by the way, but here there is a reassuring order to the menu — some cheese-based dishes, a lot of hand-made pastas, some meat and a good list of small plates and sides. The rejected juror ordered as much as he dared without feeling, well, guilty.
While the food was being made in front of me I chatted about wine to the French waitress. "I'll get my Italian colleague, she knows the list even better than I do," she said. She wandered away then came back again.
"Hello," she said. "Hi," I replied, uncertainly.
"How can I help?" she said. "Um, were you going to get the Italian waitress?" I asked. But of course, this was the Italian waitress, I just hadn't noticed because apparently all white people look the same to me. Perhaps it was good I never made that jury — I'd probably vote to convict the bailiff.
Amano is a completely beautiful restaurant — huge and new, with the usual exposed bones of a Britomart refurb, combined with expensive fittings and architectural party tricks at every turn. The walk from your chair to the bathrooms looks like it costs about $2m on its own, and the toilets themselves are lined floor-to-ceiling with statement tiling which admittedly tips the class factor slightly into the strained decadence of a Pt Chev new-build.
The most beautiful feature is an inexpensive one: dried flowers, which hang in abundant bunches from the ceiling to break up the space and reinforce the seasonal theme of the menu. There are bowls of tomatoes and things everywhere, and soon there will be a greengrocery space, as owners The Hip Group make the most out of the West Auckland farm they run to supply their empire.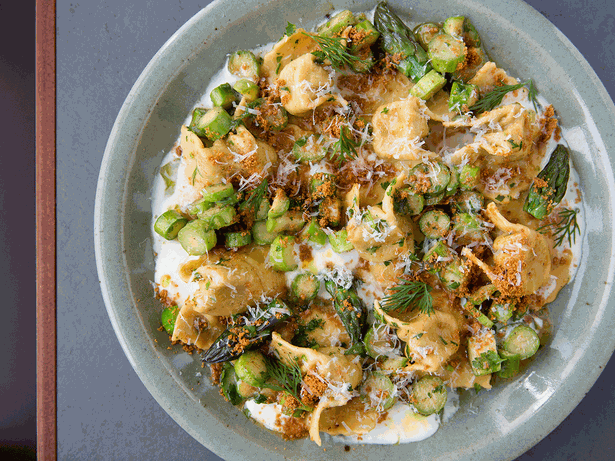 The food is spectacular. A beef carpaccio is artistic on the plate, and seasoned with all the right things — parmesan and salty preserved egg yolk and, hold the phone, tarragon flowers which might be the best advertisement for fresh herbs in a dish that I've ever encountered. Then it happened again with my plate of new potatoes — lemon basil upstaging a comfort-inspired but sophisticated layer of melted Provolone cheese and pickles.
"Aha!" I thought when my "Bluff oysters" arrived — "it's not Bluff oyster season. You've either got these out of the freezer or they're labelled wrong". But it turns out they are a new off-season brand, supplied from Stewart Island and almost indistinguishable from Bluffies. I put aside my objections and scoffed the lot — they were very lightly poached in butter and prosecco and tasted incredible.
By the time my fresh asparagus pasta arrived I was starting to wilt — all that dairy takes its toll. There was more butter in this one but it otherwise tasted like spring, with generous handfuls of grilled asparagus pieces and pasta parcels filled with parmigiano.
It's hypnotic watching these little morsels being handmade in front of you, and in a city that doesn't often reward the solo diner this spot at the bar is highly recommended. And I didn't even manage to sample the baking, which has an outstanding reputation — you could drop in and pick up a chili chocolate croissant if you wanted a low commitment way to sample the goods.
This is another almost flawless Auckand opening. Are you keeping up? Add it to your list, if there's still any room on it.
Share this:
More Food & Drink / Dining Out