Restaurant Review: A'meza, Dominion Rd
Jesse Mulligan is gratefully surprised by Asian fusion newcomer A'meza on Dominion Rd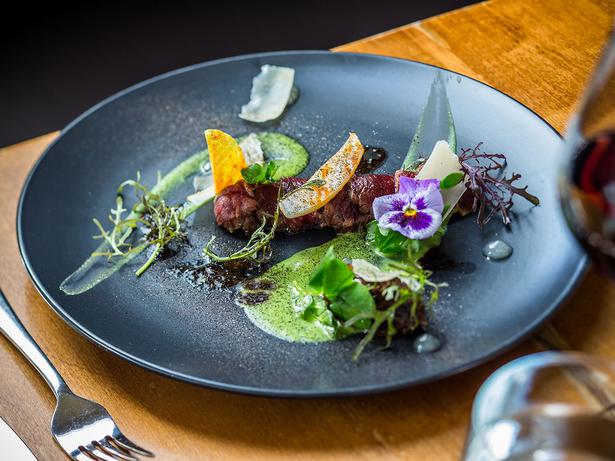 Wednesday Feb. 1, 2017
Style: Asian fusion
Phone: (09) 630 8269
Address: 345 Dominion Rd, Balmoral
Drinks: Fully licensed
Bookings accepted
From the menu: Pandesal bread $8, smoked cod $8, beef bulgogi $18, pork belly $34, market fish $35, sago pudding $14
Rating: 8/10

People sometimes ask me how they can get into food writing, and I tell them that nobody is stopping them from writing about food. "Why don't you start where I did and create a blog?" I often suggest. "Pick a quirky project like eating at every single restaurant on Dominion Rd, people love that sort of stuff."
I give this advice for two reasons. First, I like to give something back to the young people. Second, dining at even half the restaurants on Dominion Rd would lead to a quick salt-induced death, leaving one less aspiring food writer lining up to nudge me out of my cushy job at Viva.
There are dozens of tasty cheap eats along this road — the clue is in the parking restrictions, which limit visitors to just 30 minutes. That's long enough to shovel in a dozen dumplings at Barilla, but barely enough time to browse the wine list and get some bread at A'Meza, a new restaurant with elevated food, drinks and service in the old Columbus Coffee site nearly half way down the strip.
A'meza had been on my notepad to visit for a few months but I'd been putting it off, assuming it was just a slightly flasher version of everything else on the block. But when I visited, it didn't remind me of anywhere on Dominion Rd — its closest Auckland relative is Nanam in Royal Oak: a small, friendly team serving carefully prepared food in a surprisingly well-appointed restaurant.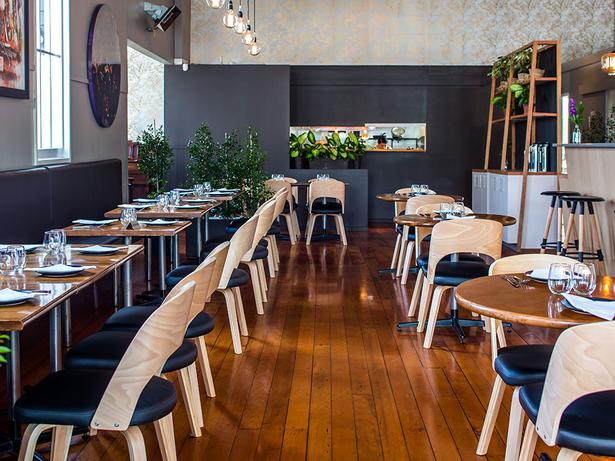 Both restaurants have wines selected by master sommelier-for-hire Cameron Douglas, who takes construction of the list and staff training very seriously. The extra attention on this one small part of the restaurant offering has a huge impact on the meal as a whole, and I hope more places lacking knowledge in this area employ some freelance expertise rather than relying on the suggestions of a wine rep with their own agenda to push.
Front of house is run by two outstandingly attentive women, who I got the strong feeling would be just as attentive to a customer they hadn't identified early on as being rakish Viva eating out editor Jesse Mulligan. (I hope this new 7pm job on TV3 doesn't get me recognised more often. I can still slip in and out of most places unnoticed, you'll be pleased to hear, and though there's not much a restaurant can change by the time a critic sits down, it's much more fun to be part of the pack.)
A'meza's food menu is short — a sure sign that a kitchen has confidence. We started with pandesal, a pillowy, slightly sweet Filipino bread roll served with a butter-enriched milk curd and salt. You definitely need to order this.
If you're not shy around raw meat you should also get the bulgogi — seared lean beef marinated in barbecue sauce with fragments of slow-cooked oxtail, parmigiano shavings, bitter whitloof leaves and a bright pea puree. The Korean-Italian mash-up worked, as did pretty much everything chef-owner Wilfred Laysico sent out.
The worst thing you can say about this sort of food is that perhaps one doesn't crave fusion in the same way as one craves the originals. I can imagine hanging out for a risotto, and I can imagine dying for a laksa, but would you ever sit at home feeling a desperate need for laksa risotto?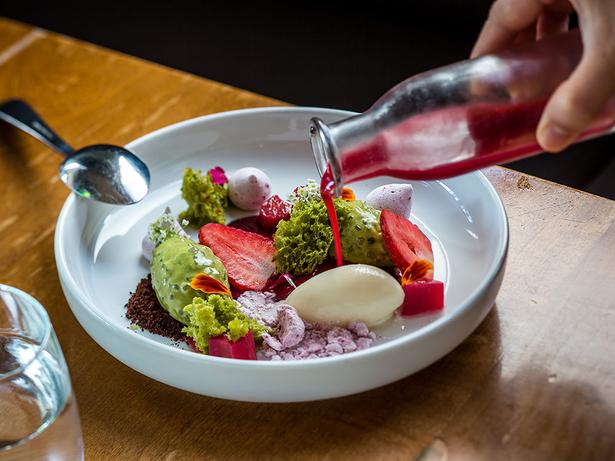 Well, if you ever do, go for this one, which is very good — enlivened with tiny pieces of kaffir lime leaf, it comes with the fish of the day, which in this case was bluenose, another good sign from the kitchen. Long live chefs who choose underrated fish like bluenose at the market, rather than overbidding for snapper and terakihi. The fillet was topped with a little tempura prawn, that rich kaimoana flavour bursting out at moments in the mouthful.
I also have to insist you get the smoked cod cakes: spherical little deep-fried morsels served with a really spicy chipotle sauce. I've eaten plenty of charred cauliflower and plenty of pureed cauliflower but this is the first time I've had it charred then pureed, and it's a beautiful result — simultaneously caramelised and silky.
We had sago pudding for dessert and it was great — that familiar sticky caviar texture lifted with a rhubarb and raspberry "soup" and some mysterious accompaniments I thought were fancy lettuce leaves but turned out to be green tea sponge. Yes, I know lettuce isn't really a dessert food but by then I trusted the chef enough that I would have eaten it with enthusiasm.
Did I mention it's a lovely room as well? The team hasn't had a restaurant in Auckland before, and they're making it look easy. Hopefully they'll find filling the place easy too — this review and all those upcoming blogposts should certainly help.
Share this:

More Food & Drink / Dining Out