Restaurant Review: Apero, K Road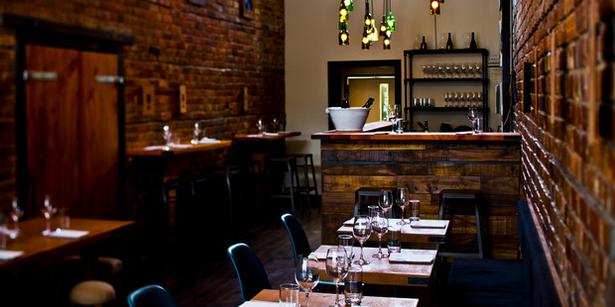 Wednesday Dec. 10, 2014
Address: 280 Karangahape Rd, City
Phone: (09) 373 4778
Cuisine: Wine bar with food
From the menu: Croquette $8, Bread in a bag $8, Crudite $24, Cockles & Octopus $24, Sausage (1/4m) $15, Burrata $13, Terrine $18, Petit fours $9, Madeleines $9
Drinks: Fully licensed
Rating: 8/10
I slipped through the small doorway on K Rd and emerged two hours later, heart a-flutter and feeling utterly, excitedly satiated. I'd expected to find a simple wine bar, perhaps offering some humble snacks, a bowl of olives, maybe some smoked almonds to go with a wine or two. How wrong was I.
The owners of Apero, chef Leslie Hottiaux (ex-sous chef at The Grove and Baduzzi) and her partner Ismo Koski (aka Mo, ex maitre d' at Sidart and Merediths) have set out to be much more ambitious than that.
On the back page of the menu and wine list, they encourage patrons to trust them to do it "their way". Having experienced what that is, I think they ought to change it to read "Caution: great care has been taken in the making of each dish, in selecting every wine, and in making every moment count at Apero."
Mo is in charge of front of house and manages it with all the casual panache of the guy who turns up at the black-tie dinner dressed in an impeccable vintage suit, sans tie, and still manages to outshine every tuxedo in the room.
His relaxed drawl belies the fact that he is the consummate professional and doesn't miss a beat.
He settles us first at one table, then at another when we decide to move (our bums being too big for the small bespoke stools) and before we know it, we're happily sipping on tumblers of Campari and soda and soaking up the atmosphere of this intimate and relaxed space, which is already half-full despite it being only their third day since opening.
The menu is short on detail but trust them we do, and what unfolds is a tapestry of delightful dishes, each one managing the seemingly impossible - to outshine the last. Tiny goat's cheese croquettes, lightly fried then rolled in almond flakes, wake up our taste buds with a sharp and creamy jolt.
A "bag of bread and butter" turns up as an intriguing "paper bag" filled with warm bread rolls, the best that money can buy, which is to say they're from La Voie Francaise, accompanied by a piece of slate generously slashed with salted butter.
The grace of Apero lies in the small details, such as the crafted wooden knife provided to slather our bread with the butter.
A plate of crudites is simply gorgeous in its form with a mix of raw, pickled and grilled vegetables - mushrooms that sing with sweetness, asparagus cut paper-thin, bitter radicchio to scoop the dip with. You can easily fall in love with a dish as pretty as this one.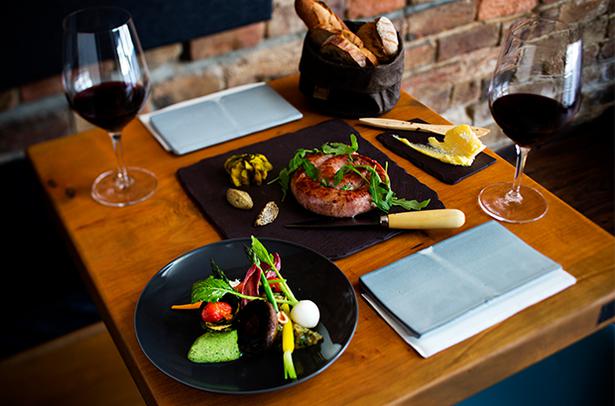 A bowl of slippery steaming cockles is at once sweet and salty, and chunks of soft octopus are topped with slivers of translucent fennel and parsley. Underneath garlicky, salty broth lies a piece of buttery toasted bread to mop it up.
A plump ball of burrata is served with a rainbow of heirloom tomatoes and pungent basil. It shouts of summer.
A house-made sausage, which rather frighteningly can be ordered by the metre or parts thereof, is moist, chunky, fatty and tasty. Tastier still is the pork terrine, also made in-house. Both are wisely served with all the right accompaniments to elevate them above the usual: walnut mustard (wholegrain too), a decent chutney, delicately pickled courgettes and again, great bread.
We probably could have stopped there but why would you?
A plate of petit fours includes an apple jelly which is like the best fruit jube you ever had, coated in an eye-wateringly tart sherbet that makes our cheeks shy.
Other fantastical treats include a dab of milk chocolate coated in bitter cocoa and a sticky square of nougat. The other sweet on offer - freshly baked mini madeleines - epitomises our experience of this newcomer on K Rd; they are a delicate dish of sheer bliss.
At Apero they're turning out beautifully crafted food that sits alongside a thoughtful and comprehensive wine list and impeccable service. If you pay them a visit, you'll be pleased you did.
As I leave, all I can think is, this is how it should be; a couple in love with food and wine and each other, bringing their absolute best to the realisation of a long-held dream - to have their own place and do it their way.
Share this: