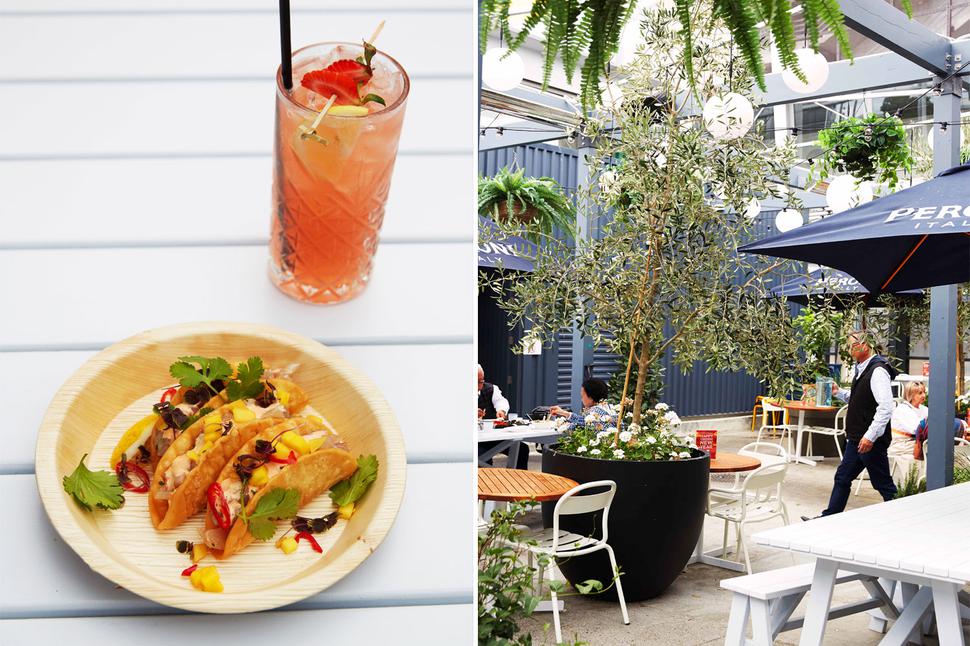 Restaurant Review: Auckland Fish Market, Jellicoe St
Jesse Mulligan tries the food on offer at the newly refurbished Auckland Fish Market
Wednesday Feb. 13, 2019
AUCKLAND FISH MARKET
Cuisine: Various
Address: 22 Jellicoe St, Freeman's Bay
Drinks: Fully licensed
From the menu: Grilled trevally $18, pepperoni pizza $18, grilled beef $24, salmon tiradito $19, tuna wonton bomb $13, red hapuka curry $24, trevally tacos $15.
Reservations: Not accepted
Rating: 15/20
Score: 0-7 Steer clear. 8-12 Disappointing, give it a miss. 13-15 Good, give it a go. 16-18 Great, plan a visit. 19-20 Outstanding, don't delay.
I ate this meal with hangman music critic Simon Sweetman, whose deep and passionate love of good songwriting is sometimes obscured by the headlines he creates. You can write a patient, 3000 word essay on the joys of the latest Suzanne Vega album but if Robbie Williams tweets a picture of you saying that you eat babies, well, that's the story people will remember.
READ: Restaurant Review: The Good Luck Coconut, Wynyard Quarter
You tend to remember when someone says something critical about you, particularly if they say it in a creative or funny way, so Simon's accumulation of enemies over the years shouldn't surprise him. But his own skin has gotten so thick I think he sometimes forgets that other people aren't used to being told that they are rubbish at what they do. My view is that a critic should be brave, interesting and readable and Simon is all of those things. As readers we should be brave too: brave enough to disagree with a writer without immediately running off to the internet to cry to our friends about it.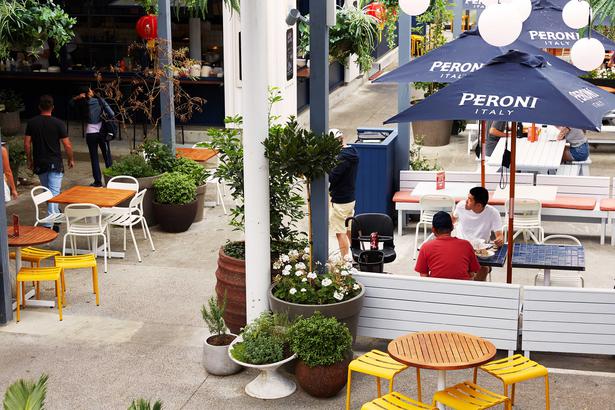 I half expected him to treat our meal like the latest Katy Perry album and say amusingly horrible things about every second of it but he was disappointingly reasonable, chewing each mouthful with respect and consideration and, when he didn't have anything positive to say, saying nothing at all.
We were at the refurbed Auckland Fish Market to eat many different things from many different places. It's an upmarket foodcourt, with those light-up discs that buzz when your food is ready, so I went from counter to counter ordering while Simon sat at our table sorting and stacking the discs like a croupier.
READ: Where To Find: Oysters & Champagne In Auckland
There is a great vibe to the outdoor eating area, with loads of tables under a high, translucent ceiling with a fully stocked bar running along one wall. In this respect eating at the new Fish Market is a bit like being at a festival, and the crowd is festive too, dripping with the youth and beauty you'd expect from people who live or work in this nascent part of the city.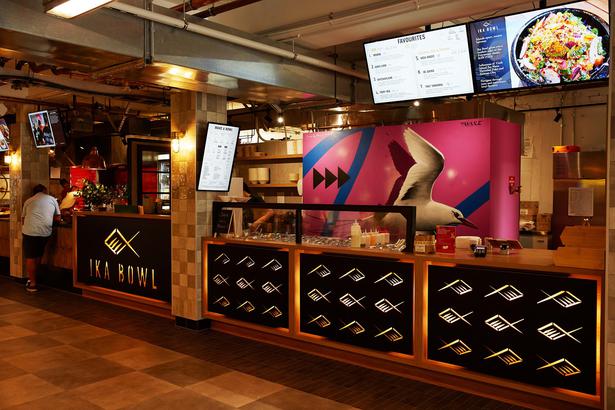 So it's worth coming here for the upbeat experience, but I wouldn't drive across town just for the food, the best of which is available elsewhere. Little Azabu is the standout — a mini version of the Ponsonby mothership, itself now my number one recommendation for a not-too-fancy dinner in the city (Hello Beasty's a very close second). Given the context you might as well order one of their fresh seafood dishes — the salmon tiradito (sashimi in a cold, lightly spicy Peruvian marinade) and raw tuna "wonton bombs" are a good bet, but they do great sushi too.
READ: Restaurant Review: Saint Alice, Viaduct
At Tiki Thai they are doing very well serving spicy Asian treats just as delicious as their sister restaurants Tok Tok and Cheek and Chong on the Shore. The hapuka is a particular pleasure, served with rice and a concentrated tamarind-based red curry sauce which, the chef tells me, is layered with flavour over several hours.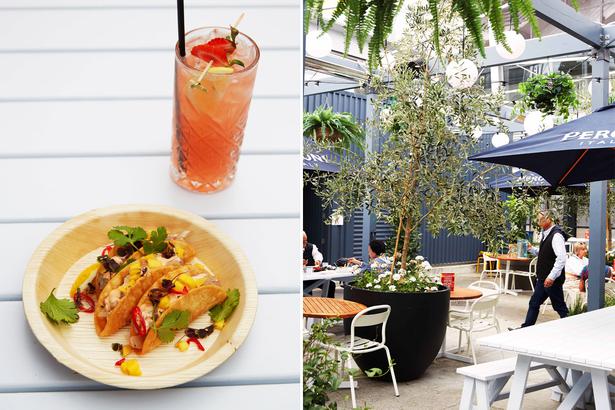 I was less impressed with the fish and chip shop (Market Galley), where the grilled trevally tasted flat with hard bits of skin that were so unpleasant in a mouthful they could have been scales. A watermelon and tomato salad had no watermelon in it. Good pizza is good pizza and the dedicated courtyard oven will do the trick for you if that's what you're in the mood for.
And the staff are lovely at the South American barbecue place (Mar and Tierra) but grilled meat is a genre I truly can't get excited about — you don't get flavour from heat alone, and though it was wagyu and there is a strip of fat cover on the cut they use (rump cap) it doesn't seem to penetrate the meat in any meaningful way.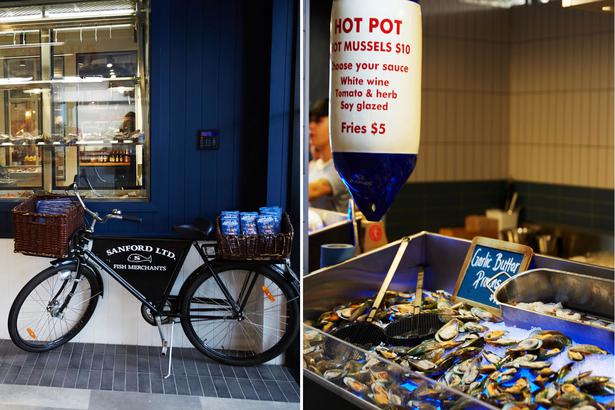 Simon and I had a good night drinking beer and wine with the after-work crowd but it wasn't until I returned with my family that the place made sense. Almost every restaurant has a good value childrens' menu, they're free in that courtyard to make a bit of noise or mess if they want to, and there is something about the occasion of eating near the water that brings out the excitement in everyone. Brooke Howard-Smith told me he used to take his nephew to the Fish Market and tell him it was Kelly Tarlton's, but that'd be a harder trick to pull off these days with the wholesale fish neatly contained in one corner of the precinct.
As of 2019 you can tell your children you're going to the fish market and they should be almost as excited — Kelly Tarlton's might have giant stingrays but they don't have this perfect gelato, best enjoyed with a coffee and a stroll in the sun, as you quietly congratulate yourself for choosing to live in this beautiful city.
Share this: