Restaurant Review: Augustus, Ponsonby
French food, wine and flair impress at Chris Rupe's new restaurant Augustus in Ponsonby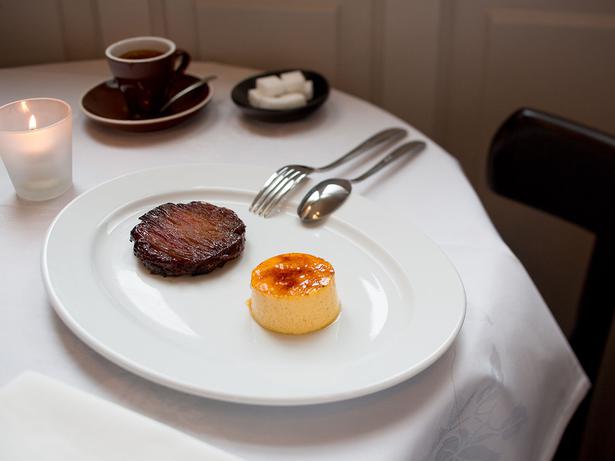 Tuesday Dec. 6, 2016
Cuisine: French
Phone: (09) 950 4855
Address: 1-3 St Marys Rd, Ponsonby
Drinks: Fully licensed
Bookings accepted
From the menu: Crab bisque $25, steak tartare $19.50, ham and poussin terrine $18.50, side salad $9.50, confit duck leg $34, goat's cheese ravioli $29.50
Rating: 9/10

Auckland has two types of people: those who enjoy the idea of sitting outside SPQR on a sunny day with a bottle or three of pinot gris, and those who'd die of shame at the very thought of it. My wife, for example, is from Hamilton and therefore in the latter group — she finds the concept of "being seen" so repulsive that we can't walk past the place at lunchtime without her rolling her eyes so vigorously the Mountain Buggy does a little jump and shudder.
The thing is she'd probably enjoy the food at SPQR, which is simple, careful Italian, and she'd definitely enjoy the service, which is smooth, fast and occasionally flamboyant. In my experience the restaurant is run almost flawlessly, so we can't really blame the staff that their front tables resemble a casting room for New Zealand's Next Top Housewives.
"Ooh look, there's a new restaurant in Three Lamps called Augustus from the people behind SPQR," I said to my wife as I read through Viva recently.
"Ugh!" she replied, and rolled her eyes so hard I heard three of her neck vertebrae crack.
"It doesn't look like they have streetside tables," I said, scanning the photos. "We should check it out."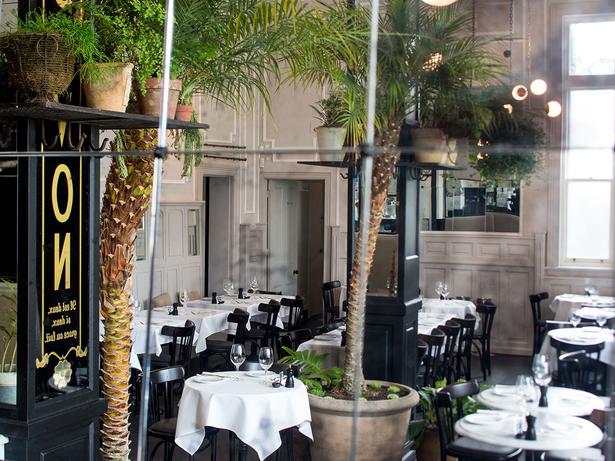 "Will Oliver Driver be there?" she asked, her eyes narrowing suspiciously.
I said nothing, not wanting to make promises I couldn't keep. But I booked us in and the next Monday we arrived and the maitre d' immediately tucked us discreetly into the corner of this former Belgian Beer Cafe, now smartly refurbished and packed with people, none of whom had ever acted in Gloss.
Read Chris Rupe of SPQR Opens New Restaurant
I'd heard the word "bistro" thrown around a bit but I hadn't realised how French Augustus would actually be, the menu sprinkled with classical cooking terms like remoulade, meuniere and tarte tatin. As such, it's in really clear space — more sophisticated than the tiny French-themed places in the city, more traditional than, say, The French Cafe. It suddenly seemed like the restaurant we didn't know we needed until it arrived.
The wine is all from France and the staff are almost all French too. Luckily at least one of them is trained to assist with the wine, saving me from the embarrassment of, I don't know, pronouncing the "x" in "bordeaux". My wife seemed pretty keen on this particularly handsome sommelier, and when he told us "I used to be footballer. I wuzz, 'ow you say, 'professional'?" I'm sure I heard her neck vertebrae crack back into place of their own accord.
As previously noted in these pages, this style of cooking is not exactly on trend — butter and flour, cream and cognac — but when it's done well, it is superb, and there's nothing here that isn't done well. I don't think I've ordered or even been offered crab bisque in the past five years, but this one was a masterpiece — a heap of white flesh in the middle of the bowl mixed with strips of green basil, with a moat of brown soup that tasted of everything the crab had tried to hide from you. Interestingly, the soup was served warm rather than hot — good for emphasising flavour though possibly a bit disconcerting if the waitress hadn't told us this was the intention.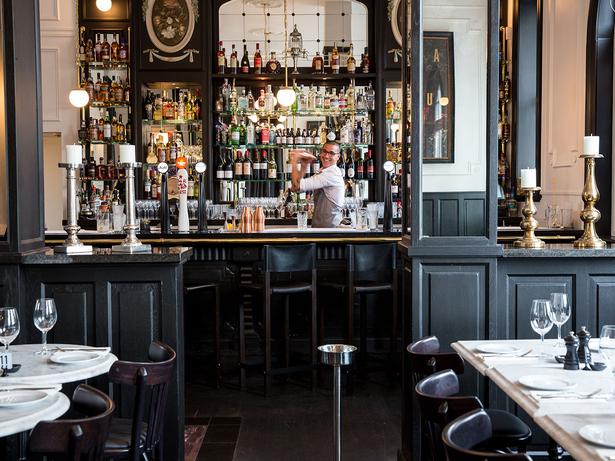 My main was a confit duck leg, lightly flavoured with nutmeg, white pepper, cloves and ginger, the spices forming a singed skin over deeply flavoured, tender meat. It sat on a little bed of prune-sweetened red cabbage sprinkled with walnut.
We also tried the cappelletti ("little hats") pasta — served with pesto and stuffed with goat's cheese, they were made with potato, not flour, so had the moist crumble of gnocchi rather than the firm bite of classic ravioli.
Other highlights, and I didn't think I'd ever say this, included a side of lettuce — a full head of green and ruby leaves dressed in a mustardy vinaigrette. The terrine was great, though we had to extract a poussin bone, and the steak tartare was gorgeous, though it came without toast points, which rather ruined the fun.
Then there was dessert, an impeccable rhubarb tarte tatin served with a gently torched creme brulee in the place of custard. We shared it, and it lasted about eight seconds. "We enjoyed the tatin!" my wife said to the waitress when we paid our bill.
"I know, I saw you," she said, in that matter-of-fact European style, which wasn't meant unkindly but did rather make us feel like gluttonous monsters. There was no real guilt there though — this is not everyday food, but it's not hard to imagine dropping in every month.
The sunny courtyard alone will immediately become one of Ponsonby's best places for a drink — plus it has high walls, so nobody else needs to know about it.
Share this:

More Food & Drink / Dining Out