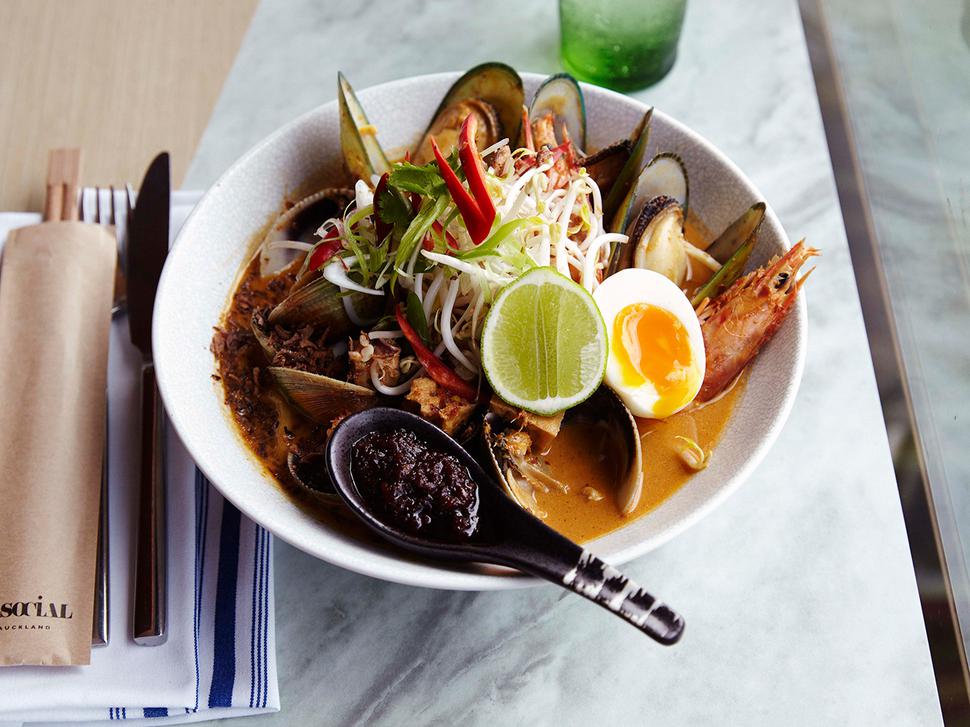 Restaurant Review: Beast & Butterflies, CBD
Jesse Mulligan enjoys a warm welcome, some seriously good Thai food — and oysters to remember
Wednesday Feb. 14, 2018
Cuisine: Asian fusion
Address: M Social hotel, 196-200 Quay Street, CBD
Phone: (09) 377 0349
Drinks: Fully licensed
Bookings: Reservations accepted
From the menu: Oysters, hangar steak stir-fry $23, pickled octopus $22, shiitake dumplings $17, seafood laksa $36, short rib massaman $39, crumbed eggplant $35
Rating: 16/20
Score: 8-12 Disappointing, give it a miss. 13-15 Good, give it a go. 16-18 Great, plan a visit. 19-20 Outstanding, don't delay.

What a cracking restaurant this is. I can't say it completely makes sense to me, even two weeks after eating there, but if you were to go through a checklist of things you look forward to on a night out, Beast and Butterflies would tick just about every box. Food, wine, service, decor, location, music … well okay, not music.
READ Restaurant Review: Saan, Ponsonby
You know when you walk into a moderately flash hotel room and they've signalled their sophistication by turning the TV on to a screen that says "Welcome Mr Mulligan"? Well, the music that plays 24 hours a day on that weird TV channel is the stuff they were playing in the dining room when I visited — the soundtrack you'd expect from a session xylophonist charged with composing the score to a porno film.
I might not have noticed except that it kept reminding me I was in a hotel — even more so than the several lonely businessmen, and the glass keg of cornflakes they had waiting on the sideboard for tomorrow's breakfast service.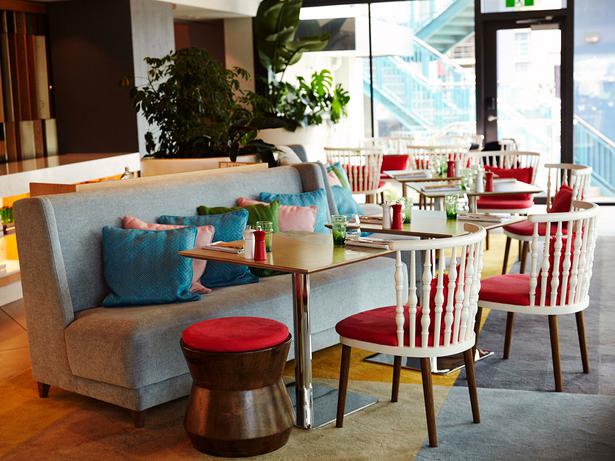 There's no shame in being part of a hotel — many of the best restaurants in Los Angeles, for example, are just that — but it can be helpful to obscure some of the less glamorous aspects of the accommodation experience.
READ: Where the A-List Stay and Play in LA
Walking in from the street I was greeted by what I gathered were three hotel receptionists, two bartenders and a maitre d'. "Hello, hello, hello!" we shouted back and forth to each other as I wandered towards the dining room. "Goodbye, goodbye, goodbye!" they all started up again later, before I explained to the room that I was just going to the toilet.
They have a dedicated sommelier browsing the tables making sure you have the wine you truly need. There's also a guy with a cocktail trolley which we definitely would have patronised if he hadn't turned up halfway through our first course.
Aside from a typically bland waterfront beer list, the restaurant is definitely taking drinks seriously, and — in a city less inclined to preload — this visually appealing quayside room would be a great regular fuelling point before entering the nightlife proper.
The menu is Thai-led Asian, well supplied by local kai moana. Chef Top Lorthae grew up in rural Thailand before moving to New Zealand and learning to cook, temporarily putting aside the recipes of his grandmother to apprentice in some of Auckland's most respected kitchens.
READ: Restaurant Hub's Critics' Choice Awards
Now, after three years at Ostro, he's returning, at Beast and Butterflies, to the food he grew up with. I'd like to claim that I tasted this authenticity before I heard the back story but in truth, I just assumed the kitchen was run by a very, very good hotel journeyman.
I'd love to go back and eat again knowing that the chef is a local, combining everything he's learnt from classical mentors and applying it to the food of his homeland.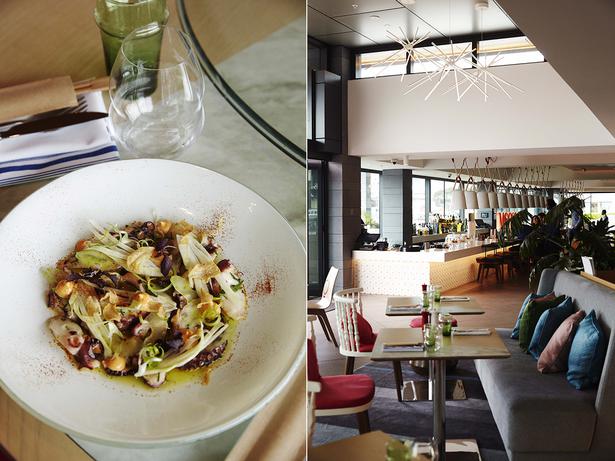 Oysters with nam jim isn't done often enough, and if you haven't yet tried that combo, this is the place to become a disciple. Both the oysters and that lime, fish sauce and palm sugar mix each have an addictive quality but together they are like some sort of mind trick.
You can't eat them without closing your eyes and wondering what is happening to you. "What was in that nam jim?" I demanded of the manager by email after thinking about it for three days straight. Nothing special was the answer. Just a perfectly balanced dressing served with the perfect thing.
READ: Where to Indulge in Champagne and Oysters
The other compulsory order is a massaman beef curry. You're probably familiar with that "other" Thai curry, the one with the dark Muslim spices. Here they do it not with the usual cubes of beef but with a whole short rib, cooked slowly for hours so that by the time it arrives on a plate you can easily slide it off the bone with your fork.
If you're paying attention you'll see thin shavings of fresh coconut, or you might just taste them, adding a crunchy tropical accent to each mouthful.
I would tell you to order the octopus but it pops up in so many dishes you'll probably come across it anyway, adding interest to a classic laksa or pickled, with fennel, kimchi mayo and about 50 other things in a salad that I hope will become a city classic.
READ: Meet Clooney's New Head Chef, Nobu Lee
Like I say, it's a cracking restaurant and I hope you'll give it a go and decide for yourself what to make of the set-up. As well as the lobby ambience, the backing of a major hotel ensures great training, serious funding and, hopefully, time to build an audience. It's also expensive, but put this on your list of places to have a punt on next time you're in the mood for great Thai.
Share this:

More Food & Drink / Dining Out