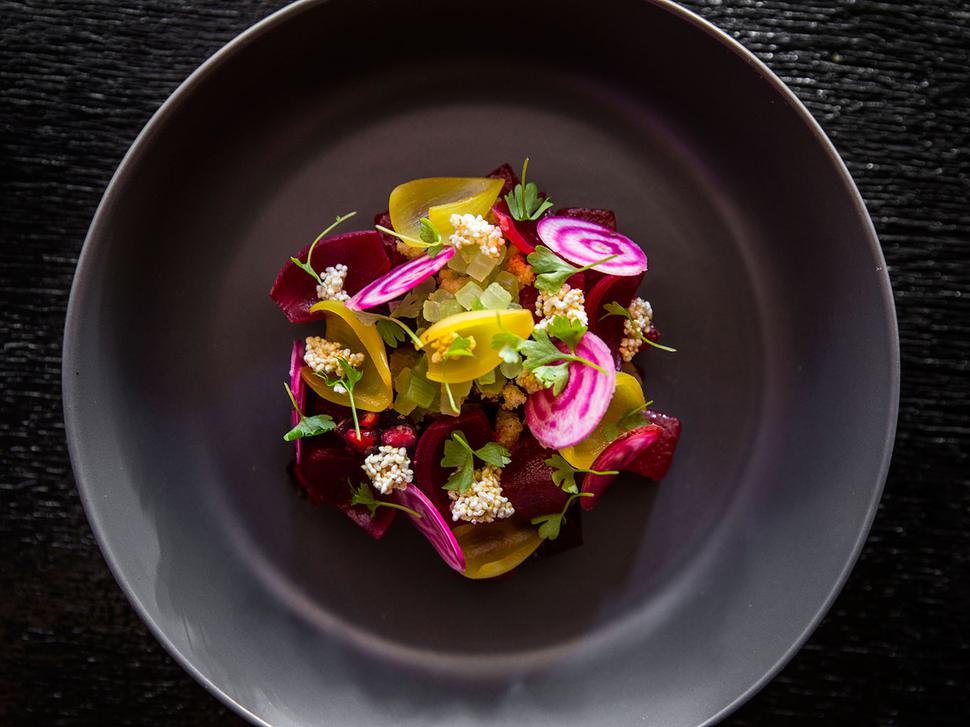 Restaurant Review: Beirut, Auckland CBD
Jesse Mulligan visits Auckland's newest Middle Eastern eatery
Wednesday Sept. 30, 2015
Cuisine: Middle Eastern.
Address: 85 Fort St, Auckland.
Phone: (09) 367 6882
Drinks: Fully Licensed
From the menu: Za'atar kale flatbread $6, Lamb and tomato flatbread $8, Fava dip $14, Smoked labna $16, Fattoush $18, Kingfish kebbeh $21, Monkfish $26, Merguez $26, Braised goat $28, Saffron floss $13, Buttermilk icecream $15.
Rating: 8.5/10
Last week I ate at Bon Appetit magazine's best new restaurant of 2015: Al's Place in San Francisco. The food was exquisite, complicated, picturesque — a stonefruit curry, squashed raspberry and fig leaf oil, pork belly and galangal soda. Yet all anyone talks about is their fries.
Well, the fries are pretty good. The potatoes are pickled before frying, which gives them a background acidity. And they're served not with ketchup, but with a smoked apple butter — what you get when you take hundreds of apples and cook them down until they form an intense brown paste.
Pickled fries! It's a simple and wonderful idea, and I thought of them again on Monday night when I tried Beirut's saffron candy floss, impossibly fine and sugary, served with a spoonful of thick clotted cream. A childhood favourite, cooked to restaurant kitchen standard, and flavoured with a sophisticated adult ingredient. This could be the dish that makes Beirut famous.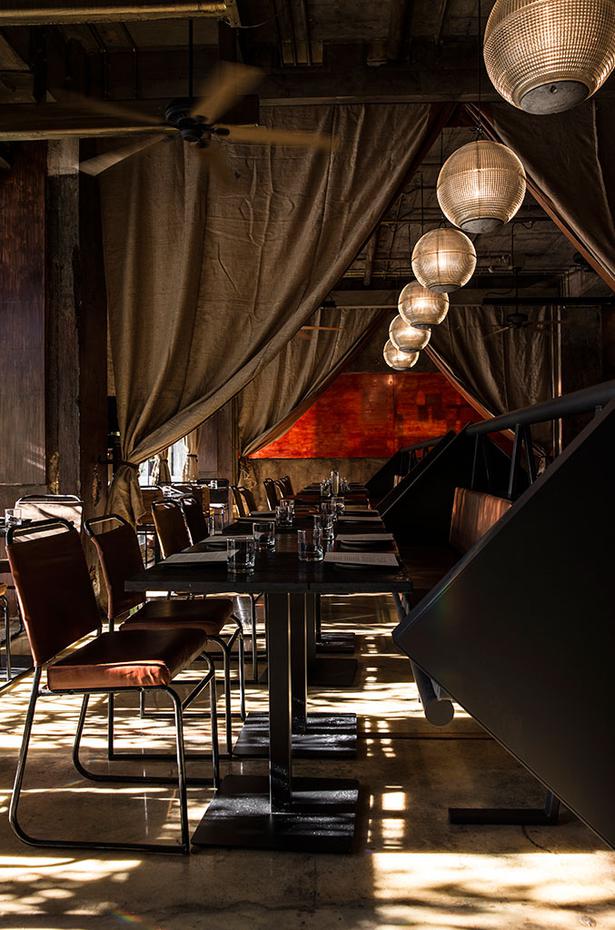 I visited on the third night of opening, and it was immediately clear that this will be a smash hit restaurant. A great room in a cool part of town, very good food in an on-trend genre, quick and attractive staff who know the menu inside out, an outstanding drinks list of beer, wine and shrubs (I will get to these), not to mention owners who clearly know what they're doing. I can't see any way this restaurant could fail.
Middle Eastern food is unbeatable at its best, but sadly we've been undersupplied in Auckland before now. Thank Allah for Ima, coincidentally a few doors down on Fort St, who are so good that when I got married last year I chose them above every other restaurant in town to do the food. (Well, let's be honest. Shared plates of chicken and lamb are a bit more budget-friendly than getting Clooney in to cook 80 people 560 courses. Nonetheless, Ima would have been in my top five anyway, financial considerations aside.)
The food at Beirut is different to Ima, not to say better or worse. You're encouraged to share but they are little, pretty plates. Even braised goat comes in a neat cube, with puffed rice and candied olives. At Ima you all take spoonfuls of meat until there's nothing left, but here we got a small circular flatbread and had to carefully cut a Mercedes logo into it so that all three of us had an equal portion.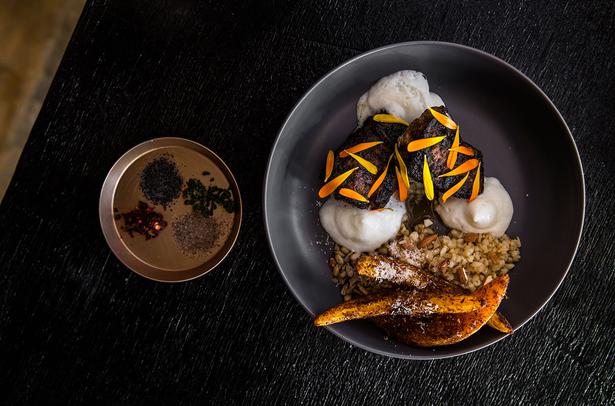 The ingredients are specific and authentic — za'atar, rose petal, fennel seed — though occasionally a dish fails to live up to its billing on the menu. The advertised preserved lemon was missing with the perfectly cooked monkfish, stripped into roasted brown curls — and it could have really used that tang. A kale and za'atar flatbread promised the citrus zing of sumac, but it was either absent or dulled by the greenery.
I once went to a special dinner at a fancy Viaduct restaurant, where a guest chef from Melbourne was cooking his Middle Eastern specialties for an appreciative New Zealand crowd.
Partway through, one of the organisers leant over to me and said "this almost didn't happen. He requested a list of ingredients that were so far out of season, it took me a week to track them all down."
Maybe Middle Eastern food is summer food, but I couldn't help feeling there was a similar struggle going on here. Take the fattoush, which is usually a fresh explosion of cucumber, tomato, parsley, mint, leftover pita and, if you're lucky, wild bitter greens. Here, the star ingredient was a quaggy imported watermelon, which made the whole thing sort of limp along. And there's no excuse for omitting the bread leftovers, which is the defining element of this dish.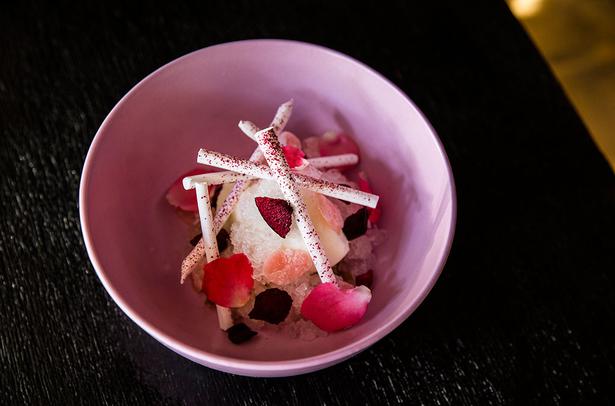 But hey, there is some incredibly good stuff too — smoked labneh with pureed date and flatbread, an outstandingly spicy merguez sausage with sweet PX sauce, and another great dessert: buttermilk ice cream with icy gelato, meringue shards, candied walnuts and freeze dried berries (plus allegedly, Turkish delight, though again I struggled to find it).
Then there is a most excellent drinks menu — a bit of beer, some fantastic foreign wines and the shrub, a traditional but very hip tincture involving fruit, vinegar and sugar, mixed into a tasty cocktail base.
They're sometimes called "drinking vinegars" and are an outstanding addition to a non-alcoholic list too — a little over fruit-juiced here for my tastes, but still quenching and moreish.
They're aiming high at Beirut and, for the most part, succeeding. They even have a little saucer of seasonings on the table to help you spice things up to your liking.
It might be nice to see the chefs doing that for you from time to time, but it's only a mild complaint. This is great food, and a pleasingly kebab-free addition to Auckland's Middle Eastern food scene.
Share this:
More Food & Drink / Dining Out