Restaurant Review: Bird on a Wire, Ponsonby
This is guilt-free, sustainable eating at its juiciest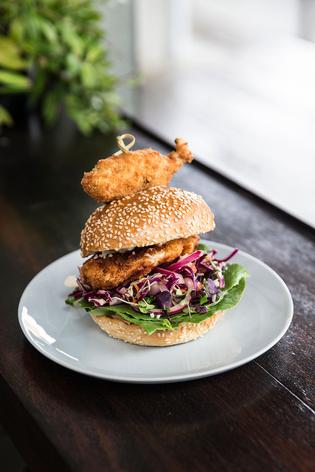 Address: 136/146 Ponsonby Rd, Ponsonby
Phone: (09) 361 3407
Website: birdonawire.co.nz
Cuisine: Chicken
Drinks: Fully licensed
From the menu: Takapuna Fried Chicken $10, Rotisserie chicken $30, salad $7, Mexican chicken burger (special) $10, Birdless burger $13, greens $9.20
Rating: 7.5/10

Let's take a moment this week to talk about sustainability in food. Except let's not call it sustainability, let's call it something that doesn't make you want to quickly turn the page.
Ethical eating? Green eating? Environmen-tally friendly food choices? They're all a bit dull too. Perhaps the best way for me to approach these issues is to sneak up on you — to begin by telling you that Bird on a Wire does juicy, delicious rotisserie chicken and, then, that you don't need to feel guilty about eating it, because it's entirely free range.
But what does "free range" mean? Sadly, not much in New Zealand, where labelling laws are weak and welfare standards vary widely. So maybe don't stop feeling guilty just yet. If Bird on a Wire are serious about making a difference, they should include some deep detail about their sourcing policy and certification scheme, at least on the website, so people like me don't have to ruin dinner by asking the waitress for the poultry farmer's number.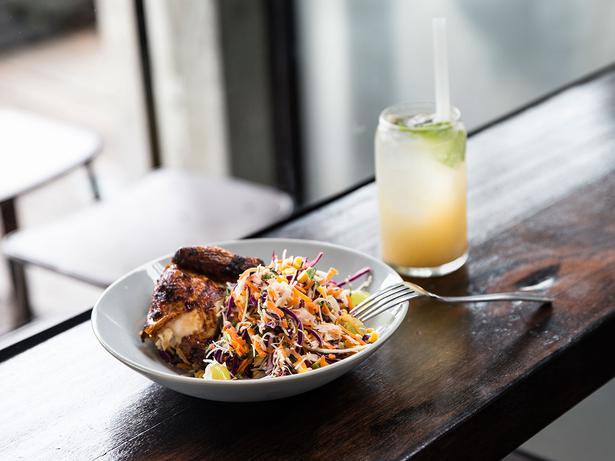 Going that little bit further is a theme I'd like to linger on this week, after dining at both Bird on a Wire and Fish Fish, the two new eateries at Ponsonby Central. Each are wonderful and welcome additions to the Auckland food scene, but each has the chance to aim even higher if these early visits are anything to go by.
Take Fish Fish. Technically not the subject of this column, but a brand new fish restaurant by the people who brought you Burger Burger — one of my favourite places to eat in the city. Fish Fish isn't big enough for a full review (the flagship Takapuna site opens later in the year, and I may return for that), but I wanted to look in on your behalf. It's mostly great — simple and super cooking, a few cheffy flourishes and the same sort of fresh and ready service that makes its big brother across the alleyway such a fun place to visit.
But they don't serve enough interesting fish yet. This space used to belong to Jimmy the fishmonger, who'd be rolling in his driftnet if he knew that a fish restaurant championing sustainability in its press materials was offering only crowd favourites: snapper, terakihi, gurnard and salmon. Where is the skate, warehou, trevally or mackerel? I understand there are supply issues — even Farro often struggles to offer much outside of the big four — but I can't believe there isn't one cheap, unexpected or ugly option available, first thing, at the market.
You'll love Fish Fish anyway, because it really does all taste good. And I think you'll love Bird on a Wire too, which reclaimed rotisserie chooks from the supermarkets a few years ago and upgraded them sufficiently to justify the extra few bucks they'll cost you here.
They're finished in your choice of bastes (go for the aromatically spicy Jamaican Jerk) and if you don't fancy the slow roast, there are plenty of fried chicken options to choose from — the burgers more successful than the slightly floury "Takapuna Fried Chicken", though I suspect this was just an off night for the latter.
READ: Restaurant Review by Jesse Mulligan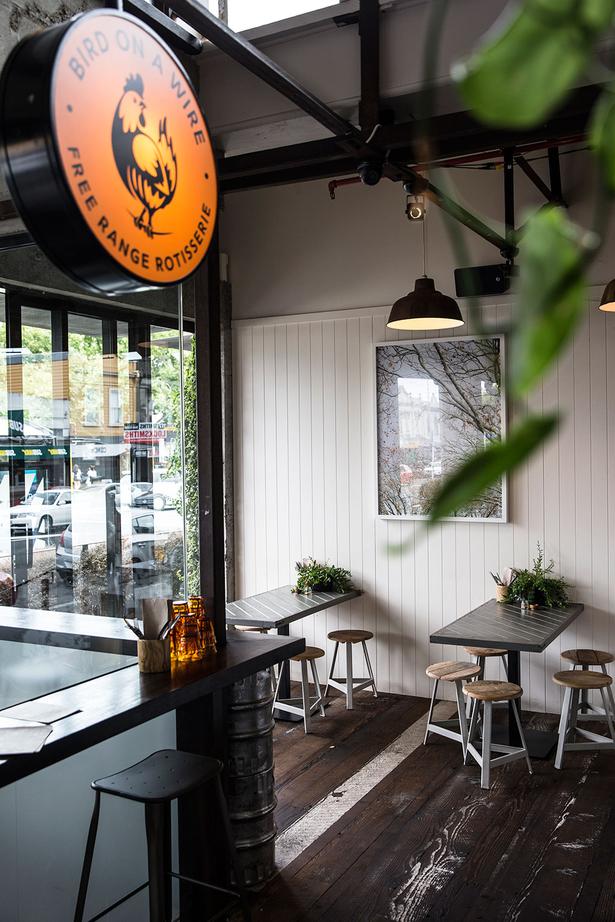 But I was eating with my little brother Robbie who, God bless him, was gifted a chicken by our parents to look after when he was younger and has never been able to put his teeth to poultry since. His is the proper sort of ethical eating — where you avoid chicken not because of an intellectual duty or to impress the hot vegetarian girl at school (to be fair, I can't rule this one out), but because you owe something to a bird you once knew.
So Robbie had to choose between the salads, some marinated tofu cubes and a vege burger slightly less sophisticated than the ones we used to get from the Chinese takeaway in Hamilton: egg, cheese, lettuce and beetroot, with 20c left over for Spacies.
Fortunately for him, Bird on a Wire's salads are part of what made their old Ponsonby Rd shop such a hit when it opened in 2012: plenty of raw, red, energy slaws with nutty Asian dressings and liberal use of chickpeas and other legumes. These salads haven't changed much and still hit the spot, but they're not so unique anymore. A lot of cafes offer tasty, protein-complete salads and many of us are making them at home too — so what can Bird on a Wire do to lift the game again? I'm looking forward to finding out.
There you go: two new Ponsonby joints worth visiting. In a further twist, I've just discovered that the restaurants are owned, individually, by two sisters. How lucky we are to have Mimi and Sophie Gilmour keeping Auckland happy with their excellent grub. And though Mimi missed a trick not calling her fish restaurant Gilmour Gills, I suspect there's not much wrong with either of these places that won't soon be fixed.
Share this: