Restaurant Review: Bolaven, Mt Eden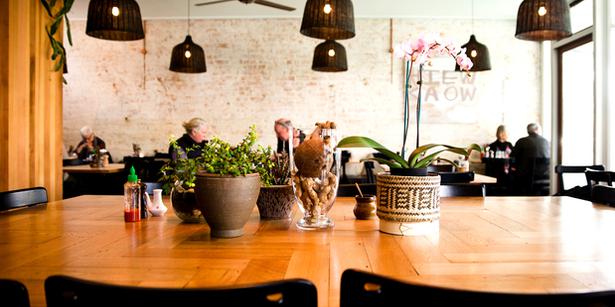 Wednesday Aug. 20, 2014
Address: 597 Mt Eden Rd, Mt Eden
Phone: (09) 631 7520
Cuisine: Laos-influenced
From the menu: Sticky rice and dips $6, Tofu spring rolls $19, Prawn and squid $22, Pho (beef) $13, Pork belly and watercress $22, Sticky date pudding $14, Berry brulee $14
Drinks: Fully licensed
Rating: 8/10
Hope. That's what I hold when a new eatery opens where those before it have repeatedly struggled. I hold my breath and hope that, this time, it'll work out. Of course any successful and sensible restaurateur will tell you that hope is not a plan, and Sip Mounlath, owner of Bolaven, seems to know this.
Mounlath and her team, in their stylish, Matt Nash-designed uniforms, have done an extraordinary job of designing and executing a simple fit-out for this eatery, so much so that it is almost impossible to recall the dreary, stiff space it was before. It's been steaming along since it opened a few months ago, wowing the local cafe crowd with its delightful mix of brunch favourites alongside Laos-inspired dishes, honouring Mounlath's family background. When I heard they were opening for evenings (Thursday-Saturday) and that the dinner menu was entirely Laos-style dishes I wasted no time in checking it out.
I adore reading through a menu that is temptingly full of the types of dishes that you just know, if done well, are going to tingle and excite your taste buds; chicken fried with hot sweet chilli sauce, steamed fish infused with lemongrass and lime leaf, pork belly with watercress, a sirloin served quite simply with iceberg salad and a peanut sauce - the list at Bolaven goes on.
We plump for sticky rice with dips to begin with which, once you get your head around diving into a bamboo basket full of piping hot rice with your bare hands, is marvellously novel and beats bread and butter hands down. Then it's on to a plate of bing moo, pork skewers with cubes of the softest, juiciest pork you can imagine, accompanied by a bravely spicy tamarind dipping sauce.
I'm rarely tempted by spring rolls (they're usually so pedestrian) but I'm pleased my dining companion convinced me to try Bolaven's house-made tofu rolls. Each bite was a heavenly combination of crunchiness and flavour and we couldn't help but double-dip into the sauce of roasted chilli and lime. Then it was time for a small breather between "courses", enough time for us to notice that there wasn't a spare seat in the house. The noise level had risen and was making it a tad difficult for conversation so there was only one thing to do - start eating again.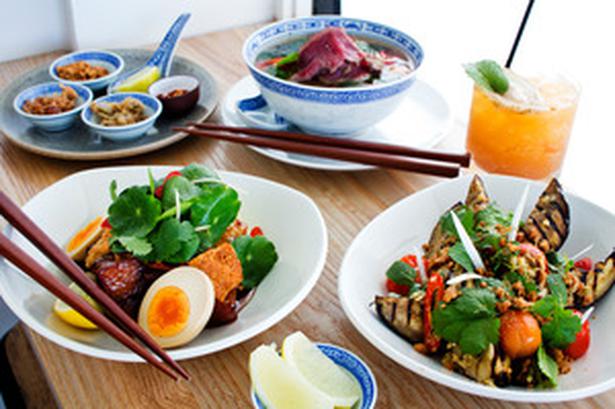 At Bolaven they serve pho and at the risk of sounding like an MKR judge ... it's not good. It's great. Though this nourishing breakfast broth may have originated in Vietnam, the Laos version is just as magical. Slightly sweeter and spiked with anise, the broth is hearty without being heavy and the beef slices soft like pillows. Pleasingly, the serving size is modest so you don't end up drowning in gallons of hot liquid. I just love this dish served as it is with sides of extra lime, chilli, fried shallots and pickles, so you can doctor your own bowl to suit your taste.
A warm salad of seared prawns, tender squid and smashed cucumber also needed some adjustments, and by the time I'd added extra lime juice and salt it sang with a freshness that pinged around my mouth. It's not as palate-numbing as the oft-scorching green papaya salad in Thai cuisine but it's easily as vibrant and refreshing.
A plate of pork belly was sticky and delicious, and tossed with peppery watercress, was a perfect dish to complete our savoury journey. Thankfully, the pork had been well-trimmed and though plenty rich enough it avoided being too fatty.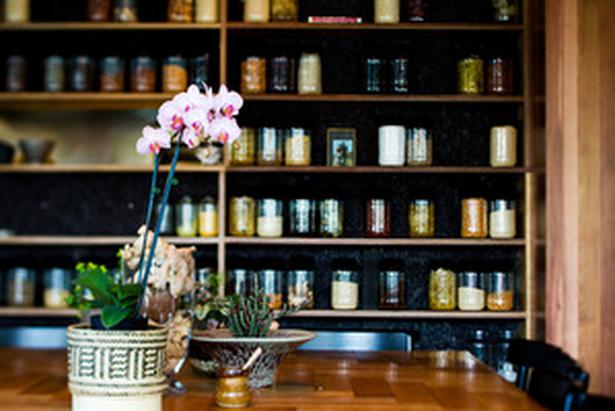 By this time my dining companion and I could only nod at each other with mouths full and wide eyes that said "this is a good time".
Bolaven offers a dessert selection that seems at odds with the Laos theme. With the sole Asian-inspired sweet, the black rice pudding, off the menu, we were left with sticky date pudding and a brulee. Both were perfectly satisfactory, but I wasn't sure where they fitted in with the rest of the cuisine, so obviously and delightfully inspired by Mounlath's family background. I'll look forward to this section of the menu aligning with the rest at some point.
People were lining up for tables by the time we vacated ours and it's easy to see why. Bolaven by night is a snappy, original and exciting addition to the Auckland dining scene.
Share this:
More Food & Drink / Dining Out