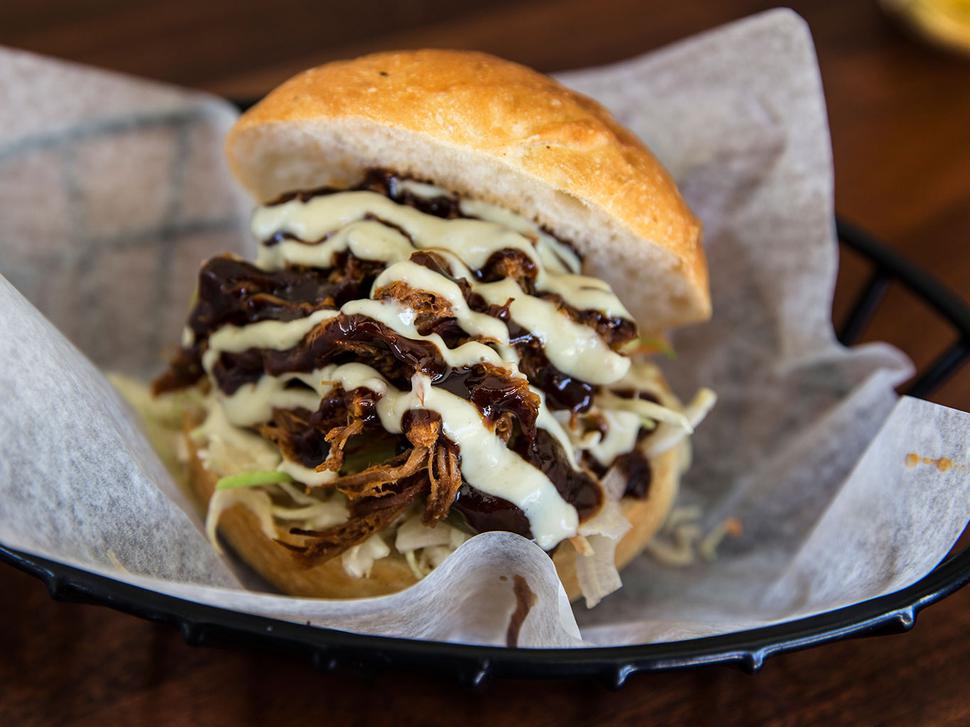 Restaurant Review: Brothers Juke Joint
Brisket and brews have a new home in Mt Eden
Wednesday Oct. 21, 2015
Address: 5 Akiraho St, Mount Eden
Website: jukejoint.co.nz
Phone: (09) 638 6191
Cuisine: Texas BBQ
No reservations
From the menu: Pork Rib $7, Beef Brisket $12, Mutton $11, Chicken sandwich $13.50, pulled pork sandwich $11, Tater tots $6, Burnt End Beans $6, Collard Greens $6, Macaroni Cheese $6, Green Beans $6 Sauerkraut $5, Pickle $2 Drinks: Fully licensed
Rating: 8.5/10

We're halfway through spring, which means barbecue season is imminent. Though, as some insufferable geek has probably explained to you already, New Zealand barbecue is quite different to American barbecue. We cook fast, with heat, while they, as a rule, cook slow with smoke.
Even America, this geek will continue, has large divisions in the way it uses the term. In parts of North Carolina, you can't even call it barbecue unless you're cooking a whole pig. In Texas, the state is divided along county lines over the sweetness of the sauce, the presence of coleslaw and whether you should get some sliced white bread with your meat.
It's probably no coincidence Texas is also big on religion, another holy pursuit ruined by arguments over the details.
Being, as you'll have gathered, ever-eager to embrace the latest cooking techniques, I spent last summer trying to master the US-style barbecue at home. It's not easy. You need to keep your kettle oven at a constant temperature, something you can only do with the addition of charcoal, which requires the removal of the lid and the departure of any heat you'd managed to build up so far.
READ: More Restaurant Reviews by Jesse Mulligan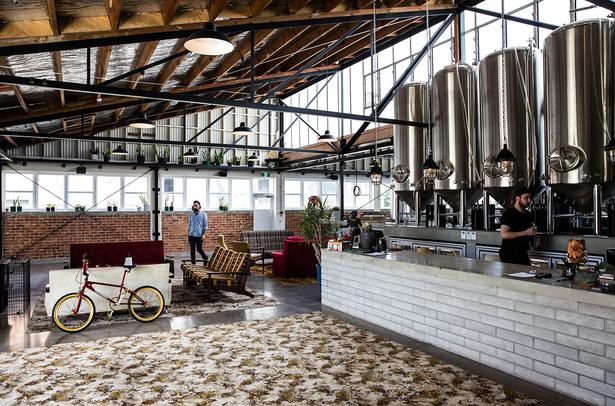 To cook brisket, you need to maintain the system you've got going for 10-12 hours in order to break down the tough connective tissue in the meat.
That's one of the reasons we all (I'm now one of them, sadly) get so excited about a barbecue restaurant — not just the taste of the meat. but because we don't have to muck around cooking it ourselves. There's a time and a place for carefully soaking manuka chips in bourbon, sure, but it's usually on the weekend — you can't exactly knock up a pork shoulder between drinks and dinner (though I'm told David Cameron once attempted it).
So thank God for Miss Moonshine's on Ponsonby Rd, and food truck Dixie Barbecue, and honorary mention Woodpecker Hill in Parnell (I doubt they use much lemongrass in Austin TX). And now here's one more — Juke Joint in Mt Eden, possibly the most authentic experience of the lot.
A new venture from Brother's Brewery (can you imagine why craft beer obsessives might also be interested in barbecue?), Juke is a refurbished factory space on the fringe of suburbia. The locals were apparently grumpy about a brewery moving in across the road, but they've been placated somewhat by reduced opening hours, strict rules around capacity and plenty of toys for the kids (not a council directive this one, but an unbeatable way to win over middle class parents).
They've softened up the warehouse look with some rugs and couches, but they're planning on doing a fair bit of brewing here, so the steel tanks will always be part of the furniture. Maximum occupancy rules aside, it's a great place for large groups — we were sitting between two separate surprise parties. I hope they enjoyed themselves — if someone led me out down a shady industrial driveway with no context it'd be a nice enough surprise not to get stabbed.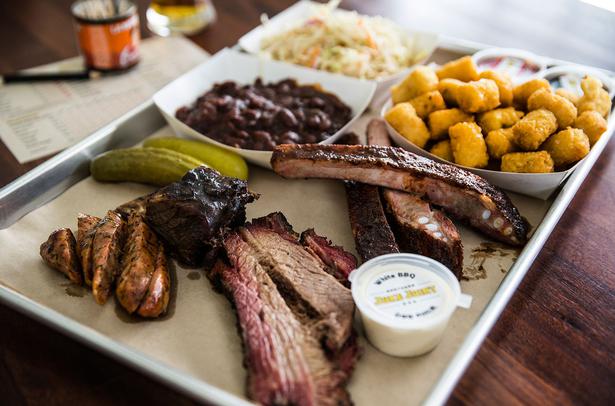 The food is served up in an adjoining room where, after ticking your selections on a form, you hand it over to the chef and he makes it up in front of you. Then he hands your food over to you on a steel prison tray and you take it back to your table in the brewery. Sometimes there's a queue and sometimes the meat runs out; like I said, it's authentic.
The food is largely excellent — smokey, tender slices of lamb, pork, beef and more. If anything, the meat risks being upstaged by the sides — steamed collard greens spiked with bacon, baked beans enlivened with burnt ends of the brisket, and little crunchy "Tater Tots" that are impossible to stop eating.
With the meat comes your choice of sauces — "thick and fruity", "thin and spicy", "chipotle mayo" — and these are very moreish too though, I think, too high in sugar for local palates (this is also a complaint I have about those otherwise delicious baked beans).
It's pretty heavy stuff but there are concessions — the slaw is dressed in vinigarette rather than mayo and sides of sauerkraut and pickle do their usual job of refreshing your appetite for the next bite. That pickle is especially welcome in the sandwiches, a nice way to turn meat into a meal, though they're let down by the bread buns — plain, processed and in need of some love.
It's an overwhelmingly enjoyable experience though, and the research trip the founders took around Texas has had a great impact on the feel of the place.
This will be a big hit, and accordingly I'd plan my visit off-peak: organise a visit one Sunday afternoon or, if you wait long enough, maybe your friends will surprise you.
Share this:
More Food & Drink / Dining Out