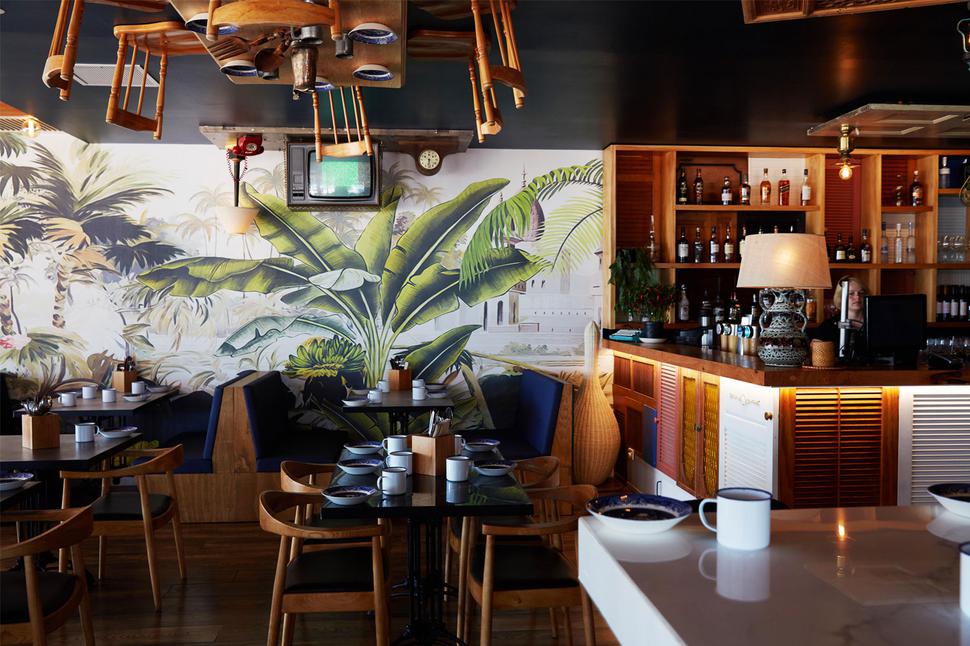 Restaurant Review: Cheek and Chong, Orewa
Find decent Asian fare at Cheek and Chong, a new restaurant expanding dining options in Orewa
Wednesday Jan. 30, 2019
Address: 348 Hibiscus Coast Highway, Orewa
Phone: (09) 421 1123
Drinks: Fully licensed
Reservations: Accepted
From the menu: Pad thai $31, chicken satay $15, green papaya salad $18, prawn and coconut salad $20, dumplings $16, lemongrass chicken $28, wok tossed greens $11, summer rolls $15
Rating: 16/20
Score: 0-7 Steer clear. 8-12 Disappointing, give it a miss. 13-15 Good, give it a go. 16-18 Great, plan a visit. 19-20 Outstanding, don't delay.

I don't often take my family on a restaurant review because when you are in charge of children it's very hard to focus on anything but the children. It's like trying to review a book while that book is on fire.
READ: The Kiwi Couple Roadtesting The World's Most Exotic Local Dishes
But look, we were coming back from Tawharanui after a long day in the sun and as I saw the turnoff to Orewa I remembered that my hairdresser (a local) had told me about a new Asian restaurant everyone in the town was talking about. The prospect of a cold beer and hot noodles was simply too tempting and so the five of us rocked up and tried not to ruin our waiter's day.
"Look! Look at those children," I said, pointing to three blond beach babies sitting with perfect posture at the table next to us, quietly eating their respective meals. "Try to be like them."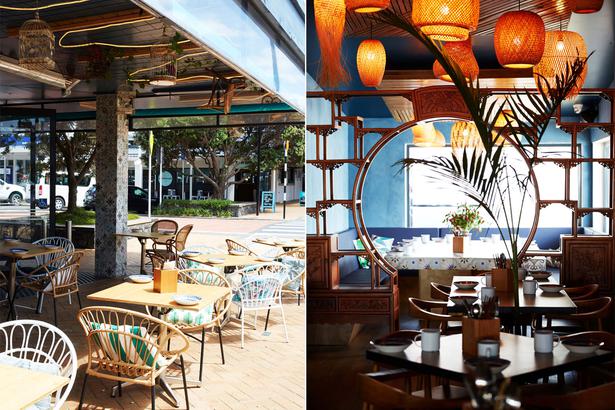 And to be honest, my lot did me proud. There was a bit of "Felix! No more headstands under the table!" but mostly I got to eat my food, look around and pass judgment on the place just like I do every other week. And my judgment is that Cheek and Chong is a lovely spot, with good food, and though at times it feels a little expensive you can console yourself that at least you're saving money by not using the toll road.
READ: Restaurant Review: The Good Luck Coconut, Wynyard Quarter
The restaurant is apparently owned by the same people as Tok Tok in Takapuna, so the business model clearly involves saving beach communities from their limited dining options. Tok Tok must be going well because the latest fit-out looks to have cost some money, with shiny new everything and an elaborate theme where the roof is decorated with lots of upside-down furniture. No wonder Felix spent so much time on his head.
The menu won't exactly destroy your preconceptions about what an Asian restaurant can be. It's mostly a bunch of recognisable names — green papaya salad, shaking beef, pad thai — done very solidly, with occasional innovations to make something fancier or replace an out-of-season ingredient.
There was no children's menu that I could see but they were cool about serving the chilli jam on the side rather than mixing it through and offered a couple of side dishes — like wok-tossed broccoli and zucchini in oyster sauce — that looked a lot like something we would serve up to the children at home (this is a bit of a humblebrag I'll admit but I can take no credit for the incredible eating habits of my son and daughters. I would have stuck with something safe like cheese on toast for every meal if it weren't for the perseverance and imagination of my wife, who has now got all three of them eating the colours of the rainbow and giving most new things a go).
WHERE TO FIND: Auckland's Most Comforting Dumplings & Noodles
The staff were initially hit and miss, looking pretty unimpressed when we arrived without a booking and not letting us have one of the 10 empty outdoor tables despite us promising to be out within the hour. But I think they warmed up to us and us to them plus, in the end, a seat at the booth was perfect, the big open doors and breezy light making us feel like we were still part of the summer day.
The place was staffed by a familiar combination of grim-faced owner, ultra-competent manager and half a dozen friendly locals, and even when the food knowledge was sparse, the resort-town vibe Orewa now projects pretty strongly made you give them a fair bit of leeway.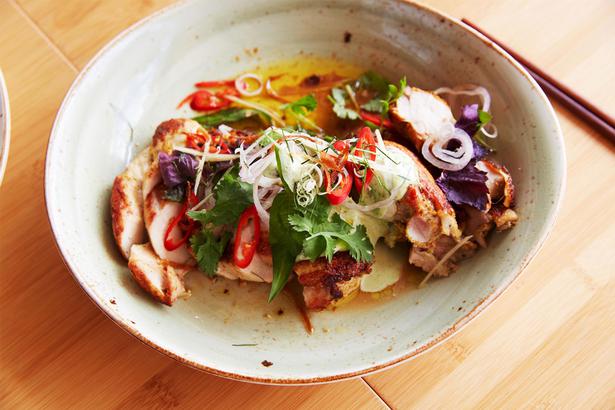 Stand-out dishes included the lemongrass half chicken — pretty simply done but juicy from thigh to breast and served with a simple coriander mayo that really did the trick. The pad thai wasn't a definitive version but they did it with wide, rolled-up rice noodles, which do a good job of soaking up sauce, and the pork belly and prawn stirred through it made it almost luxe enough to justify the $31 price tag.
WHERE TO FIND: Auckland's Spiciest Eats For Hot Food Fans
When you eat spicy food all the time it becomes really hard to assess the heat level of something you're about to serve to your children. I got it badly wrong with a (nonetheless delicious) kaffir chicken satay and ended up having to pour cold water into Felix's ouchy mouth.
It would have been a great time to have a bowl of rice but though we'd ordered one it never came (they didn't forget to charge us for it). Aside from this it was hard to fault their systems, and I reckon they're set up to cream it as people outside of Orewa realise Madam Woo isn't the last chance for decent food as you head north on State Highway One.
Share this:

More Food & Drink / Dining Out