Restaurant Review: Chinoiserie, Mt Albert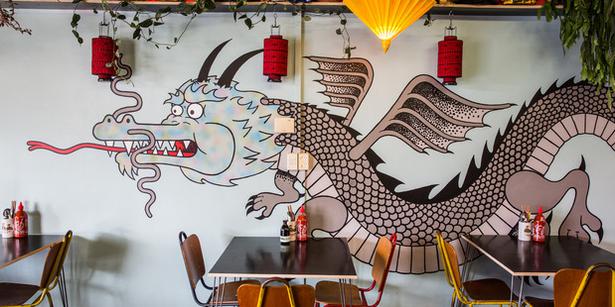 Wednesday Dec. 3, 2014
Address: 4A Owairaka Ave, Mt Albert
Phone: (09) 971 3836
Rating out of 10: Food: 6, Service: 8, Value: 7, Ambience: 8
A whole new level of casual evening eating is emerging and boy, is it fun. Fast and cheap, crowded and cool, sassy suburban eateries are avoiding the high rents and competition of the inner city and seriously tempting the locals out of their own kitchens with affordable, irresistible eats and spaces that feel just as relaxed, but much more exciting, than staying at home.
Mt Albert's Chinoiserie is one such place. From the decor to the food, this second venture from the owners of the successful daytime cafe L'Oeuf (situated right next door) is an explosion of colour and texture, liveliness and originality. It's like L'Oeuf's cheeky little brother.
When we rocked up the clock had barely brushed past six but already the open kitchen was in full swing with giant bamboo steaming baskets billowing and puffing at one end and the deep fryer hissing at the other.
Floor staff, dressed in vintage threads, work with expert efficiency and cheerfulness, directing table traffic and keeping the all-important list of punters waiting to be seated, while a stream of lucky locals come and go for their takeaways.
The food on offer is simple; a mix of Chinese and Taiwanese-inspired street snacks. The short menu lists a selection of gua bao - house-made steamed milk buns - with fillings of Szechuan chicken, five-spice pork belly, tofu or squid. Then there's a section for sides - slaw, fries, edamame and more - and two sweet choices to finish.
There are 10 beers to choose from, including Tiger on tap and the six wines are all available by the glass and bottle. The set up is simple: take a seat, peruse the menu and when you're ready go to the counter, order and pay, then sit down again and after a very short wait everything will arrive at once.
It's a super-casual approach, a few steps up from takeaways for sure, but fair to say a decent descent from "dining" as you'd know it. The fact that it works is down to staff who are fabulously friendly and efficient and, when the food arrives, it's sensational.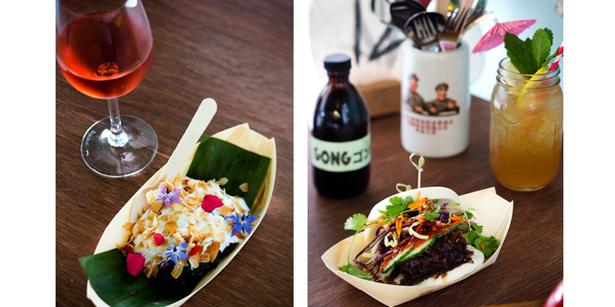 Chinoiserie's steamed buns are like big snow white cushions. Wrapped around exciting fillings of tofu with snappy satay sauce and braised pork belly and slaw, they are terrific value for a mere eight bucks. Each is stuffed with plenty of fresh herbs, cucumber, slaw and topped with the subtle zing of dried chilli strands -like deep red cotton - and golden peanuts.
The pork bun comes glistening with dark, house-made gong sauce, a bottle of which is on each table. I briefly toyed with popping it in my handbag but what a mess if it had spilled - so black, sticky and viscous. Plus, they sell it there, anyway.
A side of coconut-crusted squid rings comes with a lip-smacking, pungent num-dim sauce and fries with a wasabi mayo, nice touches both. Chicken nibbles are made cool again by an explosive sweet sauce that doesn't come store-bought and peanuts are fried and doused in szechuan pepper for a wonderfully tingly tango with mala, the numbing sensation brought on by this magical spice.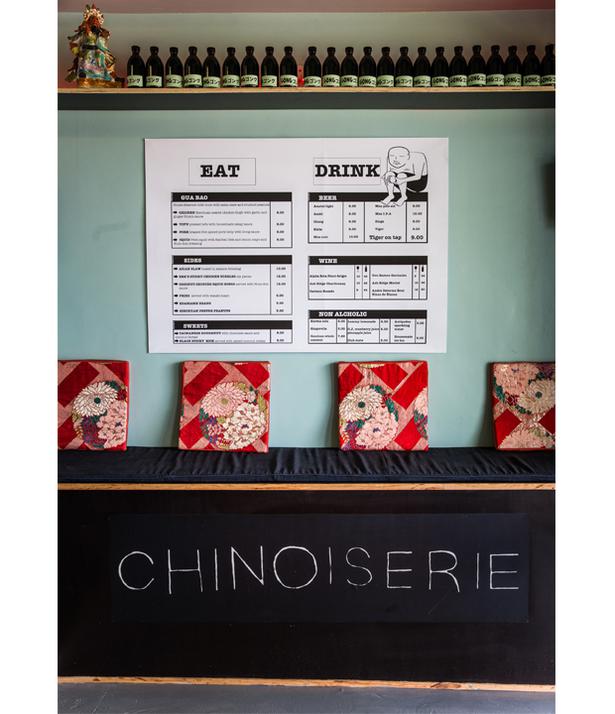 I'd like to say we finished with a plate of Taiwanese doughnuts and a bowl of black sticky rice but given they arrived when all of our other food appeared, that's not entirely true. It was the only time the system failed us; we ordered all of our food and drink in one hit and, true to its informal approach, Chinoiserie sends the food as is ready. Yep, I get that, but the doughnuts and sticky rice, both warm, arrived first, even before our savoury fixings.
I grazed on both at the start to get a fair sense of what they were like before they cooled, then returned to them at the end. Both drove me wild with their deliciousness; the doughnuts were crispy, light and airy reminding me of the Vietnamese style made in long tubes of rice-flour dough, snipped into the hot oil to fry.
At Chinoiserie they're served with a handful of toasted coconut threads and drizzled with a decent chocolate sauce. The black sticky rice they serve there is gorgeously smooth and sloppy and comes with salted coconut cream.
I'll know for next time to hold off ordering desserts until we're ready for them.
Oh yes, I'll be back. Chinoiserie crackles with too much fun to stay away.
Share this:
More Food & Drink / Dining Out