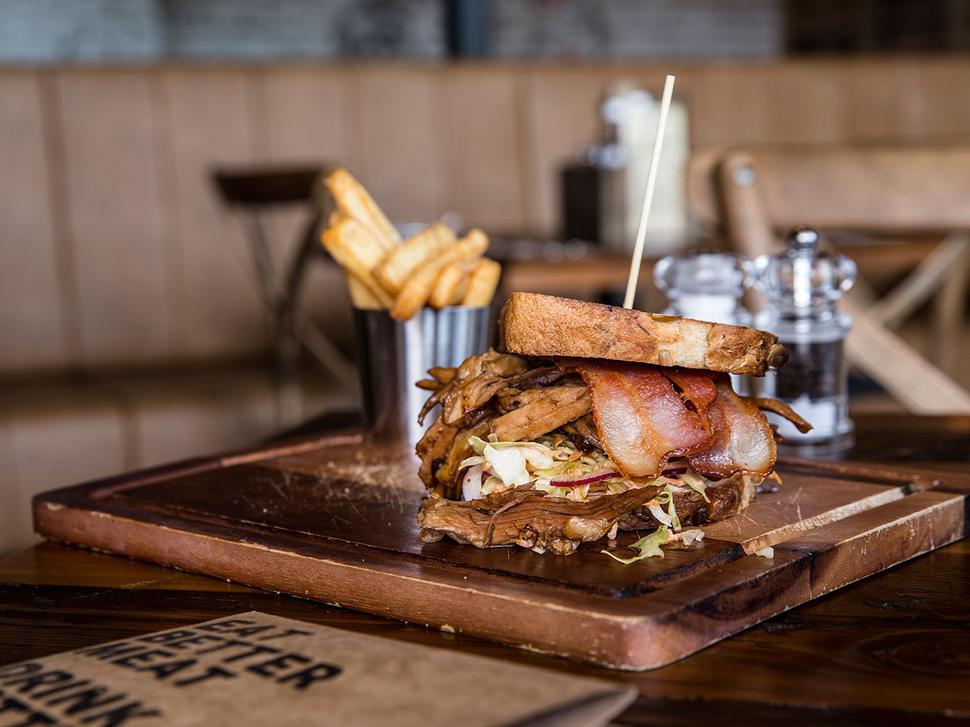 Restaurant Review: Cleaver and Co, New Lynn
West Aucklanders are flocking to a meatlover's mecca at Lynmall's Brickworks
Wednesday Dec. 2, 2015
Address: 3058 Great North Rd, New Lynn, Auckland
Phone: (09) 827 5944
Reservations accepted for large groups
Cuisine: American BBQ
Drinks: Fully licensed
From the menu: Chicken wings $18.50, Meatballs $11.50, Pork back ribs $26.50, Mac 'n' cheese bites $13.50, Coleslaw $8, Pulled pork sandwich $16.50, Lamb shoulder $31
Rating: 6.5

Remember when Ponsonby Central opened for business? The tenants were exceptional but they hardly had any customers. Auckland's best coffee, produce and meat were all under one roof, yet the coffee beans went stale, the rocket leaves wilted and the beef aged steadily (this last one is a good thing, actually — I should have talked about the fish instead).
Then something changed, and suddenly Ponsonby Central was humming. I credit the Ceres smoothies — organic, delicious and pure of ingredient, they were the sort of thing you couldn't get elsewhere.
Lining up for one was like being stuck in the comments section of a wellness blog. It didn't matter that we'd all be back for Burger Burger later in the day, for now, all we were interested in talking about was turmeric.

The new Brickworks development at Lynnmall is styled on Ponsonby Central but, if my experience at Cleaver and Co is anything to go by, they're having the opposite problem. Here the locals have been all over it since day one. I've never before been to a restaurant where certain basic menu items are unavailable because the chef hasn't had the time to start making them.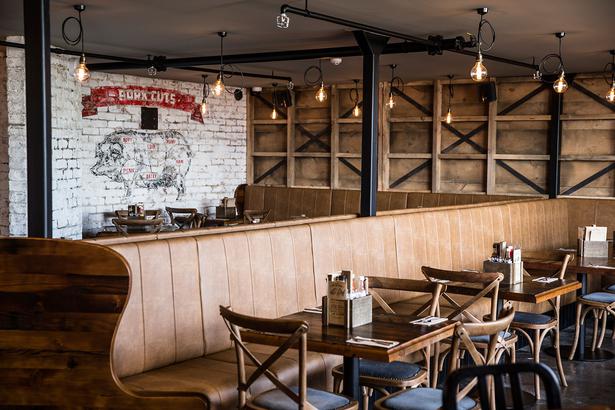 Interior of Cleaver and Co. Picture / Guy Coombes.

Perhaps things are different at the restaurants neighbouring Brickworks — Bodrum, Shaky Isles et al — and at some stage I'll go back and find out. But at Cleaver and Co things are mad, if happily so: the chef talks like he wouldn't change a thing, and it's already a favourite spot for many families in the area.

I'm not here to tell hundreds of satisfied West Aucklanders they've got it wrong — there is plenty here to like and a couple of things to love. For the rest of you though, to use Michelin-guide parlance, Cleaver and Co is not yet worth a special journey.

The schoolchildren working the floor are doing their best but they could use some more training support from the owners (who also own Pilkingtons, a fantastically sharp restaurant in the city; they should know better than to let staff with no experience work things out on their own).

I arrived early and was given a glass of water. "Would it be possible to get some more water glasses?" I asked when my two guests sat down. "How many more do you want?" asked my waitress. That would be two.

I was eating with local newlyweds Erin and Will, who I met on Twitter, sort of, and when I DMed them on a Tuesday evening asking if they'd join me at short notice they were up for it. Both of them enjoy craft beer, though when I ordered a jug of pilsner for the table the waitress looked at Will and me, and asked if we'd like one tumbler or two. Say what you like about this girl, over-generosity with glassware was not an issue.

If things were busy in the kitchen, the menu looked to have been created under time pressure too.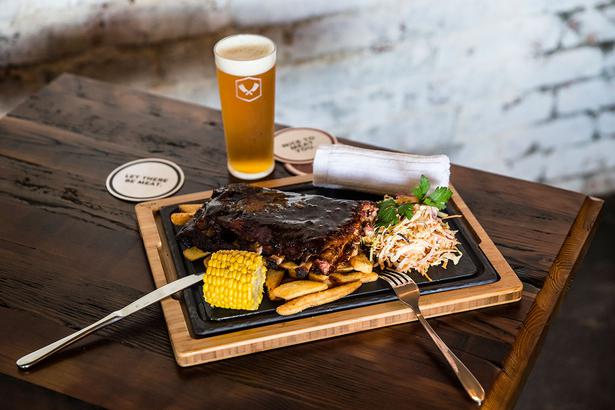 In the middle of the page was a large heading that said "ERS", which we eventually realised was meant to read "BURGERS" — a typo that no one had spotted before sending it off to the printers.
It's probably lucky they don't serve shitake mushrooms.
The menu has far too much to choose from — 40 dishes and more than a dozen types of meat. It's no wonder the chef doesn't have time to make cornbread if he's trying to perfectly time the lamb, meatballs, belly, sausages, ribs, burgers, shoulder, chicken wings, beef shortrib and the rest of it in the giant barbecue smoker they've imported from the States.
(I'd tell you some more about that machine but, to be honest, I'm a bit bored of writing about barbecue for now — probably as bored as you are of reading about it.)
The ribs are great — plenty of meat, a decent glaze and smoked until they fall off the bone. Of the sandwiches, I can recommend the pulled pork; inexplicably it's layered with another smoked pig product, bacon, but I'm pleased to say it works. And the buffalo wings are a highlight too: juicy, tender and crunchy with a nice spicy tingle on the lips and a cooling blue cheese sauce to go with them.
Our lamb was chewy and dried out in places — it looked to have happened post-smoker rather than during. Sides were off: macaroni cheese had a little cheese on top but they'd missed it in the sauce — it was macaroni flour, really — and coleslaw was undressed, so tasteless too.
It's pretty good family fare, but for keen foodies, Cleaver and Co still has work to do. As it is right now I don't think this place would survive in the city. But, of course, you see plenty of things in the city that wouldn't last two seconds in New Lynn.
Share this:
More Food & Drink / Dining Out