Restaurant Review: The Culpeper, Princes Wharf
Gareth Stewart's new venture The Culpeper has barbecue brisket sussed
Wednesday Nov. 25, 2015
Address: Shed 22, Princes Wharf, Auckland
Phone: (09) 320 4373
Bookings accepted
Style: "Eclectic fusion"
Drinks: fully licensed
From the menu: Sashimi $28, Fried duck $22, Broccolini $18, Hush puppies $18, Squid taco $18, Market fish $35, Lamb shoulder $45, Wagyu brisket $32, Chocolate chip cookies $16.
Rating: 8.5

Like clothes, haircuts and sexual positions, cuts of meat go in and out of fashion. A few years ago it was pork belly. Now the flesh du jour is beef brisket. Both followed a rise in a certain style of restaurant: with belly it was the low-fuss bistro, and with brisket it's the barbecue joint.
Belly is much more forgiving than brisket. You can totally screw up the cooking and it'll still come out pretty good. That's what makes it so popular with the home chef, and why something the butcher used to almost give away now costs as much as some prime cuts.
Brisket is a different beast. It takes a very, very long time to cook properly, with precise temperatures required throughout, and I don't think any of Auckland's otherwise brilliant new barbecue restaurants are quite getting it right yet.
It ends up tasting like brisket, sure, and it's not unbearably tough, but the only places I can guarantee you'll get that unrivalled, fall-apart texture is at Woodpecker Hill, in a sandwich at The Fed and, now, here at The Culpeper.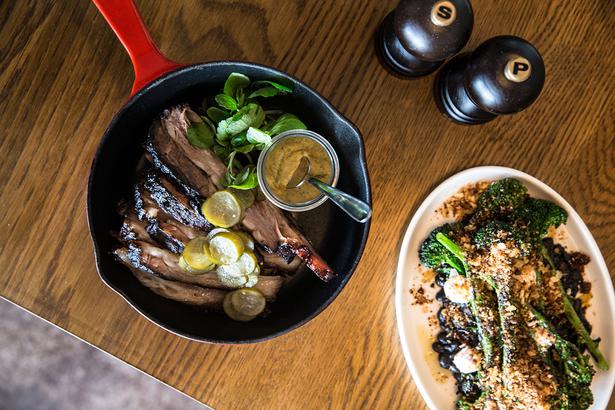 Gareth Stewart is the new executive chef, here and at the various other restaurants in the Nourish Group. He and his local guy have nailed the brisket, rubbing it in salt and spice, breaking the muscle down overnight in an imported smoker and mopping it with special sauce (stock, mustard, ketchup, worcestershire) over the course of the final few hours in the oven.
I don't know if it's the smoker that makes the difference or the exactitude of a top chef, but, sliced and served with jalapeno mustard and handmade pickles, this meat is in a different class.
The Culpeper takes up half of the old Euro, now divided into three different spaces by a fairly major renovation. It maintains the best of the old spot — views, deck, big windows — while feeling more of casual affair (Euro itself remains formal, almost fine dining — but we'll get to that next week).
The staff are also casual — a little too casual for the price, I have to say. They're friendly and likeable, but often absent and under-informed about the wine and food, which is a shame because you could use a bit of guidance through a menu that combines Southern American and Asian influences with New Zealand ingredients.
Luckily it's hard to go wrong. The food is very good — soulful and tasty and perfect for sharing. I was dining with Mike and Joe, princes of the hospitality scene.
Food highlights included a 12-hour smoked lamb shoulder, incredibly juicy pieces of deep fried duck in buttermilk and broccolini served with chorizo crumb, black beans and yoghurt. The market fish was served whole, which is an excellent change (head for Ika in Newton if you want to support chefs doing it this way) but it came with a green papaya salad which seemed to be undressed — the menu promised nam jim so it was either applied too lightly or forgotten entirely.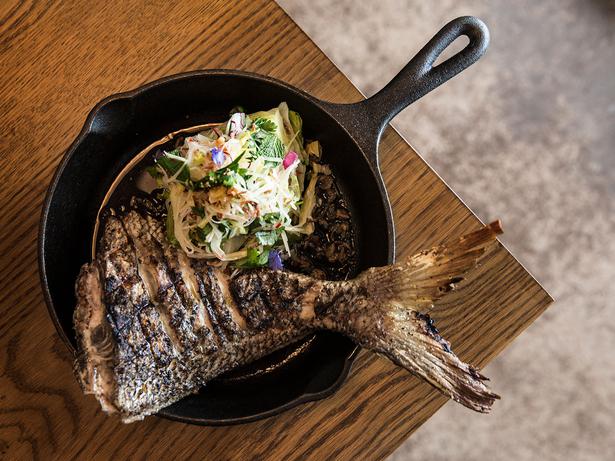 The kitchen is open, the shelves stacked with jars of house made pickles and kim chi. Those pickles look good but the kim chi has dried out, so hopefully before you visit someone will have worked out that cabbage won't ferment unless it's submerged. It'd be a shame if it turns and they have to throw the whole batch out, because I enjoyed the crab and kimchi hush puppies — deep fried balls of dough batter named for their ability to placate the hounds during a campfire cook up.
At around 9.30pm, full of wine and hot meat, we slumped in our seats and waited for the dessert no one wanted but I'd felt obligated to order for the sake of thoroughness. Mike and I were getting drowsy, but Joe was there to remind us what being 23 was like. "Oh well," he said, standing up, "I'd better head off to indoor netball."
And he was gone, half a gurnard in a doggy bag under his arm, leaving the two 40-year-olds alone to share some incredible dark chocolate cookies, hot from the oven, with a side of "milk mousse". They were worth staying on for, and I'm happy to conclude that The Culpeper is, almost, the complete package.
Share this:

More Food & Drink / Dining Out