Restaurant Review: Deco Eatery
Titirangi's Deco is an enjoyable experience with plenty to please a younger palate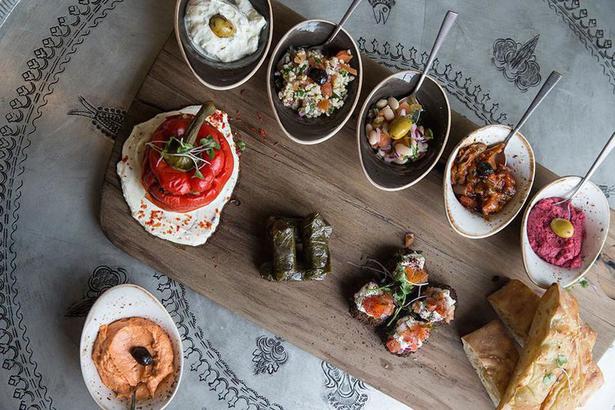 Wednesday July 29, 2015
Address: 418 Titirangi Rd, Titirangi
Contact: Ph (09) 817 2664. decoeatery.co.nz
From the menu: Kids fish and chips ($9), Mezze platter ($32), Fattoush salad ($22), Greek meatballs ($27.50), Moroccan chicken ($25)
Drinks: Fully licensed
Rating: 6.5/10


I took my 4-year-old daughter out to dinner this week, because it was the Viva kids' issue and because I was eating in Titirangi and needed a sober driver. My idea was that I would review for adults and she would review for children, but it turns out that four years is not quite old enough to deliver a coherent critique.
"Tell me three things you liked about the place," I asked her afterwards, pen in hand.
"I like that you could see the sea. I liked that Nana came. I liked the fish and chips."
"Okay, and was there anything you didn't like?"
She thought for a long time and then said, a little unsurely: "They gave me a spoon with my icecream."
To be honest, this seemed like nitpicking, but then who hasn't had a meal ruined by the thoughtless inclusion of cutlery with the dessert course? I promised to warn Auckland on her behalf.
I'm sorry to say I've never been to Titirangi before, and I was quite taken with it. Lots of bush, a short drive from the city and some pretty amusing local characters. The young guy next to us was on a date and hadn't even taken off his high-vis vest; either he'd forgotten he was wearing it or he was following some pretty extreme advice about how to stay safe during Tinder meet ups.
The restaurant definitely has an out-of-Auckland vibe, with young, eager-to-please waitresses who pronounce viognier "voy-in-jer". They were actually super, both of them, and don't you sometimes prefer the unfiltered chat of a first jobber to the rehearsed banter of a city pro? I doubt either of them even know how to roll their eyes — not like one CBD restaurant I turned up to with my daughter where the maitre d' almost put his neck out.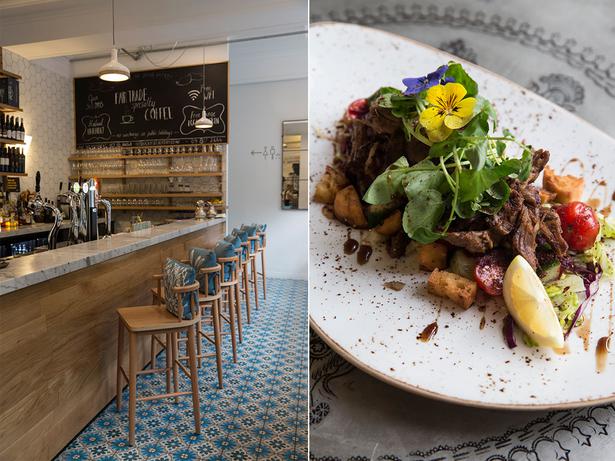 The food's okay — the sort of standard you'd expect from Masterton's best restaurant. It's Middle Eastern-themed, but the Middle East we knew 20 years ago, before Yotam Ottolenghi started writing cookbooks for the masses and showed us how complex, deep and, well, easy the best of that cuisine can get.
It's not like you can point to anything and say they've got it horribly wrong — though the mezze platter is the worst of it, with six bowls of dips and salads that taste like recipes misremembered from a 1993 edition of Alison Holst's Meals Without Meat. Then again, the pide bread that comes with it was good and so was the falafel — golden brown on the outside, moist and flavoursome within — so much better than the dark dry pellets you get everywhere else.
Children are welcome, and they get their own menu: if your kids don't fancy fish or chicken with chips, they can go for hummus and veges instead. Would any child choose the hummus? I don't think so, but even if I'm wrong they should throw in some fresh veges with the deep fried stuff for us parents to bargain with. You know the sort of thing: "no more chips until you have a piece of cucumber" or "Santa only visits girls who eat broccoli".
(I tried to do my bit with her drink as well, ordering a 50/50 mix of lemonade and water. This cost me $4.50, at which price I just about insisted they take it back to the bar and put a slug of gin in it.)
The parents' mains are nice enough. Greek meatballs were tasty but a little reminiscent of sausage meat — most likely a sign that there's too much binding agent in the mix (maybe they'll improve when this Eurozone thing blows over). A chicken leg was well cooked and pleasantly spiced, though it came with a glutinous dome of couscous, and a chargrilled slice of orange which looked pretty but struggled to be useful in any meaningful sense.
Then there was the "fattoush", traditionally a side salad of fresh chopped vegetables and leftover pieces of pita, though at Deco the veges are a background detail and a few fried croutons take the place of the bread. It's all about the lamb shoulder, cooked, shredded and cooled then served on iceberg with some sweet and fat-cutting accompaniments: pomegranate dressing, beetroot and candied walnut.
It's not mind-blowing stuff, but you won't leave hungry, and most of what Deco offers is in the experience: nice people, great drinks, and a seat with a view in an appealing heritage building. The locals must be stoked with it — finally somewhere to eat out when the sound of crashing waves and native birdsong makes another night at home seem unbearable.
Share this:

More Food & Drink / Dining Out