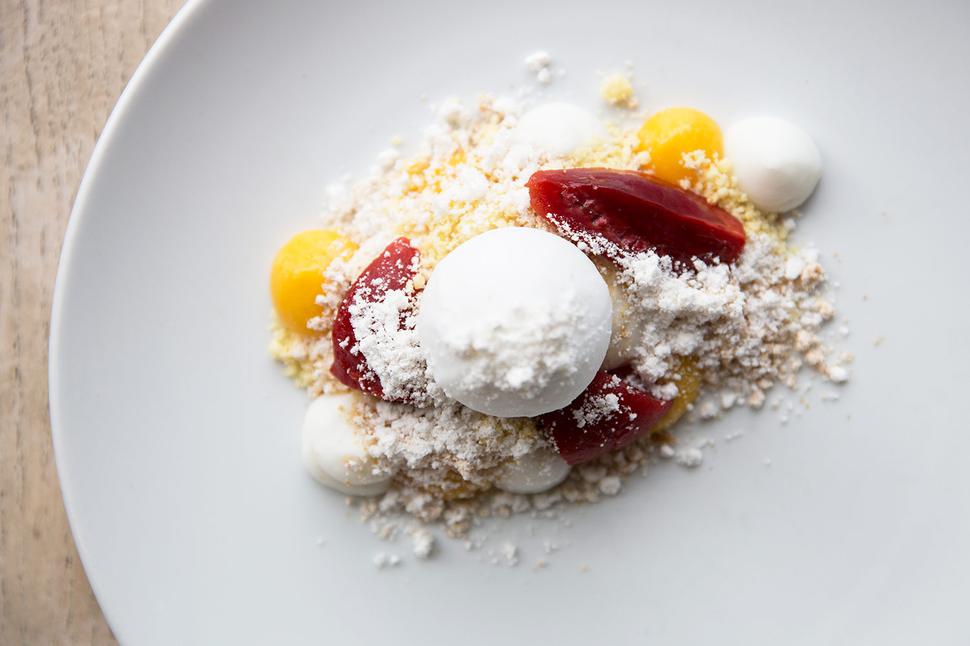 Restaurant Review: Eight Point Two
Eight Point Two is no longer second-best in its North Shore locale
Wednesday June 24, 2015
Address: 82 Hinemoa St, Birkenhead
Phone: (09) 419 9082
eightpointtwo.co.nz
Cuisine: Modern bistro
From the menu: Pork and morcilla croquettes $12, Duck liver parfait $12, Jerusalem artichoke soup $18, Butternut risotto $18, Braised beef short rib $32, Lamb rump $38, Fig leaf, quince and honey custard $16, Lemon curd and tamarillo crumble $16
Rating: 8.5/10


My dad caught an ambulance to Auckland Hospital last Thursday to get one of his arteries opened up. It's a common procedure that went perfectly and he was back shopping at his local farmers' market by Saturday morning. Still, it made me conscious of my own heart's health and I resolved to immediately reduce my cholesterol intake and stop going to Warriors home games.
After visiting Dad in ward 31, I went to dinner with my old friend Mauricio who, like me, turns 40 this year and is trying to eat better as well. He has given up simple carbohydrates and avoids red meat, two actions that will get you hanged in his native South America.
I don't know if it's our 2015-ness or our 1975-ness that made dietary restrictions an acceptable thing for two men to discuss at a restaurant, but you'll be pleased to know we didn't let it affect our ordering.
Mauricio had risotto, then beef; while I had soup with confit duck, then a piece of lamb. Oh yeah, we also shared a duck liver parfait and some deep-fried black pudding. And, um, dessert also happened.
Despite a few positive changes (like the new menu at Euro), restaurant menus have mostly held out against the healthy food surge. You'll see some ancient grains here and dark greens there, but they're garnishes, never the foundation of a meal. Are chefs stubborn, or do they know us better than we know ourselves?
Nutrient-dense dining sounds amazing, but how many times did you go to The Unbakery for dinner before it retreated to 4pm closing?
There are no superfoods at Eight Point Two, but the food is super. It's almost faultless, actually, thanks to some great cooking and new executive chef Des Harris watching like the Eye of Sauron from his regular station at Clooney.
It's not quite Clooney on the Shore, but the influence is unmistakable — mixed textures in every mouthful, judicious use of fruit with savoury meats, and little surprises throughout — gingerbread puree with the parfait, white miso with the lamb, fig leaf-infused milk in a dessert.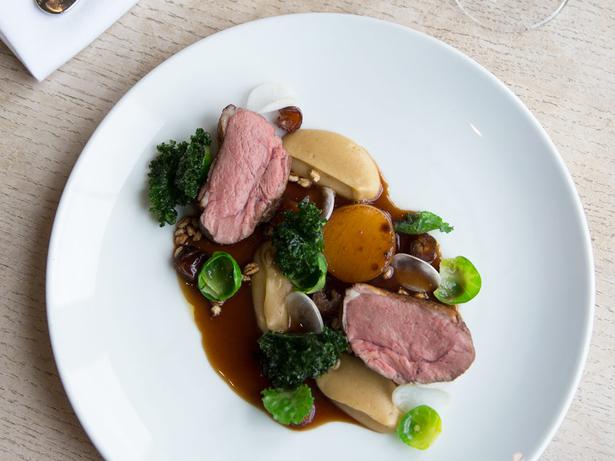 The menu is short, but it's all good. You can't cook meat better than this — that lamb is pink and tender, the short rib falls apart under the tasty dark surface. Whether whipped to silky perfection like the duck liver or shredded and deep-fried like the pork and blood pudding, every cut is turned into something memorable.
There are very good vegetarian options, too.
I've eaten at Eight Point Two a few times over the years and the main problem has been the atmosphere, not helped by a lack of customers.
From the difficulty I had booking a table this time, things appear to have become a lot busier, though by chance it was quiet again on the night I made it along (the staff reckoned the U-20 World Cup was to blame but I went to a match and the crowd was mostly kids and embarrassed international visitors frantically unpicking Fifa logos from their jackets).
Now open from 5pm, seven nights a week, Eight Point Two is setting itself up to be more than just a four-course destination restaurant. The new menu is designed to encourage low-commitment eating — my jerusalem artichoke soup, for example, given heft with duck leg meat, could be a light dinner on its own.
To encourage this drop-in dining, if I was them I'd probably pull back on the jazz music and candlelight and try to up the fun factor. The manager is one of the best in the business but he has the sort of lingering anxiety of somebody who has to break up with his girlfriend after work.
The award-winning wine list is his creation, and he's lately added a truly fantastic selection of craft beers. How sweet it is to see a drinks list chosen out of love, not out of a need to top up your central city rent with a major brewer relationship.
Eight Point Two has suffered historically from comparisons to that other North Shore favourite, The Engine Room, though it seems to be faring better these days as we all get used to the idea that a residential area of 200,000 people might have room for more than one decent restaurant.
Along with Stafford Road Wine Bar, there are now at least three decent eateries in the wider neighbourhood, with more good options up the road in Takapuna.
So where does Eight Point Two fit in? Well it's no longer a restaurant defined by its second-bestness. The food is delicious, the service en pointe and the rest of the experience not so far behind. I'm happy to send you here any night of the week.
Share this:
More Food & Drink / Dining Out