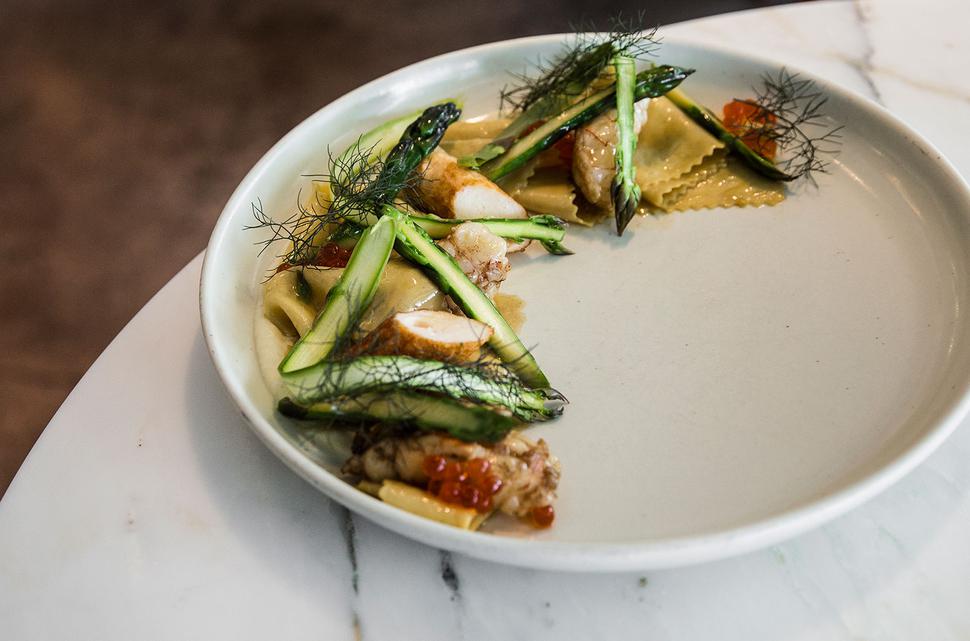 Restaurant Review: Euro, Princes Wharf
Proving that big isn't always better, Euro downsizes and gets an exciting new lease of life
Wednesday Dec. 9, 2015
Address: Shed 22, Princes Wharf
Phone: (09) 309 9866
Reservations accepted
Cuisine: Modern European
Drinks: Fully Licensed
From the menu: Venison tartare $21; pizza $29; asparagus lasagnette $34; young vegetables $15; zucchini $26; pig's tail $24; sauteed greens $10
Rating: 9.5 

For me, Euro has always been one of those restaurants you end up at when your first choice is unavailable. Nothing wrong with that selection process of course — it's been the basis of many a solid marriage — but going out for a meal should feel special, and there's something a bit less special about choosing a restaurant because everywhere else is full for Mother's Day, or because it's 9pm on a Monday night and your visitor from London fancies Bluff oysters.
Well, the restaurant business isn't easy, and we should applaud national treasure Simon Gault and his partners for making Euro this good for this many years. They've always done a lot well, and not much badly, and if one has to throw the occasional cooking class on a Sunday afternoon to make the monthly numbers add up, then so be it.
But now I think Euro is on the verge of something special. It's been cut down to half of its original size, superchef Gareth Stewart has rebuilt the menu and suddenly everything feels almost perfect.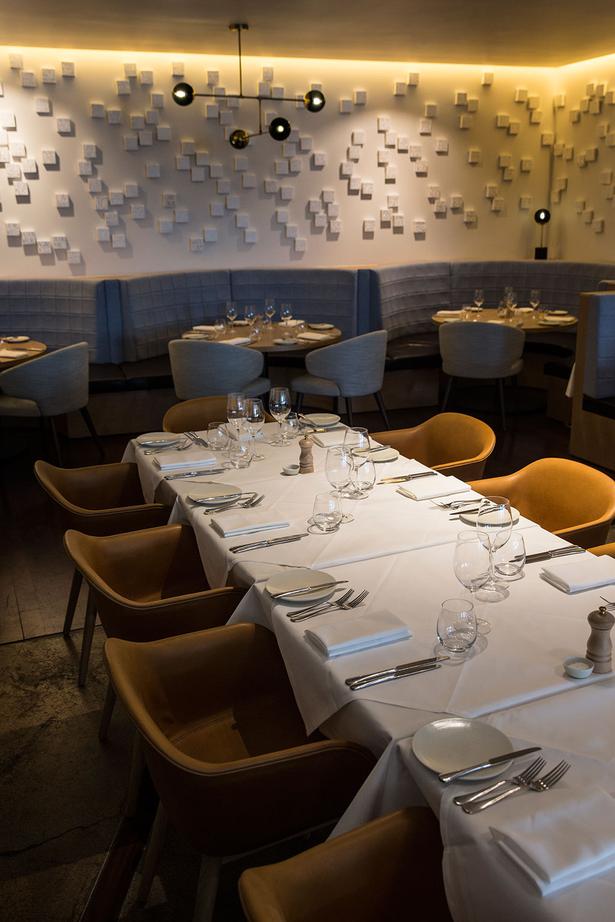 It's surprising to discover that size matters. The endless room was part of the original Euro's appeal — there was always space for one more. And it was easy, logical even, to conflate quantity with quality. Who were you to complain about your calamari salad if they'd already had 300 happy customers that day?
The floor staff ran the place like a machine, but at their worst they treated you as merely part of that machine. This was their turf, and it could sometimes feel like your main job was just to stay out of the way and pay.
Well, the staff are still very efficient, but the smaller space suits them. They have less distance to travel, and they've become less brisk, in both senses of the word. Even with a new menu, their knowledge of the food and wine is at fine-dining standard. Thank God for career waiters, who add so very much to a meal, even if they sometimes tend to emote the background sadness of an old apartment cat.
There are some new decor flourishes, including a beautiful installation of tiny floating canvases by artist John Reynolds, but the major changes are to the menu, which has turned into a piece of art itself. There was a very classic quality to the old Euro food — things changed so infrequently that the menus were laser-printed on textured plastic — but now it has a sort of energetic impermanence to it. We visited in week three of the new opening, and they overhauled the menu again just a couple of days after that.
I loved the food, and I'll bet our Viva photographer Guy Coombes loved it even more. For weeks I've been guiltily sending him out to shoot 50 shades of beige — meat, mustard, corn, bread, pork, potato — so I was very happy to release him from sepia hell. Now his memory card is filled up with nasturtium flowers, bright green asparagus, courgettes of many colours and rainbow beetroot. Perhaps I'll do a degustation of porridge next week just to keep him on his toes.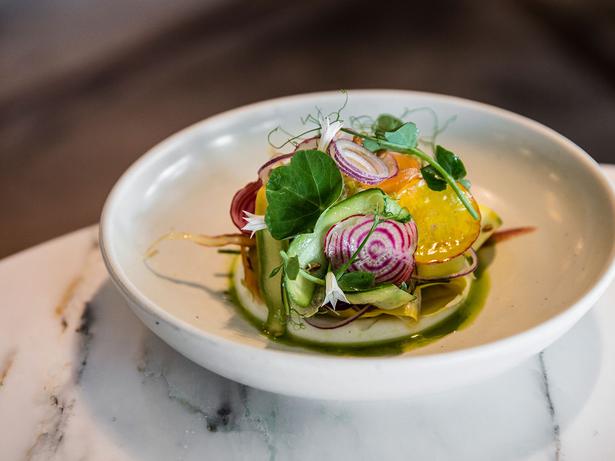 The asparagus lasagnette was one of the greatest dishes I've ever eaten. I say "was" because they've now taken it off the menu, due to the time it takes to create. But if we can get Red Peak onto the flag referendum surely we can peer-pressure Gareth to chuck this back on: a sheet of soft pasta that tastes like it was made about five minutes ago, the lightest white scampi sausage, ribboned asparagus, grilled butterflied prawns, dill and a drizzle of rich kaimoana bisque so intense you could taste it but hardly see it.
Zucchini came in chargrilled strips, drizzled in a golden raisin vinaigrette and dotted with splodges of vivid white ricotta — orange nasturtium petals contrasting with the cheese like bright yolks. On top was a zucchini flower, stuffed with more curd and deep fried in a tempura batter. It was a thing of beauty to look at, and to eat it had creamy-crunchy textures, light and springful flavours and a toss up of ingredients raw, grilled, fried, and fermented.
A simple woodfired pizza of cured pork and rocket took too long to get from the oven to the table and arrived barely warm — too much mucking about at the pass I think. Incredibly, when we reheated the leftovers on the BBQ at home a few hours later it tasted twice as good.
But I see that pizza's gone from the menu now too. Tinkering, tailoring, adding and subtracting, it's a pain in the neck for a reviewer but great news for anyone going there to eat. They say if you want something done give it to a busy person; My Kitchen Rules star and new head of nine restaurants Gareth Stewart must be the busiest chef in town right now, but for my money he's also one of the best.
Share this:

More Food & Drink / Dining Out