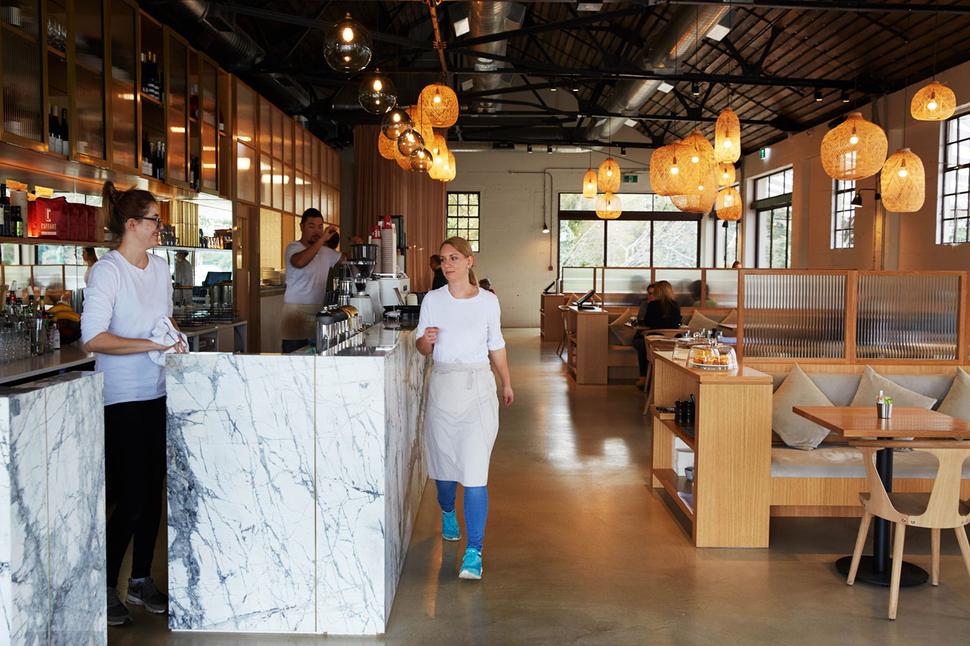 Restaurant Review: Fabric, Hobsonville Point
Hobsonville Point's Fabric is the ideal place to arrive to after a long commute, writes Jesse Mulligan
Wednesday Aug. 8, 2018
Cuisine: Bistro
Address: 8/3 Boundary Rd, Hobsonville
Contact: 09 416 8013
Reservations: Accepted
Drinks: Fully licensed
From the menu: Poached prawn salad $30, Seared sirloin $18, Beef burger $24 Duck pappardelle $28, Lamb rump $32, Roast root vegetables $10, Creme brulee $12, Profiteroles $12.
Rating: 15/20
Score: 0-7 Steer clear. 8-12 Disappointing, give it a miss. 13-15 Good, give it a go. 16-18 Great, plan a visit. 19-20 Outstanding, don't delay.
I hope the contestants on The Block, Hobsonville, are locked inside, Big Brother-style, because if one of them nipped out for milk they'd have zero chance of finding their own house again among the hundreds of identical ones that will have sprung up while they were gone.
READ: Restaurant Review: Ambler, Pt Chevalier
These ubiquitous Hobsonville new builds are easy to make fun of but if the semi-detached thing is good enough for London, it should be good enough for us. I personally love the idea of squeezing rather than spreading, and unless we're going to banish all our first home buyers to Pokeno we should congratulate the ones who've decided they can do without the sprawling lawn and double garage.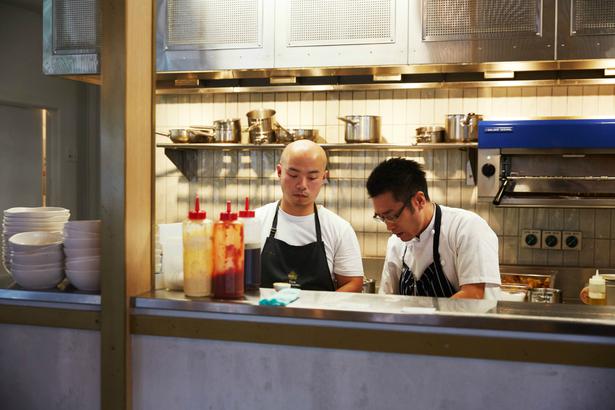 The kitchen is on to it, says Jesse Mulligan. Photo / Rebecca Zephyr Thomas

No, we can't all live in Herne Bay, but at least these guys get to skim past it on the ferry each morning. How relaxing must that commute be? Sipping a coffee, reading the paper, trolling for kahawai. And then, when you get home in the evening, there's this new restaurant right next to the ferry building. Do they have anything similar at the Pokeno off-ramp?

READ: Where To Find: Auckland's Best Mulled Wine

Fabric is a great restaurant to arrive to — it glows at the end of that dark old market carpark and was impossibly appealing after my hungry drive out from the city. The interior is modern but warm, and though it's big they've done a great job of breaking it up so you're never exactly sure how many other people are here and what they're up to.

The downside of this is that the staff can forget you're there. We waited way too long for someone to take a drinks order and were in the mood to forgive them if they were apologetic. But they're desperately lacking a system — the waiters seemed to be assigned to tables haphazardly and nobody was in a rush to do anything. While we waited thirstily the guy who seated us was just lolling at the pass.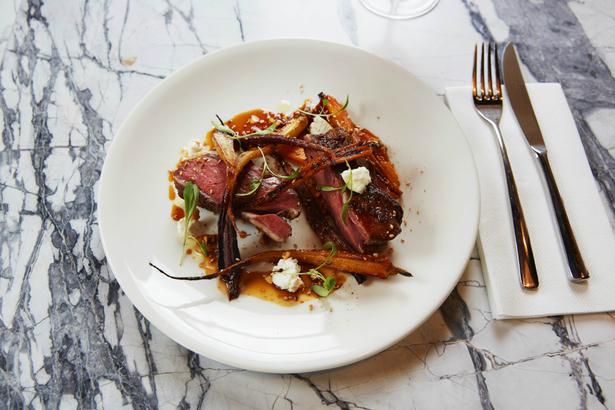 "Are you guys all right, did you want to order any food?" he asked when he finally got to us. Yes please, and a new waiter. It must have been 20 minutes before we finally got a drink and I was so keen to make up for all that sitting around time I guzzled it way too fast and immediately tried to order another one.
"Do you have any European reds?" I asked the next guy.
"No, I don't think so," he said, handing me the winelist. "But the French one is very good."
"I'll go the Italian instead," I decided.
Meanwhile two water glasses sat empty.
READ: Restaurant Review: Satya Chai Lounge, Karangahape Rd
I asked whether they could be filled but even after that the staff seemed weirdly reluctant to pour.
"Would you like a little more tap water?" asked a waitress at one point, the first time I can remember being asked that question in a restaurant.
"Yes please," I said. She leant over and filled my glass about a third of the way up, then departed. Like I said, they just don't seem to have much of a system going.
Luckily the kitchen is on to it, offering a strong menu of deliciously cooked items definitely as good as the neighbourhood places back in town. I loved the seared sirloin, each little crimson slice folded over itself and placed beautifully on the plate among pickled mushrooms, edamame beans and dots of soy mayonnaise.
READ: Restaurant Review: Rothko, Matakana
There were a couple of other hits too. Though far from the most exciting sounding thing on the menu, the roasted vegetables were very good — they should be served up to every junior bistro chef in town to demonstrate how much flavour you can get out of a side dish. A medley of cubed root vege, it was tossed in a caper-raisin dressing. My dining buddy and I discussed for a minute who was going to get the last mouthful, but then the waitress came and took it away. We didn't let her near a brilliant handmade pappardelle.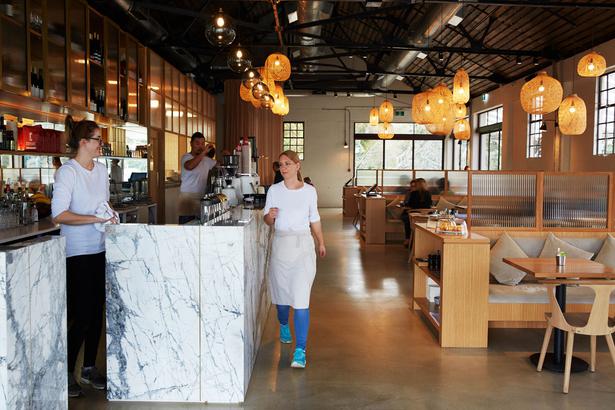 I was less excited by the lamb, which I'm sure was competently cooked sous vide style, but without a decent crust you're really just eating through a fist-sized piece of pink meat. And they screwed up an expensive prawn salad — the problem, as far as I could tell, was they'd forgot to put oil in the salad dressing.
Someone in that kitchen is a proper pastry chef, and I hope you'll make some time for the fantastic desserts — a rosemary-infused creme brulee is particularly magnificent.
READ: The Best Road Trips for Foodies
Now to fix the service. Personality is not the problem — they all have a lot of energy and, I think, a willingness to please. They just need a week of training from somebody with a big stick — then Fabric will be a keeper. 
Share this: