Restaurant Review: Go Go Daddy, Ponsonby
Jesse Mulligan says go-go twice to this Thai fusion eatery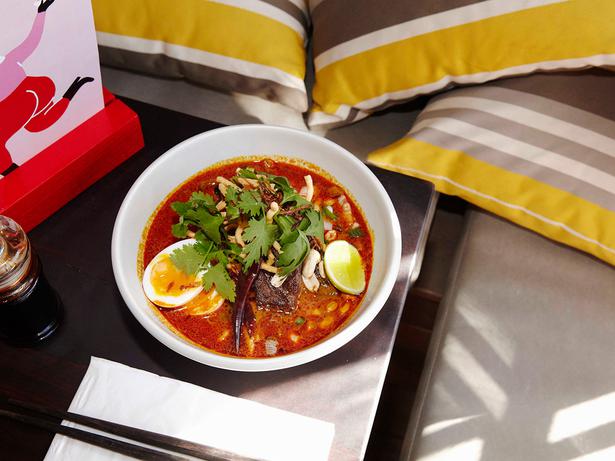 Wednesday April 4, 2018
Cuisine: Thai
Phone: (09) 360 8080
Address: 4 Brown St, Ponsonby
Drinks: Fully licensed
Reservations: Not accepted
From the menu: Green papaya salad $15, Crispy squid salad $18, Charred rice noodles $18, Beef cheek laksa $20, Coconut curry of smashed prawn and fish $28
Rating: 16/20
So the news from Auckland's favourite restaurant empire is that Moochowchow and Honeybear have closed down, each replaced, in a sense, by the new Go Go Daddy, which slots into Honeybear's Ponsonby Central corner space and serves Thai food a la Moochowchow.
Ms Moo, as they called it, was the hottest restaurant in Auckland when it opened seven years ago, and maybe that's the natural lifespan of an in-fashion eatery; certainly, it must have been harder to draw the crowds once Saan and Azabu opened on the strip.
Or maybe it was all a bit too formal compared to where owner Mark Wallbank and his chef Che Barrington are doing their best work right now.
Either way, Go Go Daddy is another mostly successful attempt to improve margins without noticeably affecting the dining experience. The food tastes really good, the staff execute their work with happy efficiency and the atmosphere is vibey and fun.
The only other place in Ponsonby Central you'd have a better time eating at would be Wallbank's Blue Breeze Inn, and I bet half the people turning up here already tried to get in there first.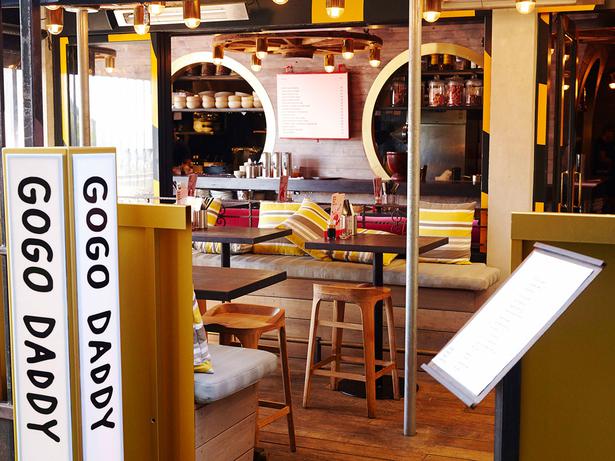 Go Go Daddy was full on a Tuesday night so we took a seat at the bar until a table became available. It's a good spot, watching the chefs pound pestle into mortar and browsing the drinks menu, but we had a hiccup. We ordered two cocktails — mine in particular sounded like a refreshing mix of gin, watermelon and lightly-bitter orange Aperol — but they arrived in a screw top bottle.
I don't know what sort of shelf life they have but apart from the herb garnish they weren't fresh — the over-sweetness adding to the strong sense you were drinking an RTD. It's okay to charge $18 for a Ponsonby cocktail, and it's okay to try out a new range of pre-mixed signature drinks, but you can't do both without a warning.
RECIPE: Little Miss Sunshine Frozen Cocktail
Upon getting the nod, we necked our overpriced drinks and headed to our table, a streetside perch with a big open window high enough off the ground that if you fell on to the footpath you might stay there.
It's a lovely spot, with a view of Brown St and the moon on one side, and a full restaurant of happy young people on the other. Then you look at the menu and remember that you are hungry, the best possible problem to have at this exact moment.
I've been cooking a lot of this sort of food myself lately (and am very happy to recommend Simple Thai Food by Leela Punyaratabandhu, an authentic guide to making your dishes taste like they did on your Bangkok holiday, doing as Thai chefs do and using supermarket curry pastes when time is short).
The one thing I can never manage is the feast approach — a good sticky rice served with two or three accompaniments of different styles: a larb and a coconut-style curry, for example. A place like Go Go Daddy is a dream for this, letting you mix and match from a long list of excellent dishes, then drink a good beer while someone else makes them.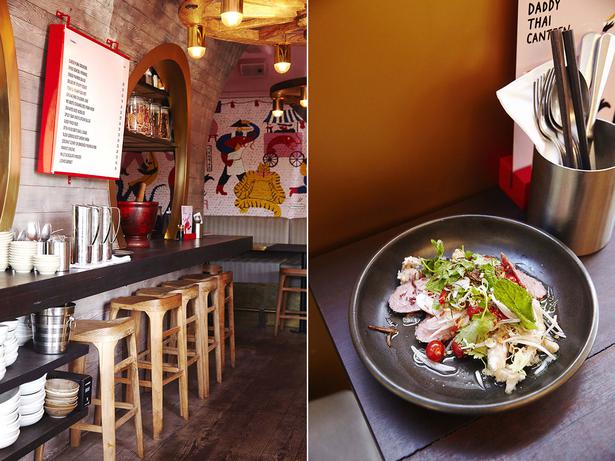 Balance is everything in Thai food and, hand on heart, I have to say a few of the dishes were a little too sweet and not quite spicy enough, but they still tasted great.
The squid salad is a standout, the calamari fried so hot it blisters and explodes into a crunchy treat, best eaten with a tangy piece of pork that comes with it. Scrape up a bit of the dressing in the bottom of the bowl and you'll get another big hit of flavour — galangal I think and, if I'm right, the first time I've tasted it fresh in New Zealand.
We ordered two wet mains — the laksa understandably so and a fine example of the genre, but the fish curry was swimming. I don't know why they'd swamp a delicate protein like that but you really had to bob around in this pool of coconut cream sauce to find anything to eat. You would call it a soup if it weren't so rich. They may need to rethink that one.
READ: Where to Find Auckland's Best Thai Food
A rice noodle salad came with fat noodles and with the broccoli charred in places to add an extra layer of flavour. It was served next to a bowl of chilli dressing — I'm unclear whether this is a standard feature or because we looked like we might need some more flavour bang.
Beer is the best choice for this food, I've decided, and there are a couple of very good ones on the list here. You can be in and out in about an hour and I'd be surprised if there was anything you didn't like. Best of all you'll spend about half what you would at Moochowchow. Put the extra on your mortgage or, even better, go twice.
Share this: