Restaurant Review: Happy Boy, Royal Oak
Jesse Mulligan checks out the burgers and almost everything else at Happy Boy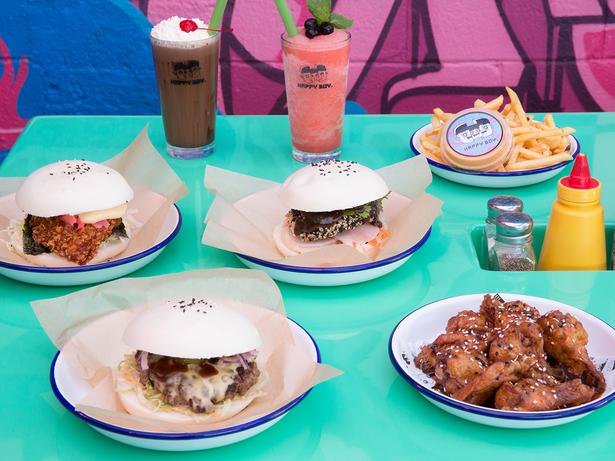 Wednesday Aug. 16, 2017
Cuisine: Burgers
Address: 705A Manukau Rd, Royal Oak
Phone: (09) 320 5238 Bookings not accepted
Drinks: Fully licensed
From the menu: Burgers $13.90 each, pork ribs $21.50, coleslaw $10.50, brownie $10
Rating: 8.5/10
Walking into Happy Boy feels like entering a music video made by a band I'm too old to have heard of. The lighting is electric-blue and pink, making everybody in the room look young, mysterious and sexy.
A fit, bearded, tattooed man delivers drinks and writes down the names of new arrivals. The line of people waiting for tables stretches from the counter, along the wall and almost out the door. It was even busier a month ago, when it first opened.
The restaurant is a new sister for Dominion Rd's Kiss Kiss, which has a similar fluorescent-dream feel to it, however, when I visited, not the same urgency among the wait staff.
That's probably fixed now, because the owners have instilled a cracking work ethic at Happy Boy. Nobody minds waiting when everyone in uniform is bussing so hard to move things along.
That line was gone in less than 10 minutes, and presently we found ourselves seated out back in a heated tropical courtyard we wouldn't otherwise have guessed was there.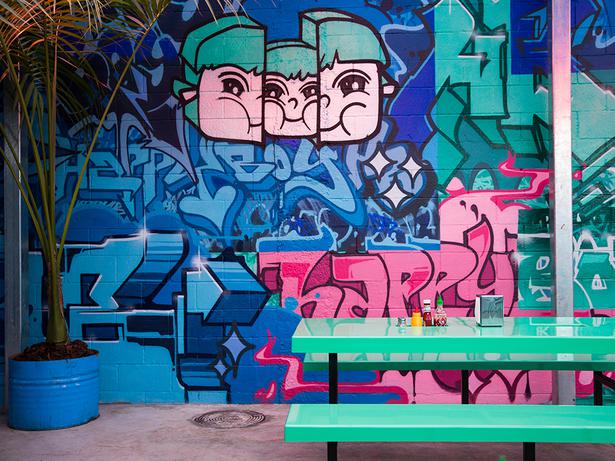 (By the way, it's not made obvious but you're allowed to buy drinks while you're waiting. A couple of IPAs under the heater with a view of the menu board and you really are living like kings — I was almost disappointed when a table became available.)
The food is mostly burgers with an Asian tilt, a growth genre around the world and here in Auckland, where pioneers like Tiger Burger serve up meat patties topped with kim chi and Kewpie mayo.
At Happy Boy they've also taken the buns to the next level — imagine a large Chinese pork bun but with no meat in it, steamed then sliced in two. You could chase a frightened coeliac down the street with it but the texture is worth it — pillowy and indulgent.
READ Favourite Things: Celeste Thornley and Jasper Maignot From Kiss Kiss
I was dining with my Project co-host Josh, who's the man you want across from you on a fast-food degustation. Our waiter had a frisky spring in his step so we asked which of the five burgers he liked the best, to which his unexpected reply was "the tofu".
So we took his advice and ordered that one, with an additional request for one each of the fish, chicken, pork belly and beef burgers to chase it down. We asked for a bowl of coleslaw to act as a refresher, and also ordered a plate of spiced pork ribs, passing on the chicken nibbles to leave more room for dessert.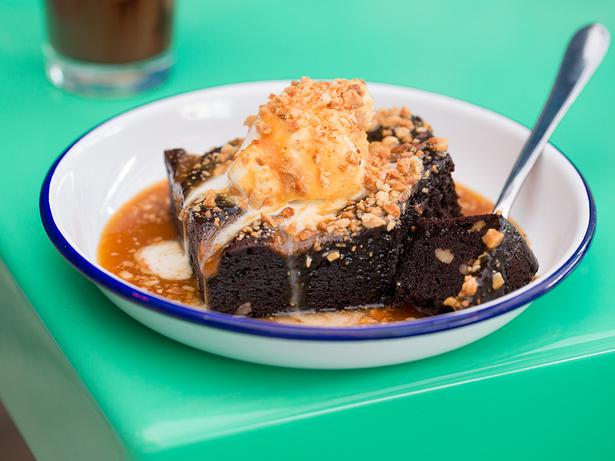 When the waiter returned, his tray heaving under the weight of gluten and meat, I was forced to concede that perhaps we had over-ordered. Still, I didn't forget that I was there in your service, and did my best to finish them all.
The first was an absolutely cracking burger. I don't know how they did it. I eat mostly vegetarian at home and even I have little time for tofu. But somehow Happy Boy brings the slab of soy to life, using a fairly firm curd, coating it in sesame seeds then frying it and slathering the patty with Peking-style sauce and peanut aioli.
If you're dating a vegan, bring them here; they'll be impressed by your thoughtfulness and hopefully later will show their appreciation by taking you home and making grim, judgmental love to you.
The fish burger is a beautiful recreation of McDonald's Filet, the tartare sauce chunky and authentic and the long, crumbed fillet striking a contrast to the square high-processed patty they sell under the golden arches.
(Side note: one of the reasons the Filet tastes so different is that Macca's steams the buns rather than grilling them — you'd be surprised how much this improves a McChicken.)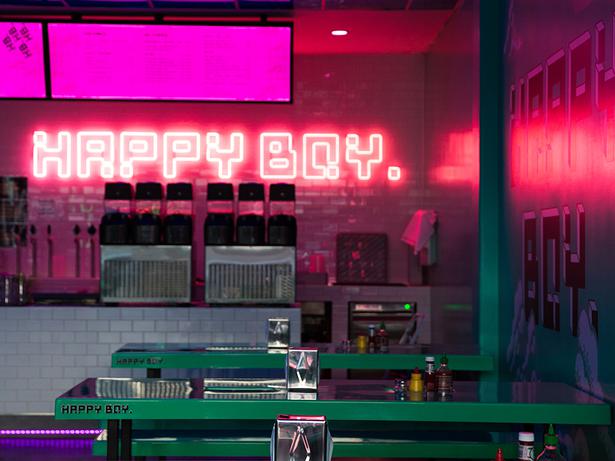 Each of Happy Boy's burgers has its own design charm — the free-range chook with its cornflake coating adding a formerly impossible level of crunch, the beef hand-minced and served with smoky barbecue sauce and a really hot sriracha.
I asked for my one medium-rare but they said that wasn't possible — so either the patties are pre-cooked or they're already following MPI's new guidelines to the letter.
READ: The Best Fried Chicken in Auckland
We finished with a chocolate brownie — warm, sticky and topped with a miso butterscotch and crushed peanuts, it was an exercise in magnificence. If you lived in the area it wouldn't be a stupid idea to pop in for one of these after dinner at home one night to check the place out once the early evening lines have subsided.
Happy Boy's magic lighting was not, it turns out, powerful enough to make either Josh or me look young and attractive as we emerged from the courtyard, our T-shirts covered in pickled ginger and butterscotch. On the bright side, I'm now qualified to tell you that everything tastes good at this excellent new restaurant. Squeeze in when and what you can.
Share this:
More Food & Drink / Dining Out