Restaurant Review: Hello Beasty, Viaduct Harbour
Jesse Mulligan finds the Asian fusion restaurant he's been searching for at Hello Beasty
Wednesday Nov. 21, 2018
Cuisine: Asian fusion
Address: 95-97 Customs St, central city
Phone: (021) 554 496
Drinks: Fully licensed
Reservations: Accepted
From the menu: Raw trevally $18, cold brisket $19, fried cauliflower $17, kimchi pancake $20, fried softshell crab $20, kimchi $5, lamb cutlets $36, vanilla miso ice cream $14
Rating: 18/20
The worst thing you can say about this restaurant is that they use plastic straws. The metal reusable ones are expensive, but contributing to the Pacific trash vortex is much worse — plastic straws tend to fly out of bins and landfills and make their way with quiet tenacity via drains and streams all the way to the sea.
READ: Restaurant Review: Ebisu, Britomart
Every straw you've ever used is still out there, somewhere — so we need to quietly work together, us and the cocktail makers, to rid them from our lives. The bartender should at least give you a chance to opt out.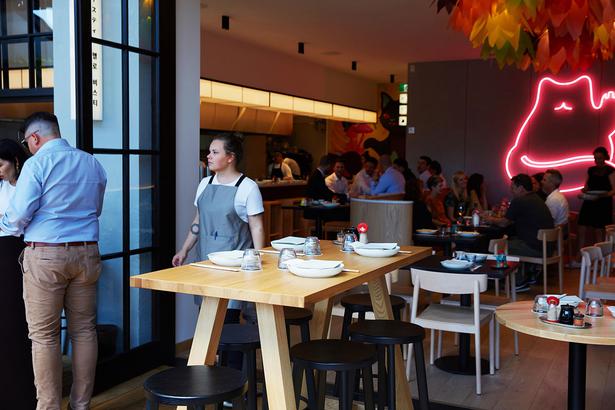 The interior of Hello Beasty in Auckland's viaduct. Photo / Rebecca Zephyr Thomas

That said, after a few minutes at the bar of Hello Beasty I started getting butterflies in my stomach that couldn't be explained by the prosecco spritz. Could this be the (almost) perfect Asian fusion restaurant I've been seeking, I wondered? Has Auckland finally got the restaurant it deserves?

READ: Where To Find Auckland's Spiciest Eats 

I don't mean any offence to previous reviewees Wu and You (16/20), Beast and Butterflies (16/20), Fang (15/20) or Xoong (15/20) but they all seem to top out before you get truly excited. At Hello Beasty things kept getting better and better. "We should go back together some time," I told my wife when I got home to her, a sure sign I'm trying to distract her from the news that I shared a truly great restaurant with somebody else.

What makes Hello Beasty so good? Its location on the Viaduct is fantastic, but for once this isn't a trade-off with the quality of the restaurant. Inside the lighting is just right — bright enough for everyone to see the food, flattering enough to obscure all of our physical flaws.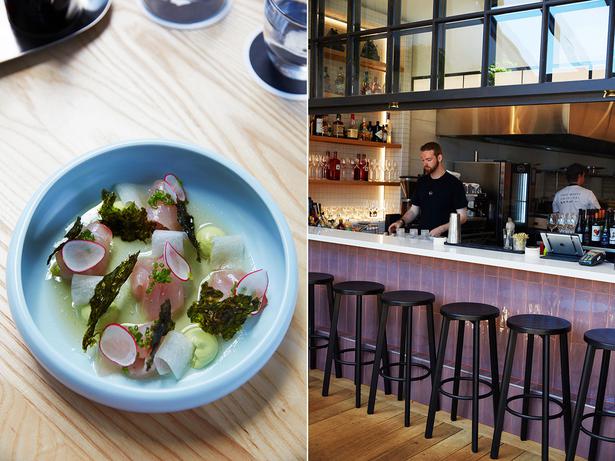 Trevally with avocado puree, pickled radish and sesame laver. Photos / Rebecca Zephyr Thomas

The toilets are tiled and sparkly, the kitchen is busy and open. You can watch the chefs from a ringside stool, and what a great place that would be to eat by yourself (this is a great tip by the way: if you ever find yourself travelling solo and in want of a nice dinner, pick a restaurant with a bar and nobody will notice you're on your tod).

The short wine and cocktail list has been chosen very carefully, with the staff sufficiently trained to guide you into something you'll like. Perhaps there could be more beer choices but I think some places go overboard with the beer list these days — so long as you have a couple of options that work with the menu, I don't mind making the beer geeks find another topic of conversation while the focus is on the food.

READ: Soak Up Sun & Sea Views at These Viaduct Bars

What a menu. We began with a plate of kimchi, made onsite and absolutely perfect in terms of crunch, acidity and spice. This is the first time I've seen the chef add fresh apple, post-ferment, for a little sweetness and it worked well enough that a dish which is meant to be a condiment was devoured on its own by the three of us in just a couple of minutes.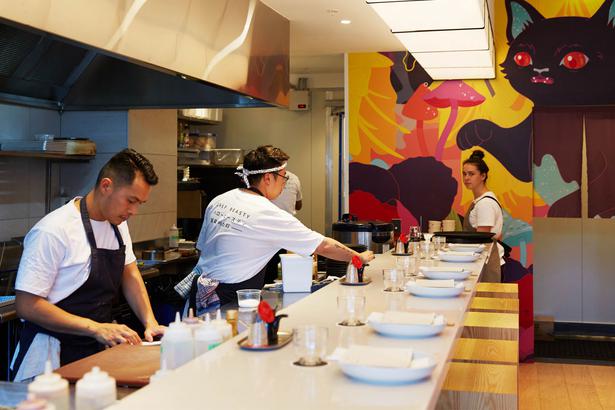 You can watch the Hello Beasty chefs from a ringside stool. Photo / Rebecca Zephyr Thomas

The brisket is one of the best dishes. Served "corn beef" style, they cook the cut until tender then slice it very thinly and serve it with crispy radish, chilli oil and Japanese black vinegar. It is incredible, so flavourful and a smart, creative new way to serve the meat cut of the moment.

But then pretty much everything is extremely edible. From the classic but perfect — a bao bun with crumbed pork belly had the gentle sweetness of a good ginger pudding — to the more experimental. Their "KFC" is Korean fried cauliflower: knucklebone-size florets dipped in a spiced batter then deep fried.

READ: Restaurant Review: Go Go Daddy, Ponsonby

The $17 is a little too steep for a couple of hundred grams of brassica, even in a restaurant by the water, but maybe it felt like poorer value because we gobbled it up so fast. My mate Damien reckoned it was like eating Rashuns (in a good way). This is the dish they'll become famous for.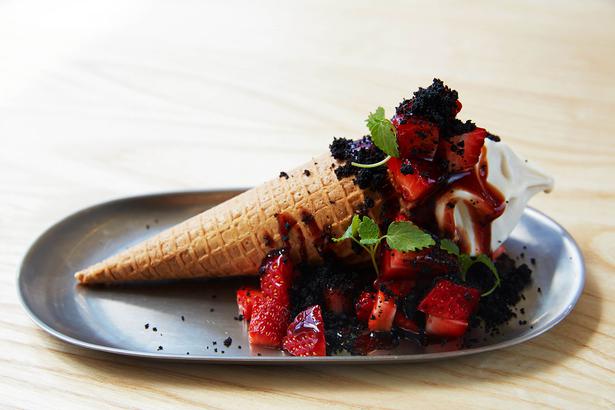 The vanilla miso soft serve with strawberries. Photo / Rebecca Zephyr Thomas

Stylistically the dishes are mostly pretty heavy, and you may find yourself wishing for a little freshness beyond the excellent garnishes. Raw trevally with avocado puree almost did the trick but I think the menu would benefit from a short selection of cold salads. Maybe if the kimchi had arrived with our hot food and we'd ordered the side of iceberg I wouldn't have noticed.

READ: Restaurant Review: Williams Eatery, Wynyard Quarter

Undoubtedly, this is a new level of great Asian dining for Auckland. It's a lovely thing to watch head chef Stuart Rogan, his head down all night with intense concentration, and a neat and disciplined team working busily around him.

Hello Beasty is good enough that it will redefine that whole Viaduct area — no longer a giant cash register for the unwitting but, finally, an aspirational home for the city's very best food.
Share this:

More Food & Drink / Dining Out