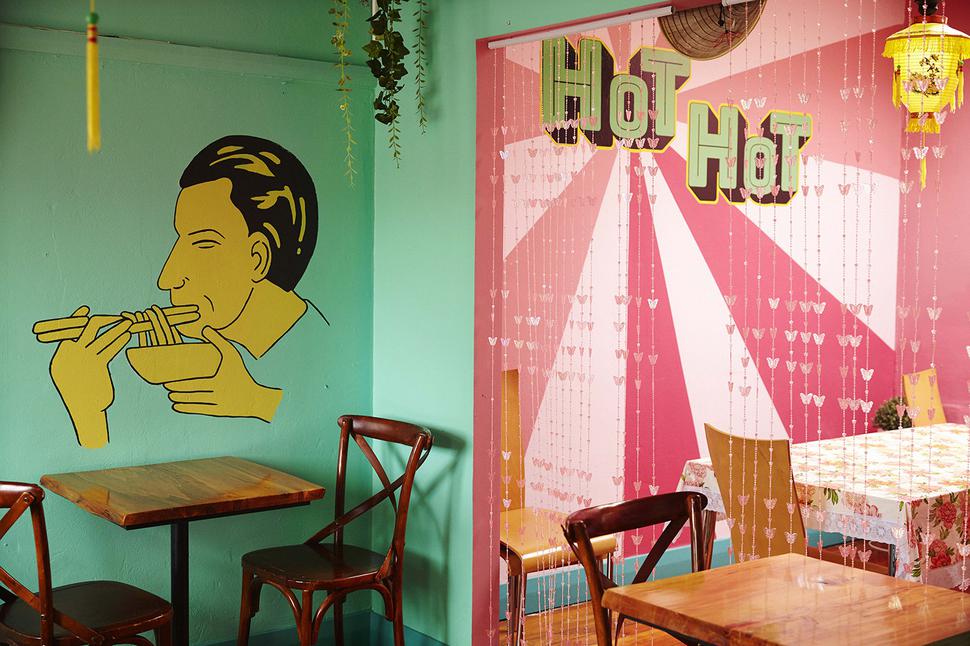 Restaurant Review: Hot Hot, Mt Eden
Jesse Mulligan gets amongst the heat and action of Hot Hot
Wednesday March 14, 2018
Cuisine: Asian fusion
Phone: (09) 846 4842
Address: 65 Sandringham Rd, Mt Eden
Bookings: Not accepted
Drinks: Fully licensed
From the menu: Pork bun $9, Fried tofu $12, Stuffed roti $13.50, Red curry $17.50, Wok-fried noodles $16.50
Rating: 17/20
Score: 8-12 Disappointing, give it a miss. 13-15 Good, give it a go. 16-18 Great, plan a visit. 19-20 Outstanding, don't delay.
Despite being new, Hot Hot has made such a splash in Auckland that even arriving at 8pm on a Tuesday I was worried my colleague Kanoa and I wouldn't get a seat.
As it happened we were fine, but the downstairs dining room was still packed enough that when it was time to leave, a group of women had to stand up and tuck in their chairs, while one innocent bystander was walloped in the head by my maroon Herschel sports bag.
"You chose the worst possible route out," said Kanoa supportively.
She was just cross because she'd had a pot plant resting on her head through most of dinner. "Look, it's a native!" I'd said at one stage, pointing in the general direction of her face to try to cheer her up but it's hard to get into the spirit of comedy when you're draped in foliage.
There is space for everything, just, in this brightly painted room across from Eden Park on Sandringham Rd. Upstairs there are more rooms, more tables. This used to be a forgettable Indian restaurant but before that it was the electorate office of the unforgettable Helen Clark, who I doubt would have tolerated two seconds with her head stuck in a pot plant.
The food is searingly good, with a couple of design flaws we'll come to. I'll give you a list of some good stuff but the menu is so long and delicious it would take three visits even to get through the stuff you were immediately interested in. It's a rare thing to feel a little sad as you order, sad that you are saying no to so many wonderful dishes. Sorry guys, you feel like telling them, you've done nothing wrong. It's not you, it's me.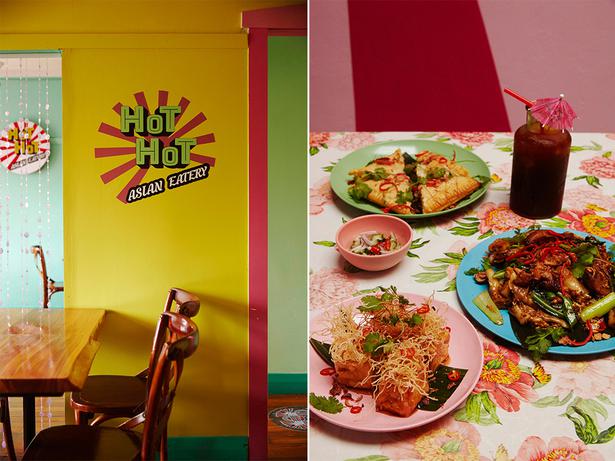 Our waitress recommended the wok-fried noodles and I'm so glad she did. Those three words don't convey much excitement but it's a one-of-a-kind dish, featuring wide, fat noodles rolled up so they look like segments of leek. They're tossed in a dark sweet soy sauce and served with Asian greens so in one mouthful you get starch, chew, sweet, salty, spice and crunchy freshness.
The stuffed roti is almost a Kiwi pie — two sheets of flaky pastry, joined and crimped around the edges and stuffed with meaty Asian flavours. I can also recommend the "red" beef curry which is tasty as, although surely it's a massaman curry with those woody Muslim spices and potatoes?
The pork buns didn't hold up well, the liquid weakening the hinge so that they collapsed into pieces when you tried to pick them up. "Still," said Kanoa from somewhere inside that hedge, "it's pork and peanuts." I think she meant that it still tasted amazing, even if you had to scoop it up in your hands like a grateful castaway drinking from a stream.
The roti-pie thing was massively tasty but was served with a clear dressing that was not much use to it, coming as it did in a tiny bowl filled with chunks of cucumber. You couldn't dip the roti in the bowl, but if you poured the dressing over the roti it would fall off due to the cucumber, so ... *searches his keyboard for 10 minutes trying to make that stick man shrugging emoticon*.
The food is outstanding but Hot Hot stands out for its service too. The staff (who as usual didn't know they were being reviewed) were bustling about with great urgency all night. The owners must be doing something special to motivate them, I wonder what it is. A living wage? Shares in the business? Crippling physical abuse?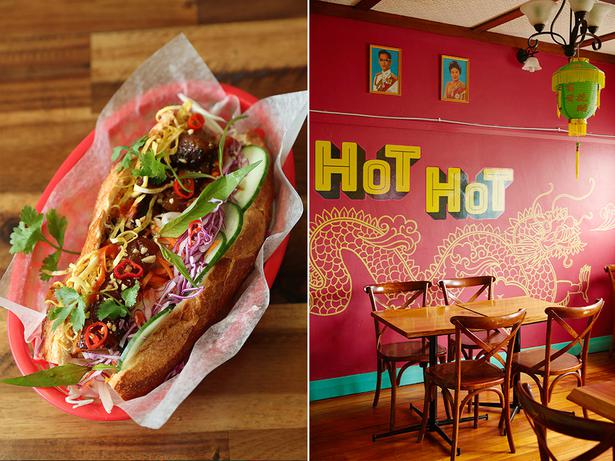 At one point I saw a waitress run through the dining room towards the kitchen like something was on fire. I nosily got up and followed her, hoping to spy something gossipy to write about but when I got there she was only bagging takeaways. She'd been moving so fast because she was worried about getting the food out at the same temperature the kitchen had supplied it.
Everything happens so quickly that you really have time for only a couple of drinks — maybe that's the reason they don't seem to have spent much time thinking about their winelist. I nursed a can of craft beer and wished they had two or three knockout white varietals that would make the most of this awesome food.
A busy restaurant creates a brilliant vibe, as long as the meals arrive hot and you don't have to wait for a drink. A few months after opening, Hot Hot is running like a freshly-tuned sports car. If you live anywhere near the place you should make a visit when you can, sit where you can and order as much food as you can possibly imagine eating.
Share this:
More Food & Drink / Dining Out